How to Choose Quilts & Blankets for Cold Winter Nights
Did you want to stay warm, happy and snug this winter night? Then it is best for you to buy the right blankets and quilts. Always, you prefer to have the best. When it comes to blankets, quilts, comforter and duvet, it has many qualities like soft, fresh and cuddly. Select the one which provides softness against your skin and comfort that offers warmth and décor appeal. Most people need the extra pocket of comfort.
When you buy quilts and blankets, you can stay comfortable during the winter nights. However, you should be straightforward in your options and consider the size, weight, materials, GSM rating, loft, and other things. Here let's have a look at the consideration when buying the blankets and quilts. ​
Let's See the Difference between Blanket, Quilt, Comforter, and Duvet
Blanket: The blanket is made up of a single layer covering, which keeps the sleeper warm. Most commonly, the woven covering is made up of wool or fleece. The insulation material of the fabric keeps an individual warm.
Quilts: A quilt is composed of three layers of fabric with the decorative woven cloth top, the batting and the backing. For practical use, the top layer of the quilt is crafted from different fabrics stitched together into decorative patterns.
Comforters: Comforters are made up of two-layer of decorative fabric that is sewn together on all sides. The stitching is comfortable and provides you with as much comfort.
Duvets: A duvet is like a pillow, and usually, it is white and purely functional. It is mainly for decorative purposes.
How to Choose These Bedding Toppers?
Size: When buying bedding toppers, you should be familiarized with the size. It is advisable for you to buy bedding toppers that are bigger than your mattress. Measure the mattress size, and then choose the right blanket and quilt for your needs.
Weight: In addition to the warmth, weight is an important consideration for the blanket and quilt. Some like to snuggle with the weighted blanket with cover, and some prefer light and fluffy quilts, which allow them to move freely. When selecting, check its warmth rating and ensure that it is the right fit for you. That means that it is what you prefer.
Materials: When it comes to material, you should always be selectable. The choice of material will provide the overall comfort, making a hefty contribution to the price. With the wide variety of choices, select the one that suits your taste. Luckily, you can choose the bedding topper. Some materials are cotton, wool, duck down, feather, microfiber/polyester, silk etc.
GSM Rating: GSM stands for 'Grams per square metre', and it refers to the weight of the filling. The higher the GSM, the warmer it will be.
150-250 GSM ideal for summer
200-500 GSM is suited for autumn and spring weather
500+ GSM is best for the winter chill
Loft: It indicates how fluffy the bedding topper doesn't confuse the warmer rating. The warmth is measured in fill power, where the higher the fill power, the fluffier the loft. It is a great indicator of quality. 400 – Light warmth
400-599 – All season's warmth
600-799 – Winter warmth
800 + - Ultimate winter warmth
Bargains Online offer quilts & blankets of choicest brands like Dreamz, Giselle Bedding.
Related Post: Types of Mattresses & Mattress Toppers - Buying & Pricing Guide in 2021 Australia
7 Best Quilts & Blankets:
1. Anti Anxiety Weighted Blanket 7KG Deep Relax Gravity Adults Size - Grey Colour
The latest weighted blanket is a perfect sleep companion that provides a nice and comfortable sleep. You will definitely love it where it is the perfect blanket that provides the level of comfort you desire. This anti anxiety weighted blanket is a super soft 5kg blanket that is made of breathable natural cotton. Its design is more durable when compared to the normal blanket.
This blanket has an environmental filling, and additionally, it comes with a removable Duvet cover which makes it extra soft and comfortable. It is built with exquisite material suitable for elders or adults, where it relieves body pain and reduces inflammation. It is machine washable so that you can have hassle-free cleaning or maintenance. It is an ideal tool to ease restlessness, relieve anxiety and experience the best sleep comfort.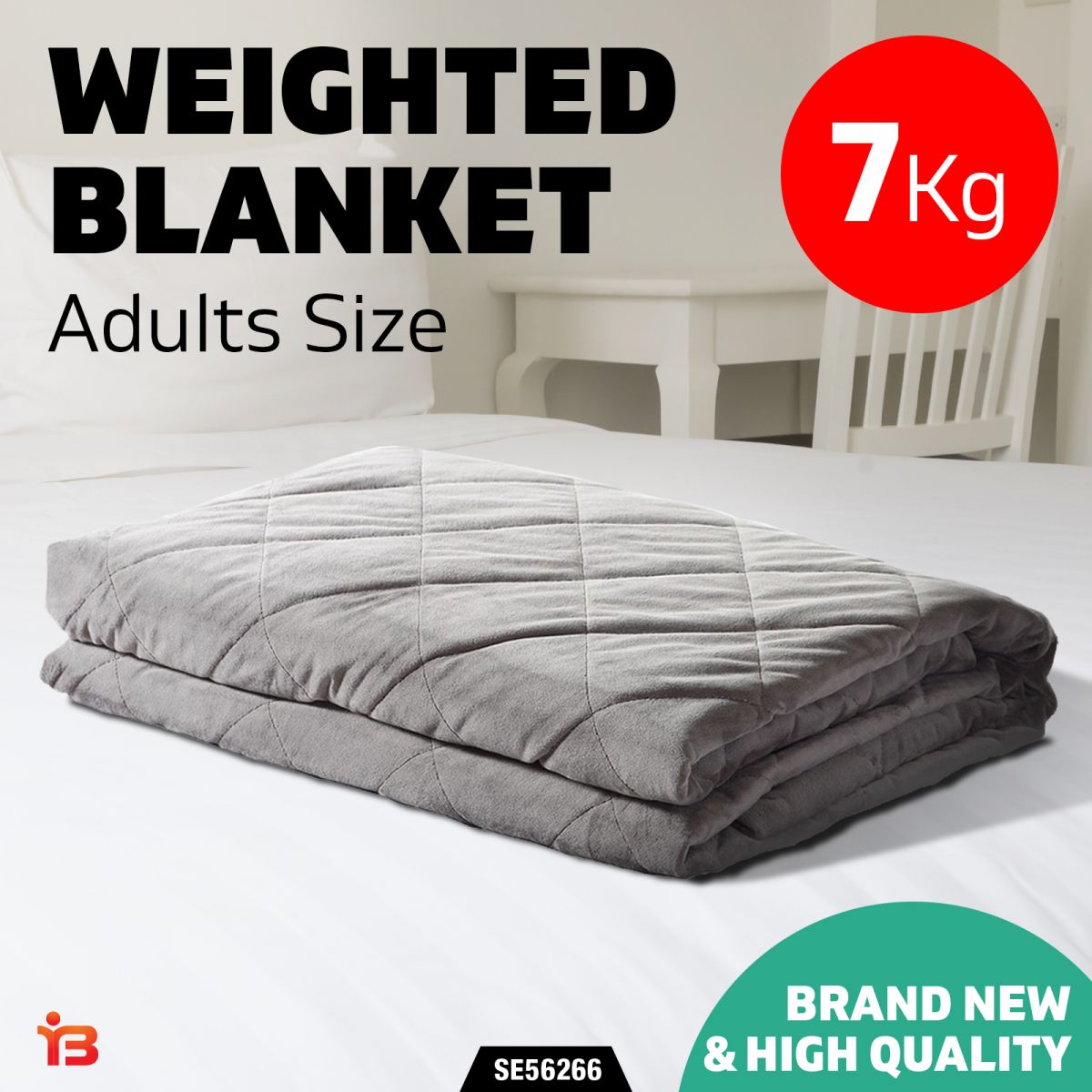 2. Giselle Bedding 9 Setting Fully Fitted Electric Blanket – Double
Did you want to stay warm and cosy throughout your forty winks? Then have this Giselle Bedding 9 setting a fully fitted electric blanket to have a better sleep. In this electric blanket, you can set up nine different temperature settings. You can use the detachable controller with an LED display, and this blanket is featuring fleecy synthetic faux wool, which helps you feel soft.
In this blanket, you can set the operation time from one to nine hours. Don't worry, and you forget to switch off your electric blanket; there is automatic shut-off and overheating protection that gives you peace of mind. The best you can know is, the electric blanket is machine washable. Just unplug and toss it into the washing machine for a good clean wash. Don't let the chill and cold spoil your precious sleep. Buy this goose down quilt to have the comfort and warmth of a fleecy electric blanket.
3. Giselle Bedding King Size 700GSM Bamboo Microfibre Quilt
When you see this quilt, you will surely fall in love. The bamboo blend microfibre quilt is made with a healthy mix of 700gsm bamboo and hollow fibre filling, wrapped in 100% soft microfiber. This winter quilt provides you with everything you need and desire. The baffle box design and premium diamond-stitch look offer enhanced breathability and durability, thermos-regulating superior warmth and quality double-stitched hems. Last but not least, for every user, the bamboo quilt is infinitely eco-friendly and hygienic.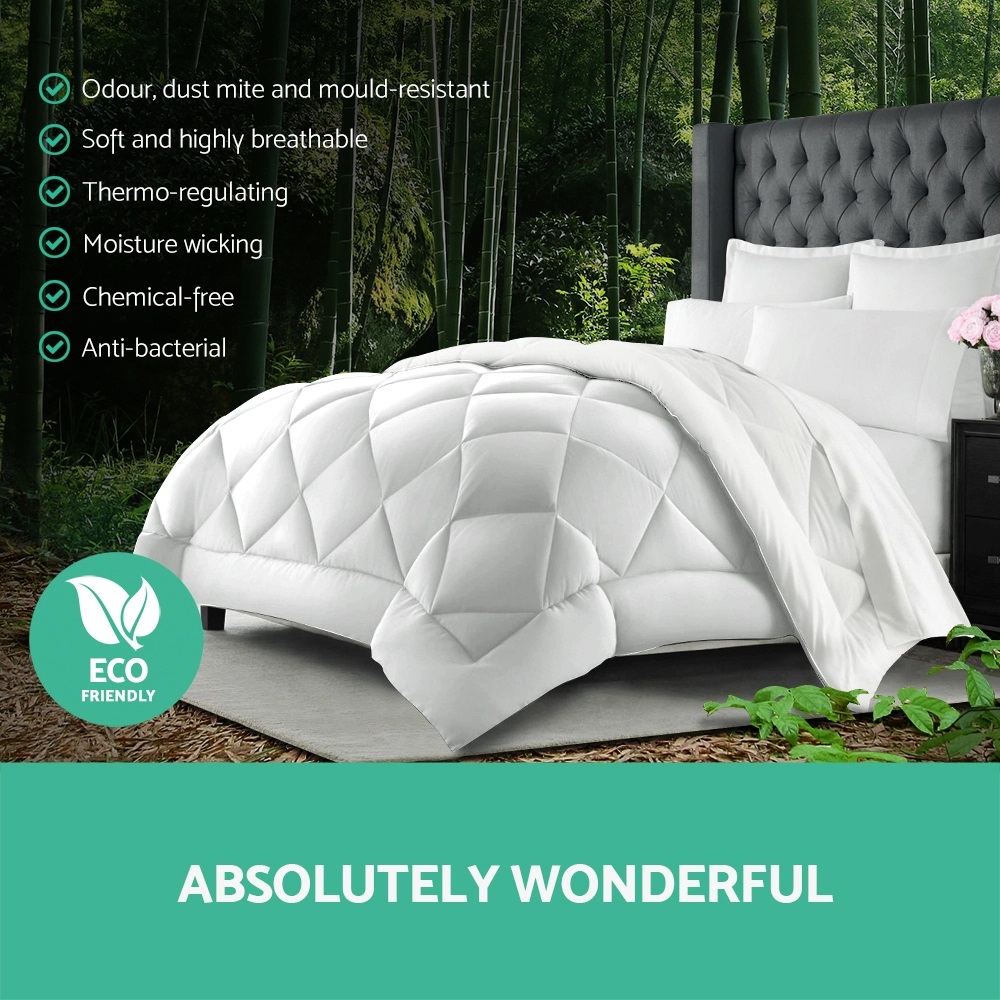 4. Giselle Bedding Queen Size Merino Wool Duvet Quilt
This wool quilt is made of 100% pure soft down proof cotton japara fabric cover, 100% premium quality Australian wool with Merino. It is box stitched, which prevents the filling from moving around the quilt. Also, it is Allergy Free and Anti-Bacterial.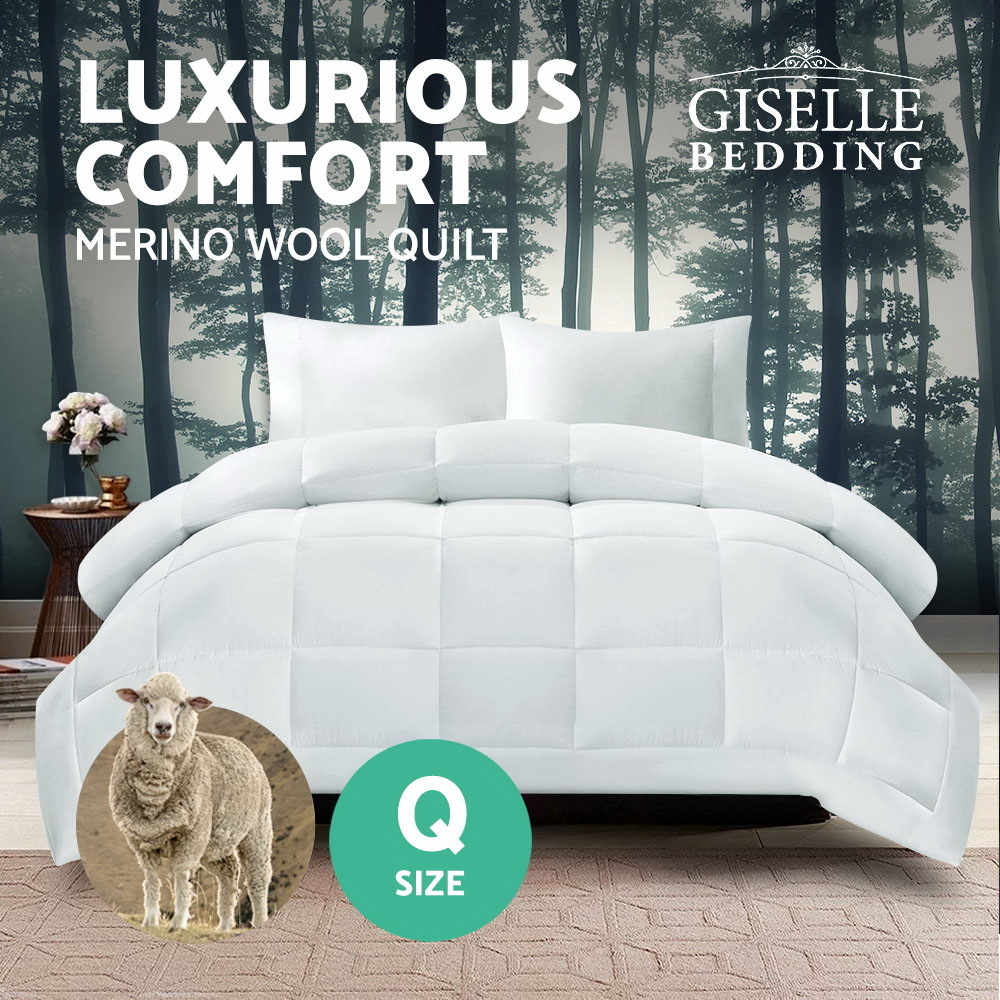 5. Giselle Bedding King Size Lightweight Duck Down Quilt Cover
This quilt is filled with duck down feathers with 700gsm weight. Its battle construction prevents shifting of the filling and expands down to retain heat. This duck down quilt is lightweight and provides optimal warmth without added weight. Additionally, this duck down quilt cover is mite and mould-resistant, and it is easy to maintain. The cover is 100% pure cotton with exceptional quality.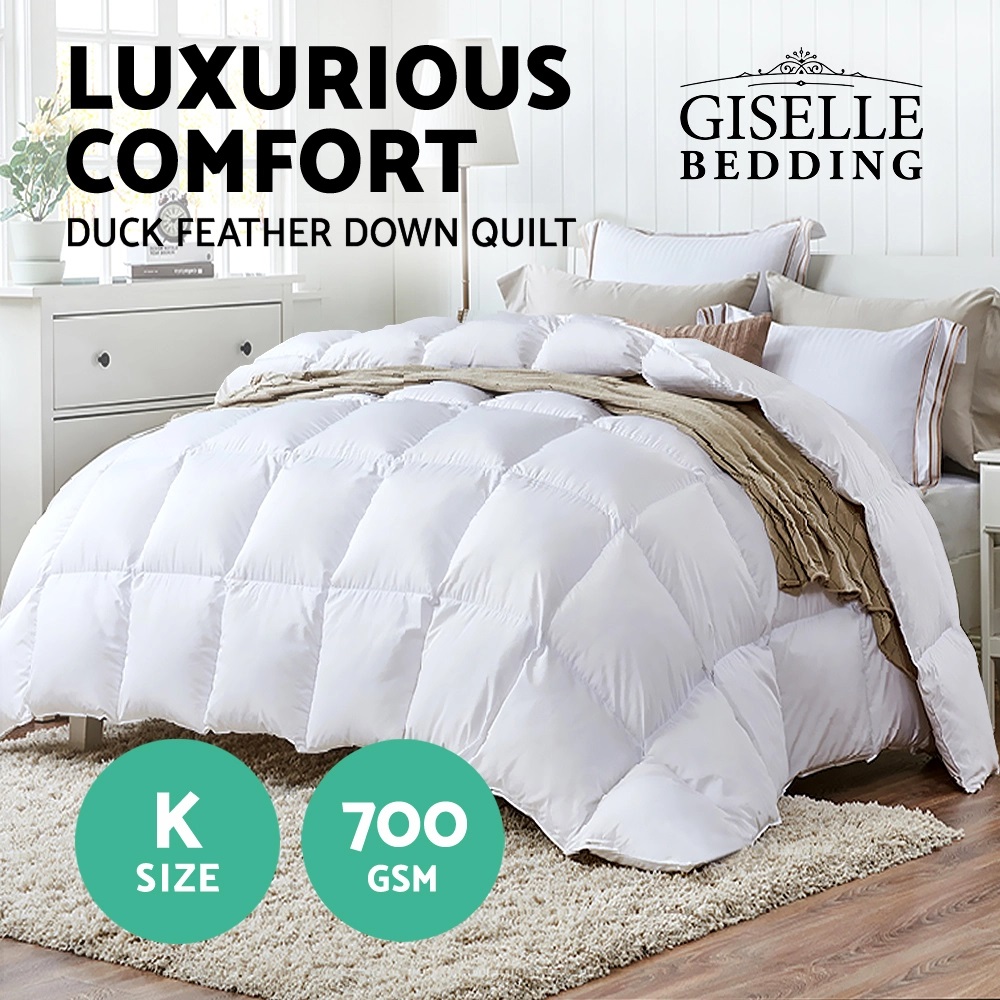 6. DreamZ 100% Wool Quilt 2-Piece 400/600GSM Doona Duvet Down Winter Summer Queen
This is a luxurious wool quit that is specially designed to provide you with as much comfort and support in winter as well as summer. This double quilt is backed with 100% wool and makes you relax and sleep with its ultra-soft cotton and wool combination. It is suitable for every temperature, which gives you a balanced feel. This DreamZ wool quilt keeps your warmth by absorbing moisture. It is an eco-friendly product that is made from all-natural material, pasteurized, carbonized, and biodegradable.
Also, it is a unique fire-retardant quilt. It prevents bacteria and mites from residing, which goes easy on your skin. Supporting your dreams and health, this is a perfect addition to your bedroom. It is made from all-natural material, but no chemicals involved. Buy this product to have a healthy lifestyle.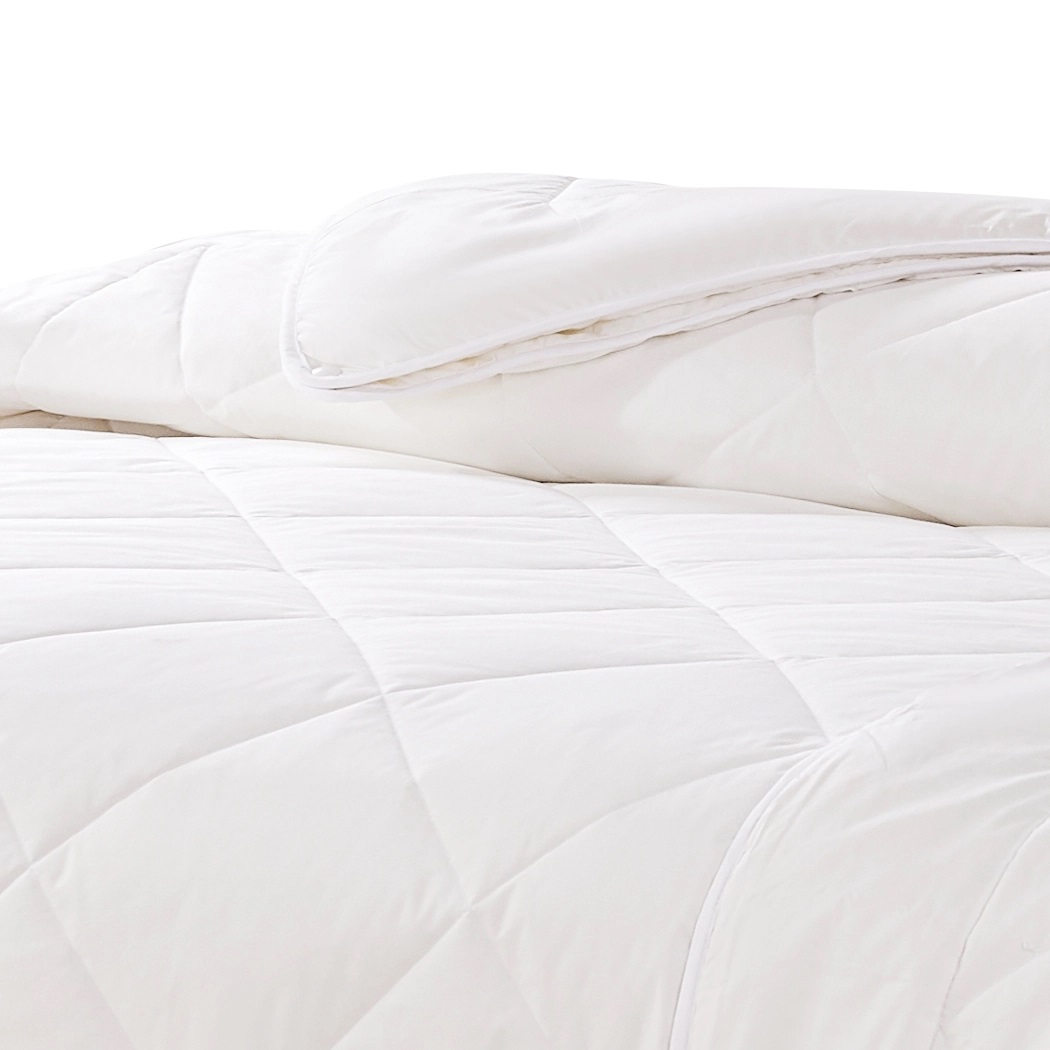 7. Giselle Bedding Faux Mink Quilt Comforter Fleece Throw Blanket Doona Charcoal Super King
You can experience exquisite warmth and luxury with this cotton blanket cover. It is made of a high-density 300gsm polyester filling and 200gsm cover. This soft, well-padded double-sided quilt provides as much comfort. Its thermo-regulation provides warmth, and winter weight is the perfect choice for those chilly nights and windy days. This Giselle Bedding faux mink quilt comforter transforms an ordinary bed into an elegant and luxurious one. It is machine washable, and when you buy this lovely set, you will really enjoy sleeping. Buy this quilt and have a better experience.
Wrapping It Up
Hope this guide might be helpful for you to buy the right type of blanket and quilt. Excellently, select the suitable one from the above list and experience as much comfort and wisely transform your home's decor.