5 Factors to Consider When You Buy Chainsaw Online
Want to buy chainsaw online that's value for money?
No one size fits all! These extremely versatile and useful tools come in a plethora of options there are a host of variables to consider before you land the one that is perfect for you.
If you're in the market to buy chainsaws for sale but don't know where to start, you're in the right place. We guide you with the right information you need and through the factors to consider when buying chainsaws for sale.
5 Things to keep in mind when you buy Chainsaw
1. Purpose
First things first – Know your process. Are you looking to buy chainsaw online for the usual light-cutting around-the-house which would include trimming or cutting down trees a few times each year? Or as a farmer or rancher, do you want a heavy duty professional petrol chainsaw to cut medium to large-sized trees in forest areas? Generally, an electric chainsaw for sale at Bargains Online is well-sufficient to meet all the requirements of a homeowner. Not only are they easier to use, more affordable, lightweight and easier to handle for most people, they are safer to use, require less strength and minimal maintenance.
2. Budget
These are power tools that come with a cost of owning it and running it, to keep it in working shape. Generally most electric chainsaws for sale fall under $200 and petrol chainsaws within the range of $100 to $500. However, in addition to the cost of ownership, you will incur occasional costs to maintain it in working shape. While an electric chainsaw will likely see an increase in electricity charges, petrol chainsaws need to be regularly refueled and get its air filter periodically replaced.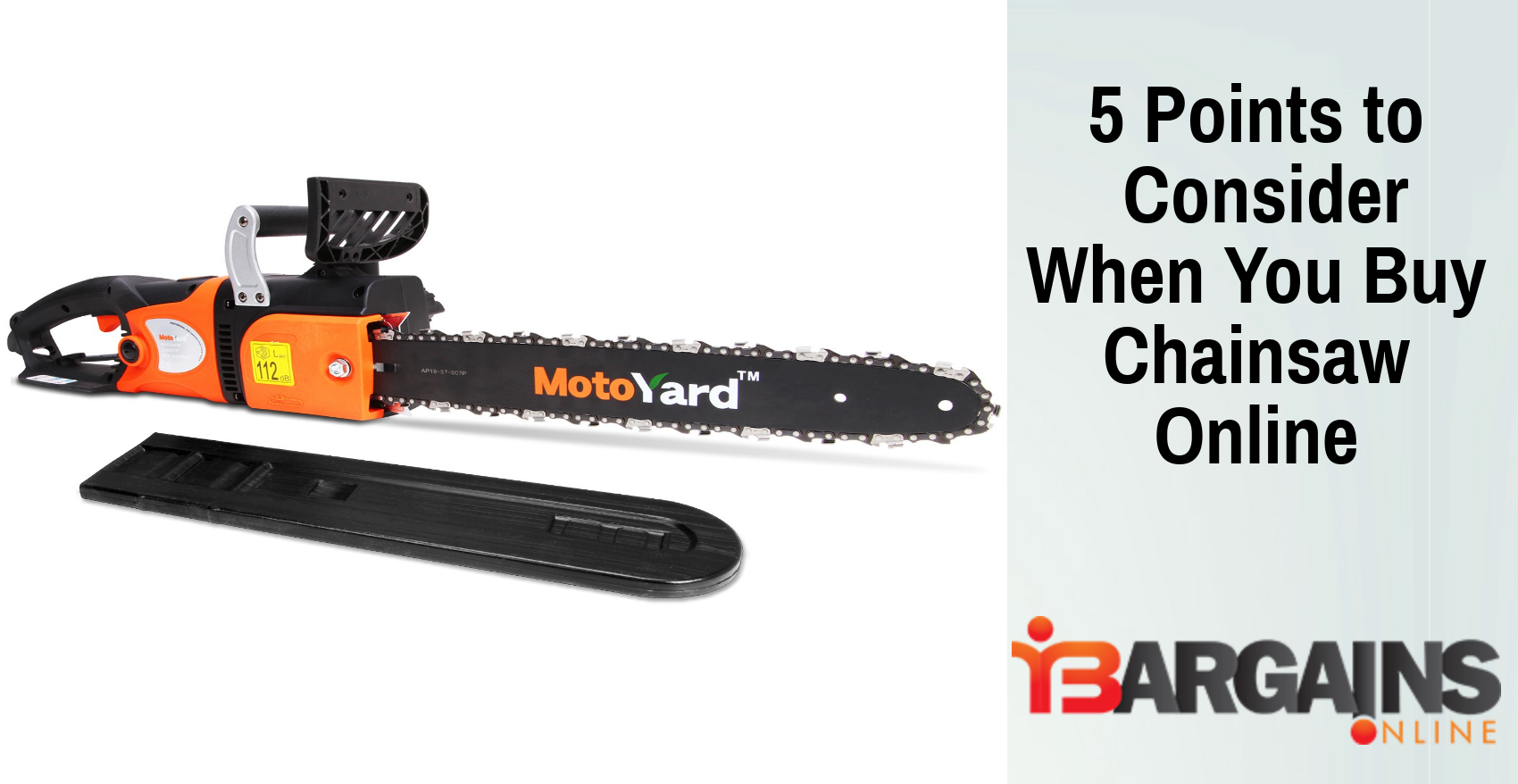 3. Engine Power
The engine power determines the cutting power and performance of your chainsaw. As a homeowner, you may prefer a high-voltage(corded - electric) or higher-powered (battery-electric) electric chainsaw to tackle most of the occasional trimmings around the house. Alternatively, you may invest in a petrol chainsaw of up to 40cc to get the job done comfortably. Professionals, however, prefer petrol chainsaws for their versatility and powerful engine to meet all their heavy-duty sawing possible.
4. Size of the Chainsaw and the Guidebar
Choosing a chainsaw that you can barely manage to hold will be difficult to handle and control. Their guide bars range in size from 6" to 42" and allows the chain to move quickly in rotation and guides the cutting teeth on the chain. However, the longer the guide bar blade, the heavier the chainsaw and therefore, the right combination of the right size and length of the guide bar is a major factor in its performance.
If you do not have much experience with using them, you may choose small electric chainsaws for sale with a guide bar blade of up to 14"

Are you a regular user for medium-sized tree cutting, you may buy chainsaw online with a guide bar blade between 16" to 20"

If you require it heavy duty tree sawing, you must ideally look for petrol chainsaws with guide bar between 22" to 40". However, you must keep in mind that bigger is not always better because larger guide bar blades could also be more difficult to handle.
5. Safety
Chainsaws are powerful tools that are very sharp and you can hurt yourself while working on it. Therefore, it is advised to invest in safety gear before you start using it. A helmet for head protection with face screen, safety glasses and gloves and ideally a pair of logging boots will ensure that you keep any risk of hurting yourself at bay.
Final Words
At Bargains Online, we carry popular electric chainsaws for sale like Black Eagle along with heavy duty petrol chainsaws for professionals. With an assured value for money, incredible discounts and better prices, we help you buy chainsaw online at best prices with guaranteed satisfaction and give you the perfect tips to maintain the chainsaws.