5 Best Whipper Snippers (Electric & Petrol-Powered) in Australia
Author: Bargains Online Date Posted:16 January 2019


Whipper snipper is also referred to as lawn trimmers, edge-trimmers or line trimmers. It is used for getting precision-perfect lawn edges or garden borders. Moreover, you can cut down wild patches of long grass to size, get horizontal trimming along fences and walls and even mow fair-sized areas of lawn.
Five Best Whipper Snippers That Are Worth Buying in Australia:
1. Whipper Snipper, Brush Cutter & Pole Saw [Powered by Honda GX35 Engine]:
This three-in-one Black Eagle Multi-Tool (Whipper Snipper, Brush Cutter & Pole Chainsaw) is the right tool for all your garden maintenance needs. A very dependable, durable and ultra-lightweight Honda GX35 4-stroke engine is easy to start and you can use it in any position such as sideways, upright and even upside down. The engine uses just half the fuel, less oil and roughly doubles the working life. It resourcefully delivers a silent, clean performance and it's powerful - all nicely blended into a very compact package. Know more about Whipper Snipper (powered by Honda GX35 4-stroke engine).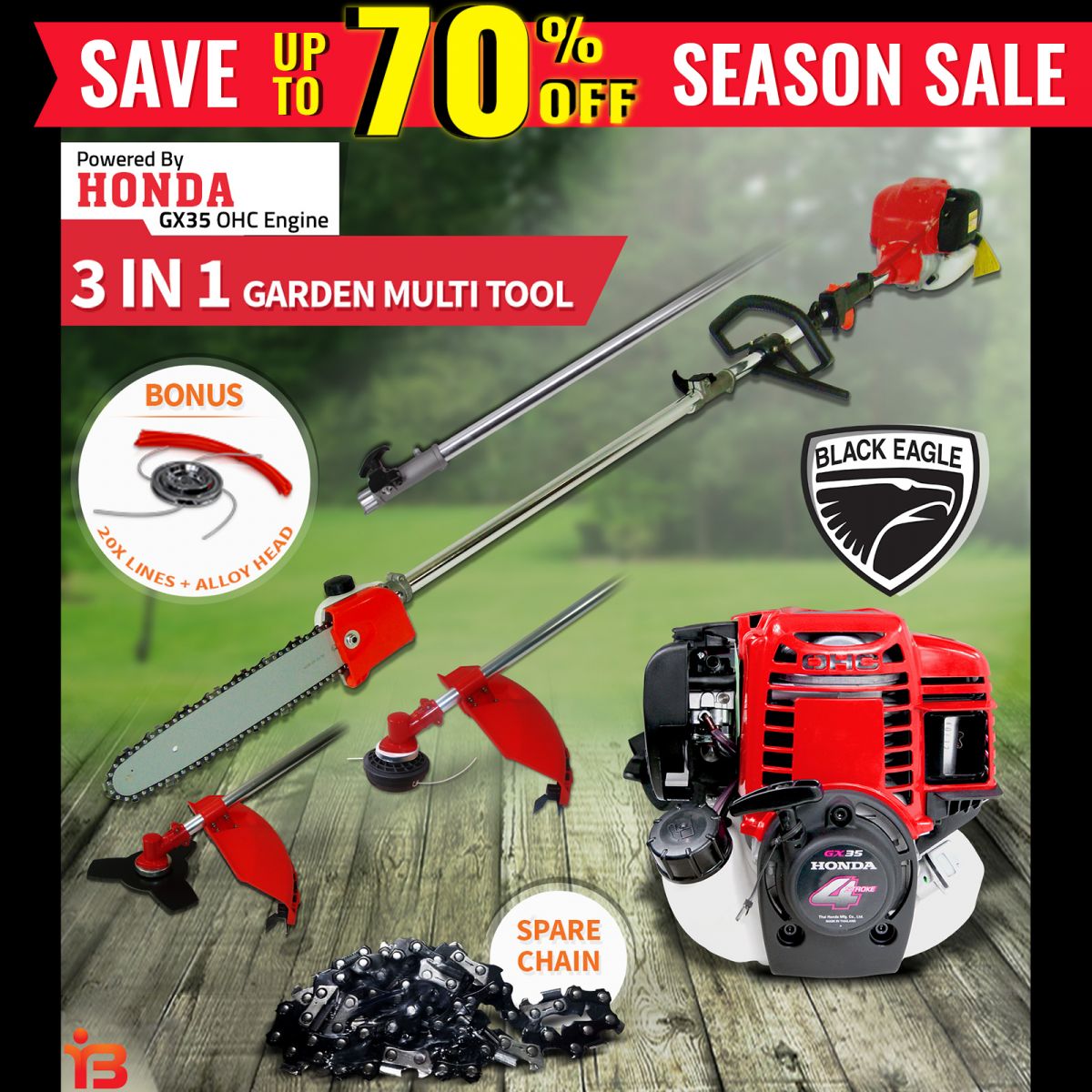 2. Brush Cutter with Whipper Snipper [Backpack Petrol 52cc]
This six-in-one backpack brush cutter line trimmer is distinctively designed and loaded with the 52cc genuine 2-stroke engine to make your garden chores easier. This is the perfect multi-tool you should have for your garden maintenance needs. This product is purpose-built for larger yards and village blocks where using a hand-held trimmer wouldn't be a convenient choice. With this intelligent 52cc line trimmer brush cutter, you can effortlessly cut small bushes and trees. Moreover, you can cut off that long grass in your garden or lawn in no time. Know more about Backpack petrol brush cutter with whipper snipper 52cc.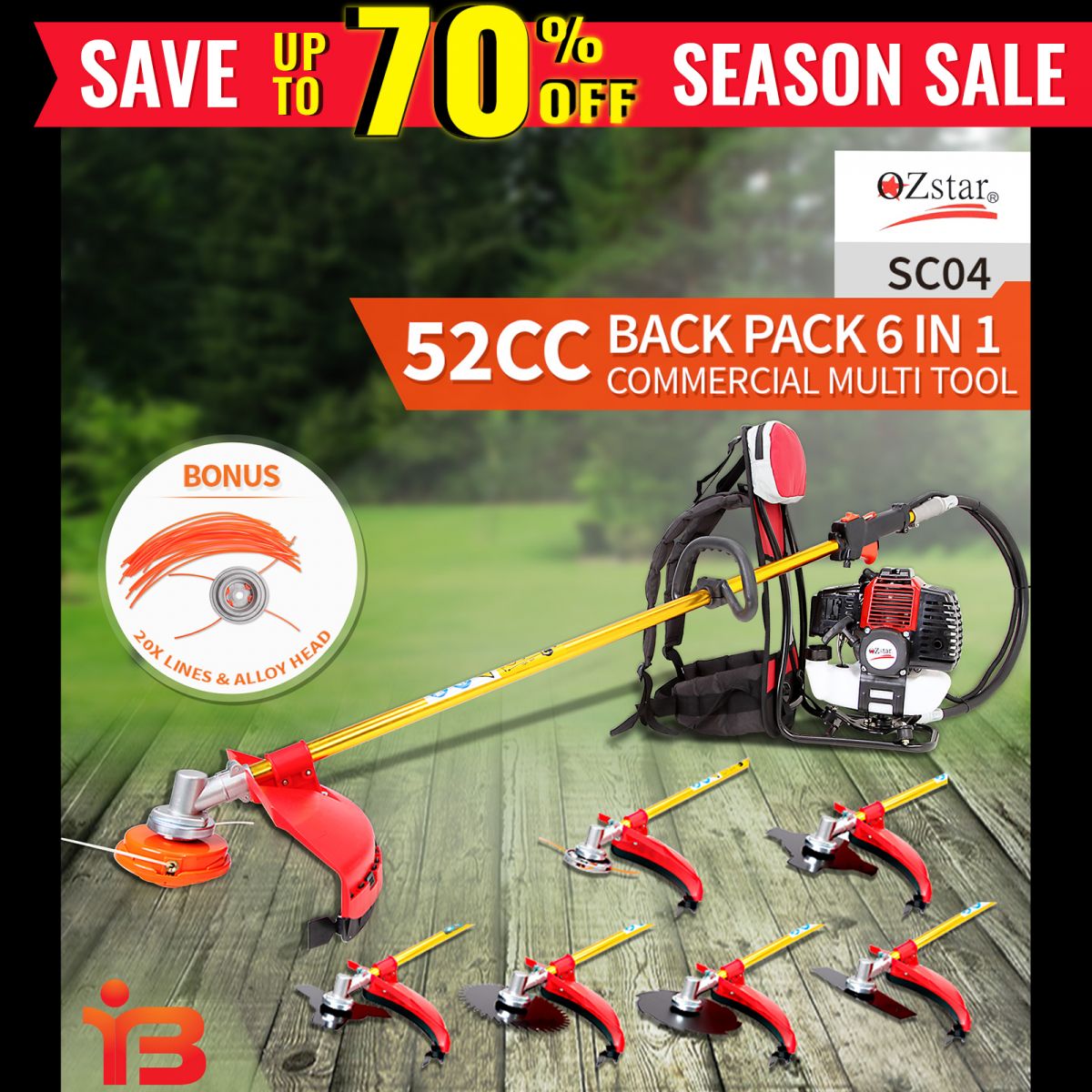 3. Line Trimmer Cordless Electric 40V Garden Tool
This cordless electric 40V grass trimmer is a highly durable and light-weight garden tool that's perfect for your use. The cutting heads are completely adjustable for all those tough to reach areas and can tweak to four different head positions ranging from 90 degrees to 180 degrees. The handle is perfectly placed to provide great manoeuvrability and seamless control. As this grass trimmer is durable and of high-quality, it's an ideal tool that can deliver perfectly manicured lawn every time. With a cutting path of up to 300mm, this grass trimmer can effortlessly assist you to trim your lawn with precision. Weighing just 10 kg, handling this cordless grass trimmer is a breeze and it can facilitate you to cut your lawn with the utmost comfort. The new and enhanced design facilitates for effortless handling and easy storage. Know more about Cordless Electric Line Trimmer 40V.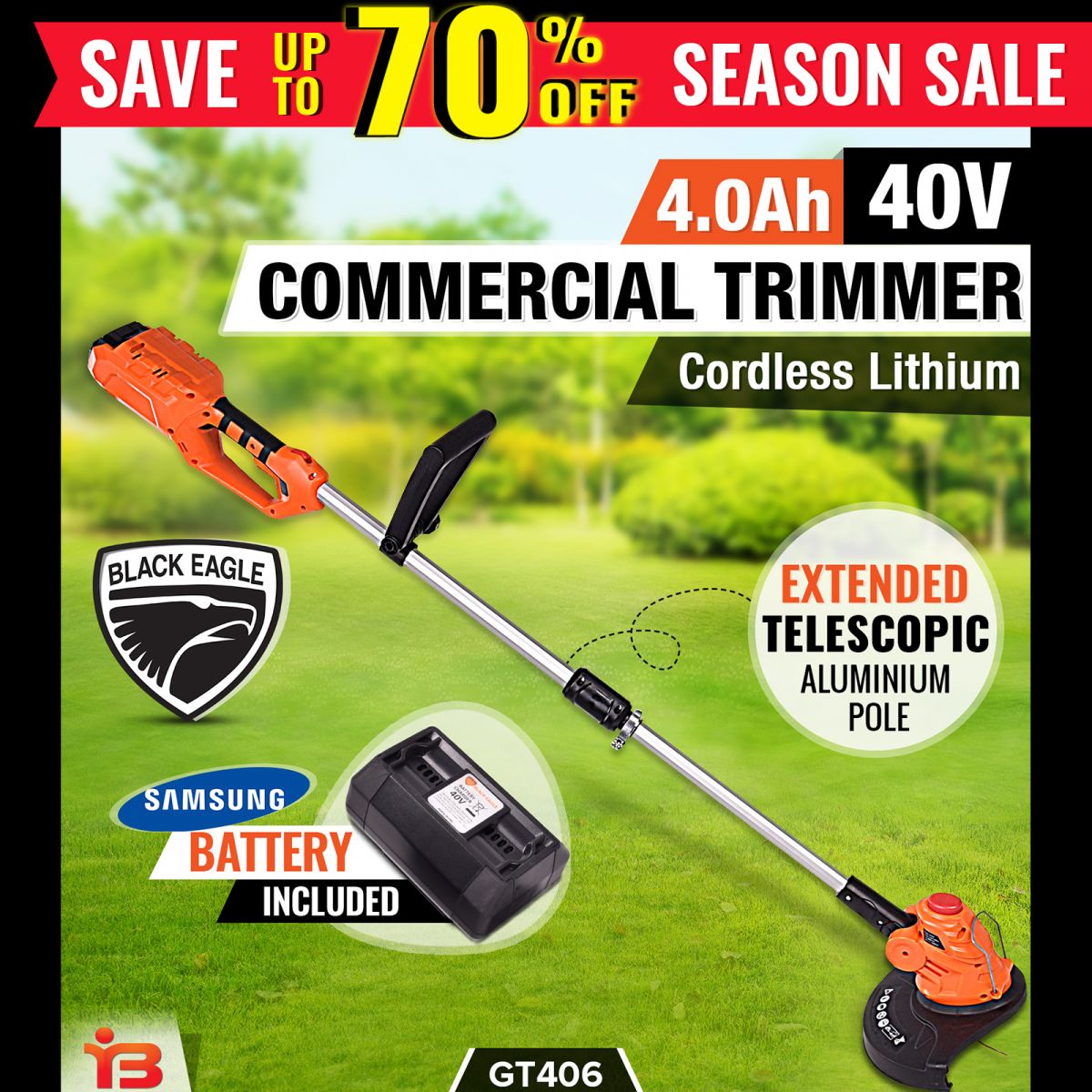 4. Brush Cutter & Whipper Snipper [Powered by Honda 25cc Engine]
This is an ultra-lightweight brush cutter powered by a dynamic 4-stroke engine with generous power and control along with the comfort-grip handle. The Black Eagle brush cutter is integrated with the original Honda GX25 engine that ingests only half the fuel and less oil when compared to a 2-stroke engine, increasing the life of the brush cutter. This is a perfect tool to own for your garden maintenance requirements. Know more about Brush Cutter & Whipper Snipper (powered by Honda 25cc, 2-stroke engine).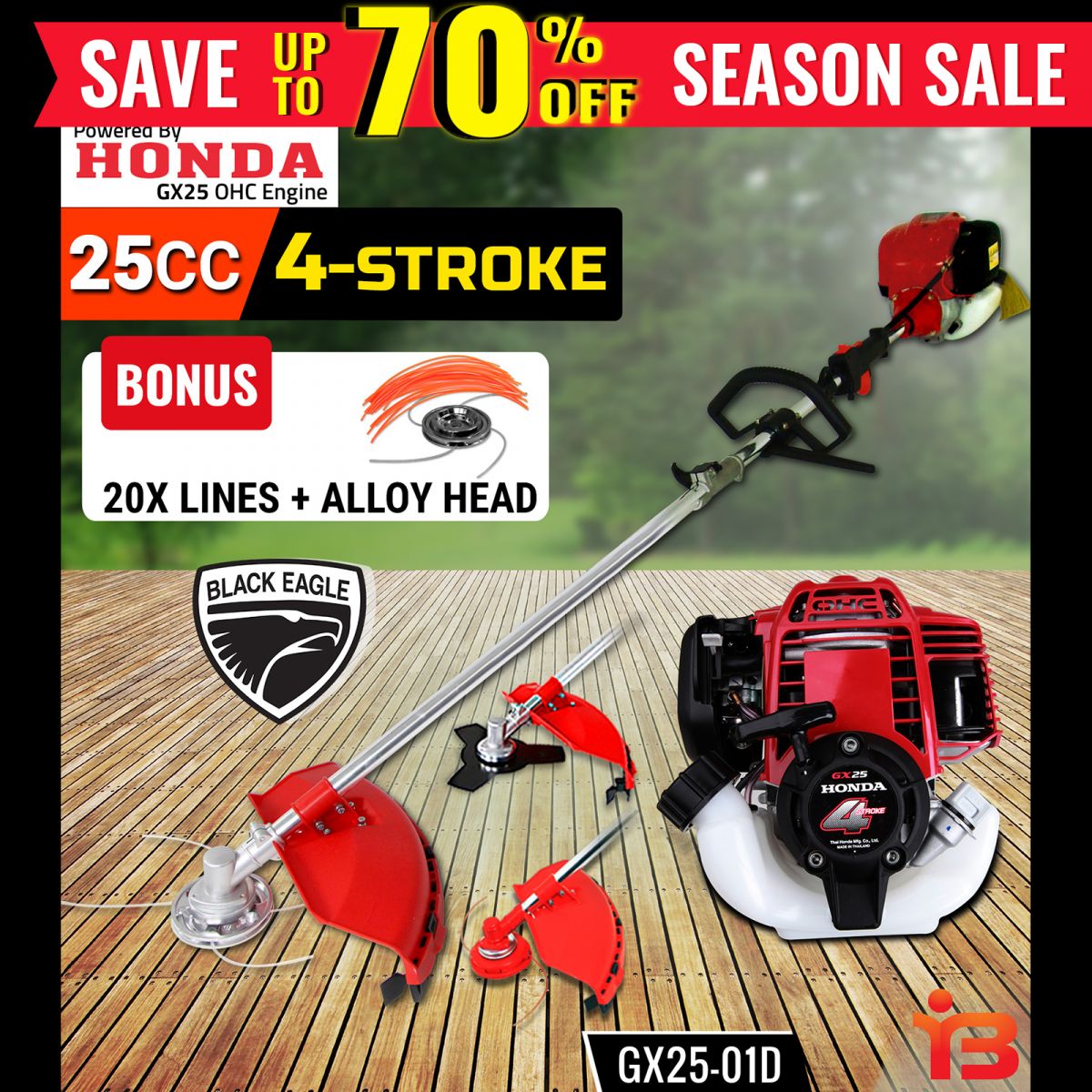 5. Brush Cutter 6-in-1 Honda Multi-Tool
This 6-in-1 Black Eagle multi-tool brush cutter is fitted with original Honda engine and is fully equipped by an ultra-lightweight 4-stroke engine that flawlessly renders a noise-free, clean and powerful performance that you'll anticipate from a bigger engine, but here it's available in a very compact package. It's very easy to start - the carburettor transmits fuel straight to the combustion chamber and modest, dependable ignition is only a smooth pull away, even after storage. The robust GX35 is a very dependable, consistent and durable engine, which will not let you down. This is the perfect multi-tool that should own for all your garden maintenance needs. Know more about Brush Cutter [7 in 1 Multi Tool powered by Honda engine].
Hey presto, but before choosing the right whipper snipper for your needs, you need to figure out whether you need electric or petrol-powered equipment. Whipper snippers are divided into two major categories that are:
Electric & cordless battery-powered trimmers
Petrol-powered trimmers
1. Electric & Cordless Battery-Powered Trimmers
Electric and cordless battery-powered brush cutters tend to have less cutting power than petrol powered trimmers but they are handier for smaller yards. They are simple to start and make less noise compared to petrol variants. On the other hand, corded electric trimmers need an extension cord to be dragged behind you, which is potentially risky, thus, they are best suited for small backyards. Motors of electric and cordless variants are normally at the cutting head instead of the handle end. The length of the shaft can often be adjusted as it doesn't come with an actual drive shaft. If you have a bigger yard that can't be completed with just one battery charge or if you get the trimmer out just to realise you haven't charged it the last time, then it's best to have a spare battery that can prove quite useful. When it comes to batteries, you need to consider two vital things namely voltage and capacity:
Capacity (Ah or amp hours): Capacity stands for the relative running time – the larger the capacity, the longer would be the running time. Although a 1.5 Ah or 2.0 Ah batteries are perhaps adequate for a usual yard; however, if you require longer run time then look for bigger capacities.
Voltage (V): Voltage stands for the power of the battery. Advancement in battery technology means that many variants now come with batteries rated at 36V, and some variants even come with 40V or 56V batteries providing better cutting performance than 18V battery variants.
2. Petrol-Powered Trimmers
Petrol-powered variants are the ultimate choice when it comes to managing large areas or for contractors as you can easily and swiftly refuel them and they are the most resourceful at cutting through swathes of long rough grass. However, when buying a petrol-powered trimmer, you need to consider the following:
Curved Shaft or Straight Shaft
Straight-shaft petrol trimmers often known as brush cutters are heavy-duty and often more powerful than curved-shaft variants, and can have a greater reach. Conversely, curved-shaft petrol trimmers tend to be popular in the domestic trimmer collection.
Other Vital Things to Consider
Whipper snipper variants are available with and without a clutch. In a clutchless variant, the line rotates continuously when the motor is ON, so you need to be cautious when walking around without turning it OFF. Conversely, a trimmer variant with the clutch will halt the cutting head from rotating when the motor is unused, which is safer when you're moving between areas.
A transparent fuel tank can be more convenient as you can easily see when you're running low on petrol, as well as, it will make refuelling effortless, as you can see through how much fuel you need to put in.
Pay heed to the shape and size of your lawn, the type of edges and obstructions it has and the type of grass it contains.
A 4-stroke engine can be handier as it requires straight unleaded petrol and discharges less pollution. However, a 2-stroke engine is still a popular choice and still many of the petrol variants come with a 2-stroke engine. If you opt for a 2-stroke engine brush cutter - trimmer variant, you need to ensure mixing the fuel in the right proportion – you can buy 2-stroke oil for mixing with the fuel at auto stores, mower shops, hardware stores and petrol stations located near you.
Voila! Now you are fully equipped to choose the perfect whipper snipper for your garden maintenance needs!
---
Leave a comment