Description
The New 7 in1 Black Eagle Multi-tool brush cutter with Genuine Honda Engine is equipped by ultra-lightweight 4-Stroke engine, efficiently delivers the kind of efficient cleaner, powerful, quiet performance that you'd expect from a larger engine – but in a very compact package.
The 4-stroke engine is not only demonstrably quieter than two strokes, it uses around half the fuel, less oil and delivers around twice the working life.
Now you can enjoy the power and performance of a 4-stroke engine that can be used in any position - upright, sideways, even upside down.
Easy to start, The Carburettor sends fuel directly to the combustion chamber and easy, reliable ignition is just a smooth pull away - even after storage. The GX35 is a very reliable and durable engine, just what you expect from the world's largest engine manufacturer.
This 7 in1 Multi-tool comes with bonus : "20 Grass Trimmer Cables, toolkit, gloves, ear muffs, shoulder strap".
This is the perfect Multi-tool for all your garden maintenance.
Specifications
Engine Oil Capacity: 0.1 L
SKU: GX35MUL
Engine Type: Air cooled 4 stroke OHC petrol engine
Oil Seal: NAK Seal
Cylinder Sleeve Type: Aluminium Cylinder
Blades: 3 blades included: 3T, 40T Carbide Alloy blade, 80T
Bore x Stroke: 39 x 30mm
Chain Oil Capacity: type:150ml / 10W-30
Compression: 8.0: 1
Hedge Trimmer Blade: 17"
Net Power: 1.0 Kw (1.3 HP) / 7000 RPM
Bonus: 20 Grass Trimmer Cables, toolkit, gloves, ear muffs, shoulder strap
Brush cutter Attachment: Auto Bumper + Line
Max net torque: 1.6 Nm / 0. Kgm / 5500 RPM
Extension pole type/Diameter: Alloy/26mm
Ignition System: Transistorised
Overall length: 2.3M
Starting System: Recoil
Parts: Always available
Fuel tank Capacity: 0.63 L
Engine Displacement: 0cc - 49cc
Bar Length: 12" Bar + Carlton chain
Pickup & Delivery
You are most welcome to collect your order from our warehouse at 1/191 The Horsley Drive Fairfield NSW 2165 (Entry from Tangerine Street).
You need to place your order online first and make sure you have received confirmation that your order is ready for pick-up before coming in. Please note that we require up to 2-3 business days to process your order.
Free shipping is only available to select post codes and may not include certain far regional areas, to check eligibility enter post code into shipping calculator.
Provide us with your correct delivery address and contact details
Please make sure someone is at home from 7 am - 7 pm on the delivery day. if you believe an alternative address is more convenient to deliver the item then please make sure you change the address at eBay checkout.
Delivery guy will require an assistant to unload heavy items of his vehicle. Our delivery guys only deliver at property entrance on ground level.
We do not ship to PO boxes and surrounding islands.
For all metropolitan areas allow between 2-7 working days for delivery and for all non-metropolitan areas allow between 5-10 working days.
After ordering online, you will receive an email confirmation from Bargains Online containing your receipt of payment details (if you have provided your email address). We will also normally confirm receipt of your order soon after ordering.
Included in Box
1x Genuine HONDA GX35 Engine
1x Comfortable 'D' Handle
1x Anodized Alloy Shaft
1x 75cm extension pole
1x Carbon 40T Blade
2T, 8T, 80T Blade
1x Auto Tap Bumper Head
1x Commercial Alloy Head
1x Pole hedge trimmer
1x Calton Chain
1x Debris Shield
1x 20 Grass Trimmer Cables
1x Tool Kit
1x Gloves
1x Ear Muffs
1x Shoulder Strap
1x Manual
1 years Warranty
HONDA Powered Pole Chainsaw Hedge Trimmer Brushcutter Whipper Snipper Multi Tool
Commercial Series,Honda Engine,Bonus Alloy HEAD+Blades
Don't Pay $799
$619
SAVE $180
---
Blades - 3 blades included: 3T, 40T Carbide Alloy blade, 80T Chain Oil Capacity - type:150ml / 10W-30 Brush cutter Attachment - Auto Bumper + Line Cylinder Sleeve Type - Aluminium Cylinder Max net torque - 1.6 Nm / 0. Kgm / 5500 RPM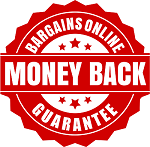 We are so confident that you will love this product that we offer a 30-day money back guarantee.
Learn More