Tips for Buying Outdoor Furniture in Australia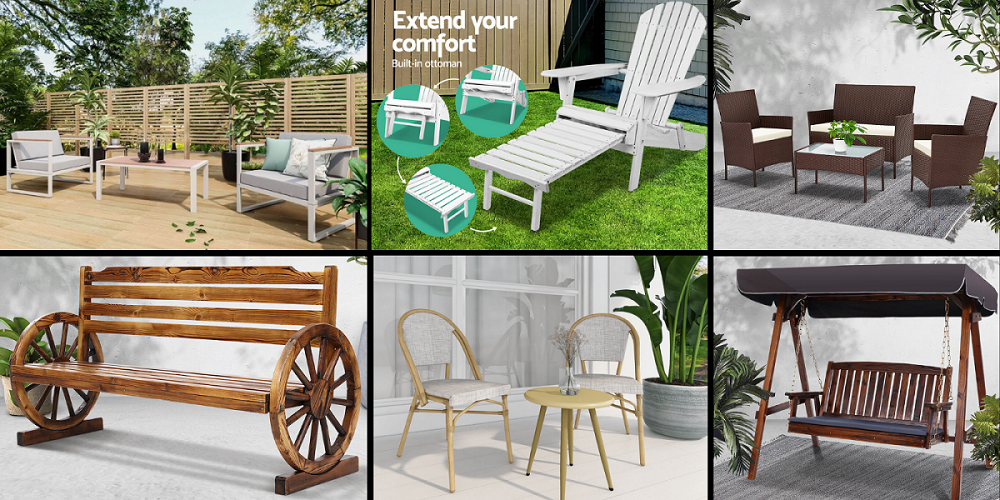 Are you looking for purchasing outdoor furniture in Australia? Then you have landed on the right page. A patio or garden is an important part of your home and a superb place to relax and connect with nature. Beautifying your patio with plants and the right piece of outdoor furniture will extremely create a welcoming vibe.
When it comes to the patio or outdoor furniture, there are endless options. You can wisely transform your outdoor area look by selecting suitable furniture based on your patios space, colour and vibe. When you bring everything in an organised manner, it will attract your guest. However, when you are purchasing, you need to consider several factors such as comfort, functionality, quality and material.
Here are some tips for buying outdoor furniture to have the perfect balance between entertainment and relaxation.
Make a List of the Outdoor Furniture for Your Patio
Everyone thinks about the outdoor living perfection and has a dream to make it lively. The patio is a space to sit and relax and sophisticate the space. List the type of furniture and elements you need to decorate. So, you can enjoy nature and read your favourite books comfortably.
When you plan to buy, make sure of the future activities like hosting parties and get-together. Moreover, don't clutter the space with more furniture; it is advisable you look for the best furniture that suits your patio design.
Look Down to Select the Right Type of Furniture
Outdoor spaces can tend to be airy, light and wonderful but it needs a perfect layout. As to enjoy comfortably and bring some luxuriousness, it is best to have Adirondack chairs, garden benches, lounge sofas, Papasan chair & table set, hammocks & swing chairs and sun lounges. It works for your space is a great way and makes it look larger. Never limit the furniture colours, and for predominant pieces of furniture, it is best to stick with the neutral base colour palette. Also, to enhance the aesthetics, it is best to add colourful splashes into the mix with vibrant accent pieces, textiles and cushions.
When selecting the furniture, also ensure its quality where quality always matters. Look for a good quality outdoor dining set so that you can enjoy your meal with utmost comfort. When you plan to buy any product, it is advisable for you to check product information, consumer reviews and warranty on the product.
Comfort is King
You should be more concerned with wicker outdoor furniture that offers a high level of comfort where it creates a warm and inviting space. Rather than rushing out to buy what looks good, take the time to ensure your furniture options are comfy. Naturally, fabric makes patio furniture look and feel more comfortable, where it helps soften hard pieces. It is best for you to look for plenty of cushions and throws to make your space feel relaxed.
If you like to add a little bit of fun to your patio, buy the bar tables with height-adjustable chairs, bar stools, and bar furniture. You can get it in different styles and sizes. Bar furniture will make you feel that you are in a cafe and adds fun to your meal. Get the modernised furniture to make your place so pleasant and stylish.
Select the Furniture that Suits Your Decor
When choosing your patio furniture, don't limit your choices to neutral colours or natural wooden tones. Today, wood, wicker pieces, and metal plant pot stands are available in a wide range of colours and styles. Choose the vibrant colour furniture that complements the outdoor decor of your home.
Easy Maintenance
Your outdoor space is reserved for relaxing. So you need to choose outdoor furniture that has a minimal amount of maintenance. It is best to stick with materials that have greater resistance, such as all-weather cane, cedar, rattan teak and most metals. Additionally, for a pleasing look, it is advisable to clean your furniture regularly.
Consider Your Budget
Whatever you are planning to buy, the budget decides it. If you are constrained with a budget, it is best to buy the higher quality furniture that is value for your money. Bargains Online is a leading online retail store, we offer outdoor furniture with the AfterPay option so that you can buy all the furniture and pay with interest-free instalments.
At our online store, you can also buy a variety of stool & chairs, furniture for your bedroom, bathroom, living room, office, accessories and storage solutions. Call us anytime on 1300 133 599 for shopping information at Bargains Online.
Summing it Up
Outdoor areas are limited in terms of space, and furnishing is a perfect way of maximising functionality and space. Selecting the right set of furniture on purpose will double your pleasure by comforting you. We hope, the above tips will be helpful for you to select the right piece of furniture. Choose outdoor furniture that works your way!