Why You Need to Buy Jumping Castles for Kids?
Knowing What Special Thing Your Child Wants To Have In Their Birthday Party Is Significant…
As a caring and responsible parent, in all probability you will ask your kid about their expected birthday gift that they would like to have in their birthday party. A majority of kids will instantaneously answer to their parent and say that they are looking forward to have loads of fun, entertainment, music, favourite cake and other things would just take a back seat.
Jumping Castle Can Keep Children Truly Indulged…
Typically, kids' don't worry too much regarding discipline, dinner tables or food and drink that are being served on that day. On the contrary, they will place more emphasis on having fun filled activities or games and indulging in it to the fullest. Here, parents can buy jumping castles for their beloved children to have loads of fun and excitement. Jumping castles are truly the point of attraction in any kids' birthday party or wherever kids are invited. Jumping castles creates an atmosphere of fun and merriment for the kids and exhibit that something very exceptional is going on, which produces an incredible impact.
These jumping castles make sure that the kids do have ample fun and delight and derive maximum happiness out of it and at the same time it creates a whole lot of enthusiasm among the kids, which is amazingly stirred up at the birthday party. Little children love all things that are colourful and bright, and they just like to indulge by playing with them.
Normally, children look around for activities by which they can derive maximum fun utilizing their energy by discovering around. To keep the kids active and energized all through, such fun filled games and activities are imperative. To make the lives of kids' happier, activeness in their life is of utmost importance. A jumping castle is the right thing to purchase for making the kids active and spirited.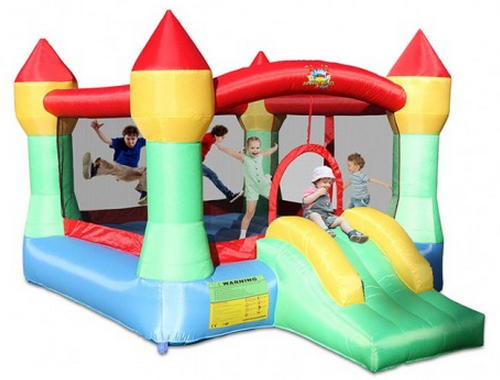 An Array of Jumping Castles to Choose From…
You get a variety of jumping castles, from the simple Adventure Fun Park to the high-end wet and wild jumping castle. In the later variant (i.e. Wet and wild jumping castle), kids can derive immense water fun along with the each slide they take as it contains the space for a mini water pool – wherein they just slide into the water. Parents could choose jumping castle for sale as per their child's liking and their budget from the standard Jump 4 Fun jumping castle, 2 Slide with Cannon Jumping Castle, Super Water Park Jumping Castle etc. What's more, these jumping castles come in exciting and bright colours that are well linked by the kids.
What are you waiting for, just go ahead and buy jumping castle that's perfect for your little angel…