Why Inverter Generators are Ideal for Camping?
Before buying inverter generators, you need to know certain things. First of all, you need to figure out whether you need it for your home or camping; for recreational vehicles or for emergency uses. For residential and outdoor use, portable generators are just perfect. For recreational vehicles and mobile homes, inverter RV generators are specially designed. However, portable or RV inverter generators are not recommended for home use due to the risks of carbon monoxide emissions.
Also, prior to buying an inverter generator, you need to check your household power requirements so that in case you experience a sudden power cut, you can run your electrical appliances with the help of an inverter generator. Standby generators are just great as they automatically sense when the main power supply is cut off and gets activated immediately and supplies the same power to your entire household appliances. These standby generators are emergency generators used as power backup. Emergency generators are usually powered by natural gas, diesel, petrol and propane.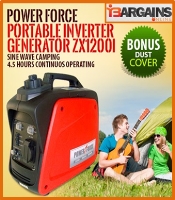 Michael Faraday discovered generator which became a resourceful appliance that transforms mechanical energy into electrical energy. These days, the most common camping generators utilize fuel powered engines to produce this energy. As long as you have the right fuel, you will have electricity and so they are an excellent travel companion to have when travelling in distant places.
You will get power supply when you are camping at the isolated places with the help of a recreational generator. Due to their sound, they had received a bad review in the past but not any longer. In the present days, inverter technology is used in recreational generators that are remarkably quieter than the old styled emergency generators. In case of an emergency, you can still use a recreational generator; however, we firmly advise on not using an emergency generator while camping.

Inverter Technology
To produce very clean AC power, inverter generators make use of a different type of source. The generator's overall size and weight have been brought down considerably by the inverter technology. The advancement in the inverter technology has made it possible for the engine to run at varying speeds dramatically decreasing the noise levels and fuel intake. The working of an Inverter generator is explained below in 3 simple steps.
Step 1: Produces 3 phase AC power at up to 20,000 Hz.
Step 2: Transforms AC power to DC power.
Step 3: Transforms DC power to clean AC power at 120 Volts/ 60 Hz.
Usage Requirements
For recreational purposes, a small 1000-watt portable generator might be all that you need. On the other hand, using a generator to power tools on the job-site, you might use up to 8000 watts. As you would plug appliances directly into a portable generator, you will need to ensure that your model has the number and type of outlets you require. The fuel tank is also a key factor. The larger the fuel tank, the more your generator would run and generate power without the need of refilling.
Some inverters are manufactured particularly to power low-wattage devices such as portable phones or digital music players. More sophisticated inverters are made to handle heavy-duty power tools. In case you are going to purchase an inverter that's powered by its own battery, you need to take into account the number of hours the inverter would supply power prior to a required recharging. When you buy an inverter, you require one that can manage the wattage of the devices you plan to attach to it.
Now, we can look at the advantages of using a generator as the main power supply when you are camping out and your vehicle is immobile.
The Advantages of Using Inverter Generators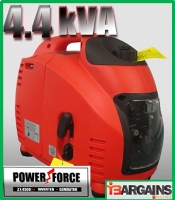 Superior Power Output: Inverter Generators generate power that is as consistent as the power you get from your power outlets at home.
Portable/Lighter and Smaller in Size: As it is portable/ small and light in weight, it will easily fit to any small space and can be moved quite easily. The mechanical parts to the source are now united with the engine flywheel. This facilitates inverter generators to be smaller and lighter in weight than the conventional models.
Silent Operation: Inverter generators are significantly quieter than the conventional generators. The economy throttle decreases the noise level along with the clean dampening materials that imbibe the engine's sound which aids in making the inverter generators incredibly silent. As inverter generators are silent, they could be easily used during nights when camping outdoors without any hassles.
Higher Fuel Efficiency: As the engine does not have to continuously run at maximum speed, economy throttle decreases fuel intake by up to 40%. It also aid in reducing exhaust emissions.
Additional Features
Over the years, inverters have added features and these days, most of the inverters include emergency radios, lights or their own inbuilt battery to preserve power.
They come with safety features such as engine oil alert system which automatically halts the engine well before the oil levels drop below safe limits.
Most of them come with 100% pure sine wave for a safe, steady power for all sensitive electronic appliances like TVs, Phone Chargers, and Computers etc.
When going on a camping trip, you can carry some of the electrical appliances from your home and make your trip more pleasurable. With the facility of a generator, you can easily make your morning coffee on your electric coffee maker as well as allows you to enjoy your preferred television program when camping outdoors. However, don't forget to thoroughly examine the accessible alternatives prior to buying a camping generator.