Why a Self Propelled Lawn Mower is a Must Have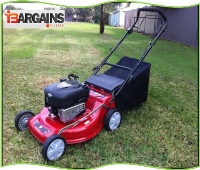 Tired of the tedious and time consuming work that goes into maintaining that trim and neat lawn look? Then it's time you made the switch to Self Propelled Lawn Mowers. These machines come fitted with a self propelled engine that only requires little guidance and direction of an individual while operating the mower.
Make your Lawn mowing experiences exceptional with models like the New Lawn Mower 21" Mulch / Catch Self Propelled - 6HP B&S 4 Stroke Multi Function. That are equipped with a 6 horse power self propelled engine, hence making lawn mowing less straining, enjoyable and less time consuming.
Notable features that a buyer stands to benefit with the acquisition of Self Propelled Lawn Mowers includes: mulching and bagging, electric start and rust proof steel decks. The bagging option simplifies the exercise by simply collecting the cut grass into a bag, therefore avoiding the inevitable raking of grass.
The existence of a speed adjustment feature within these machines makes them easy to operate, as an operator has only to adjust the machine's speed to one that suits their pace. Enjoy considerable bigger and wider cutting widths that benefits operators with less time while covering more ground. Some Lawn Mowers models have as much as 21'' in cutting width.
The electric stop feature found in these machines makes lawn mowing chores easier especially for the elderly, this as opposed to traditional mowers that require some amount of energy to pull the starter rope. Experience added safety features like the blade override feature that makes it possible for these machines to automatically turn off the spinning of the blades without necessarily turning off the engine. This feature results in extending the engine life, as they don't need to start and stop all the time.
With all the extra features these Lawn Mowers have to offer; they are a must have for anyone who is after that trim and neat Lawn look.