Robotic Vacuum Cleaner – Pros and Cons
A vacuum cleaner is the most effective way to maintain cleanliness and eliminate all sources of allergy or asthma causing bacteria to keep the home dust and dirt free. Prospective buyers must take into consideration not only the respiratory health benefits gained from having one. They must also look out for versatile functions, price range, and convenience of use. An ideal one answers all the needs with easy operation to effectively clean hard to reach surfaces and areas of a household.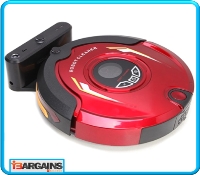 Overview:
The New 2013 Robot Vacuum Cleaner proudly makes its way to the market with its 5 in 1 functions that conveniently works on all kinds of cleaning and maintenance needs of the household. This one has a built in operating system where the user can program their commands through the use of voice operated functions or a remote control device. It effectively works on all kinds of floor types, hard wood, concrete or tiles. It can clean all areas that cannot be reached by other types of vacuum cleaners like under the bed and other surfaces.
Specifications:
Function wise it covers all the important aspects like; clean, mop, sanitize, sweep, and its voice over function. It has an approximate working time of one hour and thirty minutes, in attractive red colour and with full LED display digital features. The voice prompt function informs you if the cleaning is already accomplished along with its tolerable noise level of 50 dB. Battery charge time is 5 to 6 hours approximate and lightweight at 3.2 kgs. It comes with a remote control and own power adapter for charging purposes.
Choose the New 2013 Robot Vacuum Cleaner because it is loaded with useful features like the voice prompt function that tells you if it needs to recharge or one of its parts is not functioning properly. It boasts of an AI Smart chip and a self adjustable wheel to prevent bumps and falls along the stairs. Floors are cleaned more deeply and fast with its advanced main brush.
Buy this amazing product from Bargains Online at the best price. They offer great products at a reasonable price with proper warranty. Their staff is fully dedicated to assist you in all your questions. Plus, you can avail of next day delivery upon purchase and tracking details after the item is dispatched.
If you like this post, please share it on your Face book and/ or Twitter accounts.