How to Choose a Pressure Washer Cleaner for Cleaning Tasks
To keep your home clean and dirt free, surely you'll require a good pressure washer cleaner, which will make tough cleaning tasks easier. Dirt, dried grass clippings, greasy coating from air pollution etc. can cover all things in sight. With the help of a pressure washer, you can easily accomplish hard cleaning jobs and tackle other issues like clearing blistered paint or flaking. Many homeowners don't know what type of equipment and with what power they should consider when buying a pressure washer cleaner. This blog will help you to identify what type of pressure washer cleaner is ideal for your cleaning tasks.
The first and the most important thing you need to find out is what type of cleaning work you will be undertaking. Once you have identified your cleaning requirements, then after you can choose the ideal equipment. Pressure washer cleaners that are commonly used for house cleaning tasks are listed here below:
Pressure Washer Cleaner [2900 PSI]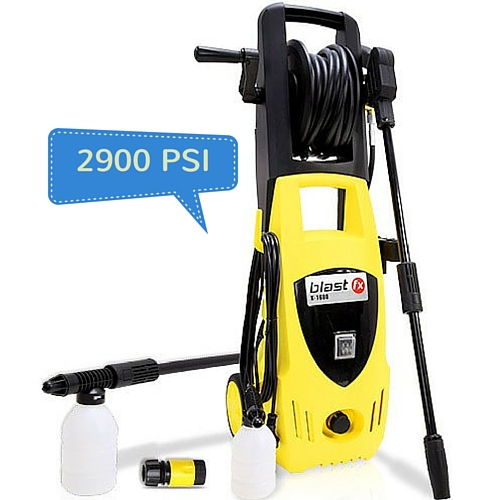 This Blast FX pressure washer cleaner with gurney pump (2900 PSI) is a great product, which is totally packed with superb features making your cleaning jobs easy. The features include spray gun with adjustable spray nozzle, 20M water pressure hose with reel, 4.5m power cord with Australian standard plug, 3 Axil-Piston alloy pump, heavy-duty trigger gun with safety lock, big detergent tank, rubber tyres for easy movability, copper inlet fitting, and stretchable handle for handy use. This is perfect pressure water cleaner that you should have in your home. Use: It is suitable for cleaning windows, fences, driveways, dirt bikes, cars, trucks, boats, etc.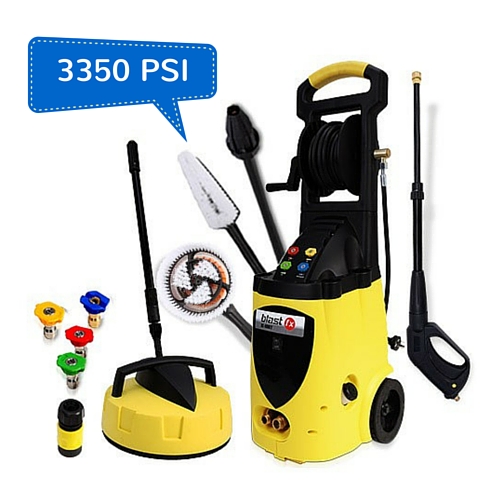 Pressure Washer with Floor Cleaner [3350 PSI - 10M High-Pressure Hose]
This Blast FX water pressure cleaner is designed with greater power (3350 PSI - 10M high-pressure hose). If you need a speedy and effortless tool for completing your hard cleaning tasks, then this pressure cleaner is ideal. It is integrated with the detergent function that renders superior wash results. You also get adjustable lance appropriate for cleaning along with this pressure cleaner. Use: It assists in cleaning house roofs, walls, windows, dirt bikes, cars, trucks, driveways, fences and handles several hard cleaning tasks smoothly.
High-Pressure Washer Cleaner [4350 PSI 25M Hose]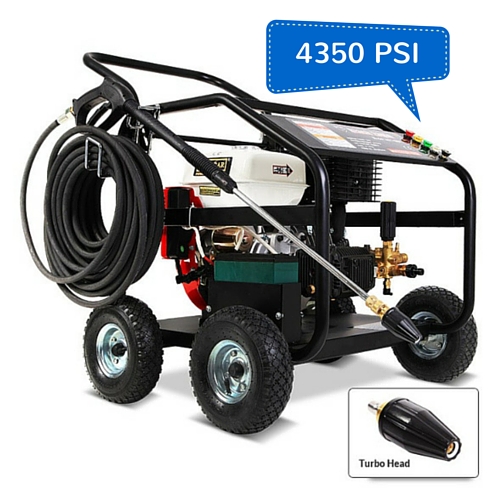 This Black Eagle Pro high-pressure washer cleaner comes with electric start functionality, which renders a dependable, constant and powerful 4-stroke 389cc Ducar OHV engine that is guaranteed to serve you for several years. It's a professional Italian designed pump incorporated with heavy-duty valves - this pump renders a maximum pressure of 4350 PSI. The features of this product include 25M high-pressure hose, gutter-cleaning lance, concrete lance, and to reach high windows and gutters – it comes with 5X professional quick release nozzles, heavy duty trigger gun with safety lock, detergent attachment, 10-inch wheels and turbo head.
Use: It is ideal for cleaning driveways, fences, walls, gutters, roofs, dirt bikes, cars, trucks and all other types of hard cleaning tasks.
The above information will give you an idea as to which pressure washer cleaner you should buy for accomplishing your cleaning tasks.
About Bargains Online:
Bargains Online stocks a huge range of high-quality pressure washer cleaners from well-known brands like Blast and Black Eagle. You can also go through pressure-washer buying guide, which will help you in your buying decision. At Bargains Online, you'll get the finest pressure washer cleaners at cheap prices precisely because of heavy discounts that are hard to find at other retail outlets.