Gardening Equipment for Better Gardening
Gardening is very therapeutic whether it's a job or a hobby. You can switch off and focus on your garden, creating amazing flower beds, Australian fauna gardens and hedgerows. Water features are also very popular as are fruit trees which these days can come in miniature versions to be tended to in even the smallest of gardens.
Whether your piece of outdoor tranquillity is a sprawling, grand garden or a smaller townhouse urban escape, the right gardening tools can help you. Take the heavy back pain out of gardening and choose some essential gardening tools which will keep your garden pristine and beautiful whilst preventing you from being too exhausted to enjoy it.
Here are our top 3 essential tools for better gardening.
Lawn Mower: It may seem an obvious choice which all homes have, but choosing the right lawn mower or upgrading to a more efficient model can really speed up your mowing time with the minimum of effort. Browse online for fantastic deals which are out there for gas and electric mowers which are designed for smaller gardens and even a little tougher and robust for larger gardens which are ideal professional gardeners and small holdings.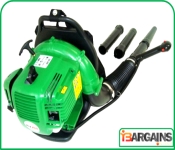 Leaf Blower: The leaf blower hasn't had a good reputation in the past. Early models were so loud that they breached local council noise codes! But these days leaf blowers are not so loud and twice as powerful so you can get the job done in half the time, leaving your decking leaf free to avoid slipping hazards and your garden looking just as beautiful as you intended it to be.
Hedge Trimmer: A hedge trimmer is a great investment if you want to take the back breaking work out of gardening. In no time at all you will have smooth, straight hedges which look just as beautiful inside as they do from the street.
Investing in these key pieces of gardening equipment will give you the satisfaction of a professional job and it will give you time to really enjoy your garden. So browse and buy online today and enjoy your gardening!