Essential Electrical Garden Tools
There are many tools a gardener needs, but if you have a large garden you should think about investing in some essential electrical tools to maintain your garden looking fantastic all year round without damaging your back or straining your body or wasting a whole weekend.

Lawnmower
A lawn mower is one of the most important and expensive purchases for your garden. If you have a large lawn, choose a lawn mower which is light, efficient and has several different blades and settings. A self propelled lawnmower is excellent for safety, the mower starts whenever you put pressure on the start bar allowing you to control the mower easily. As soon as you release pressure on the bar the power stops, which gives you peace of mind and safety.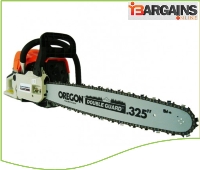 Petrol Chainsaw
A petrol chainsaws is the most popular choice of chainsaw. They are easy to use, durable and don't have any dangerous connections or wires, which can accidently be cut and cause electrocution and injury. A cordless petrol chainsaw is great for mobility and accurateness when reaching difficult areas on or around large tree trunks and branches, and newer models are also light so they don't hurt or damage your arms.
Hedge Trimmer
If you have a secluded garden, or trees such as topiary, fir or pine a hedge trimmer is essential. Throw away those rusty old shears, which take hours to trim one privet hedge. Grab a new model, lightweight and efficient hedge trimmer, which can give you an even, professional finish in half the time.
With these essential electrical garden tools the neighbours will think you have employed a professional gardener!