What Type Of Kitchen Bin Will Provide The Best Practicality?
Are you comfortable using a standalone kitchen bin or you prefer built-in kitchen bin under the sink or benchtop? To begin with, a variety of kitchen bins are available in the market that comes in various capacities. However, they are divided into two broad categories viz. built-in or integrated kitchen bins and standalone kitchen bins.
Types of Kitchen Bins
Kitchen Bin Under the Sink
Space under the sink is usually not optimally used but can put to use in a better way by integrating a concealed kitchen bin. It would be better if you can combine areas for common garbage, recycling and compost. A pull out drawer with handles to operate it at waist height is easier to use than having to open the cupboard doors and then pull out the bins. Plan prudently and ensure that your plumber knows how you want to use space under the sink.
Kitchen Bin Adjacent to the Sink
Many people prefer to install kitchen bin adjacent to the sink; that's because when placed under the sink, everyone wants to access it while you're washing the dishes. So under the sink is irritating, but adjacent to the sink is a better option. Besides, when you modify it by adding an electronic mechanism for hands-free opening and closing operation, it gets even better.
Pull Out Bin Next to the Sink
Well, you can also get a pull out bin installed next to the sink, between your food preparation area and the sink, beneath the benchtop. It is easy to discard the waste when you're preparing food, pull out the bin, dispose of the garbage and shut it. When food preparation, serving, eating, washing and cleaning dishes, all done, you can pull out the bin, take the bin basket or waste bag and dispose of it in the main trash kept outside. Now give a wipe to the bin area and place a new waste bag or empty basket in and close the bin. Once a week, disinfect the waste bin area. As per your usage, when you empty the bin regularly, there will be no mess or smell, and it won't overflow either.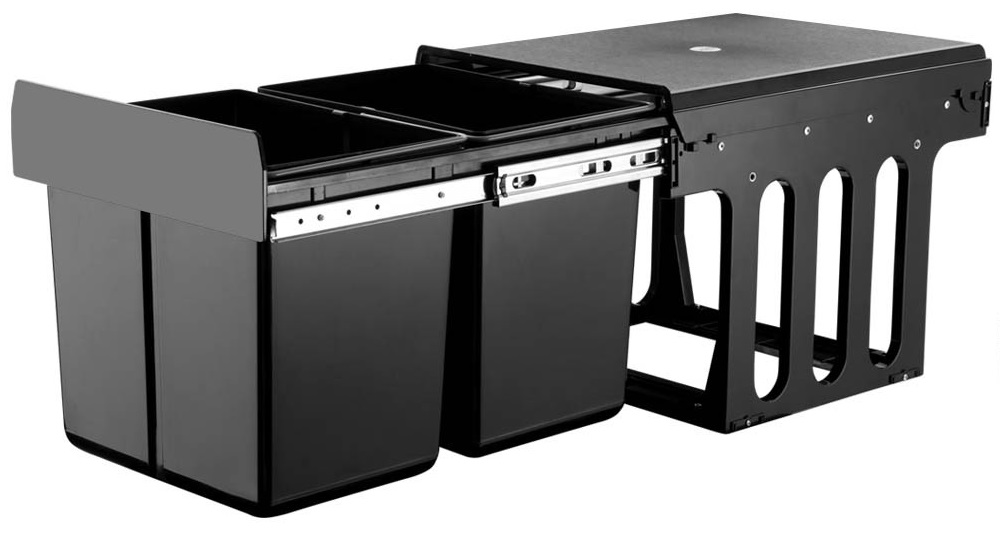 Standalone Kitchen Waste Bins
Everyone does not like bins inside the cabinetry, so they go for freestanding kitchen waste bins. The accrual of waste and dirt in an integrated kitchen bin is the cause behind preferring a standalone kitchen bin. Many people prefer keeping the standalone waste bin outside the main kitchen door. It eliminates smell and keeps the waste out of the way as well.
Standalone Stainless Steel Bin with Sensor
These days, you get standalone kitchen bins with the sensor, so you don't have to open or close the lid with your hands. Just bring the waste close to the kitchen bin, and it will softly open, dispose of the waste, and then it will softly close as well.
Kitchen Bins & Recycling
If you prefer a freestanding kitchen bin, then you can utilise the under-the-sink storage space for recyclables altogether. This arrangement makes it simpler to separate the different recyclables before taking it to the main waste bin kept outside. Besides, colour-coded waste bins make the task of separating recyclables even easier for all household members from young to the old.
Where to Buy Kitchen Bins Online
Buy kitchen bins online at the best prices in Sydney from Bargains Online! Check out our massive range of durable and elegant kitchen bins today. Whether you need a pull out bin or a stainless steel sensor bin, we have a kitchen bin for your lifestyle and budget.
Kitchen Bins - Frequently Asked Questions:
What size of a kitchen bin will be ideal for my household?
A 35-litre kitchen bin adequate for a small family of up to two persons.

Kitchen bins between 35-litre and 100-litre required for an average family consisting of two to four persons.

Kitchen bin above 100 litres needed for a large family of more than four people.
Where should I place my waste bin in the kitchen?
The cleaning zone is the best space for placing the waste bin, which is away from fresh food, but close to the exit to help ease your waste removal and recycling tasks.
How frequently should I clean my kitchen bin?
Once a week, you should deep clean, wash and disinfect the bin thoroughly using a liquid disinfectant and hot water. Using a brush, scrub hard, pay close attention to bin's bottom because this is where the most unpleasant smells come.