4 Best MIG Welder in Australia 2023
What is MIG Welder?
MIG (Metal Inert Gas) welding is one of the welding processes that melt and join metal pieces. MIG welding uses electric power to produce an electrical arc between the electrode wire and the metal that's welded. The arc melts the wire, subsequently; it's being deposited to form the weld. When the heat is withdrawn, the weld pool cools down, hardens, and produce a new piece of blended metal and the weld is achieved. The entire activity happens at the MIG torch's nozzle, which is a hand-held device.
4 Best MIG Welder in Australia
1. Multi-Purpose MIG Welder (220AMP)
This multi-purpose Rossmark welder is advanced MIG welder that renders unbelievable portability for mobile welding purpose. It supports different welding processes including MIG/MAG gas welding, arc welding and flux-cored wire welding. It can be used to weld diverse materials including stainless steel, carbon steel, alloy steel etc. This is the best MIG Welder in Australia, which you can buy at a cheap price - the perfect equipment for repairs or maintenance work and light industrial fabrication.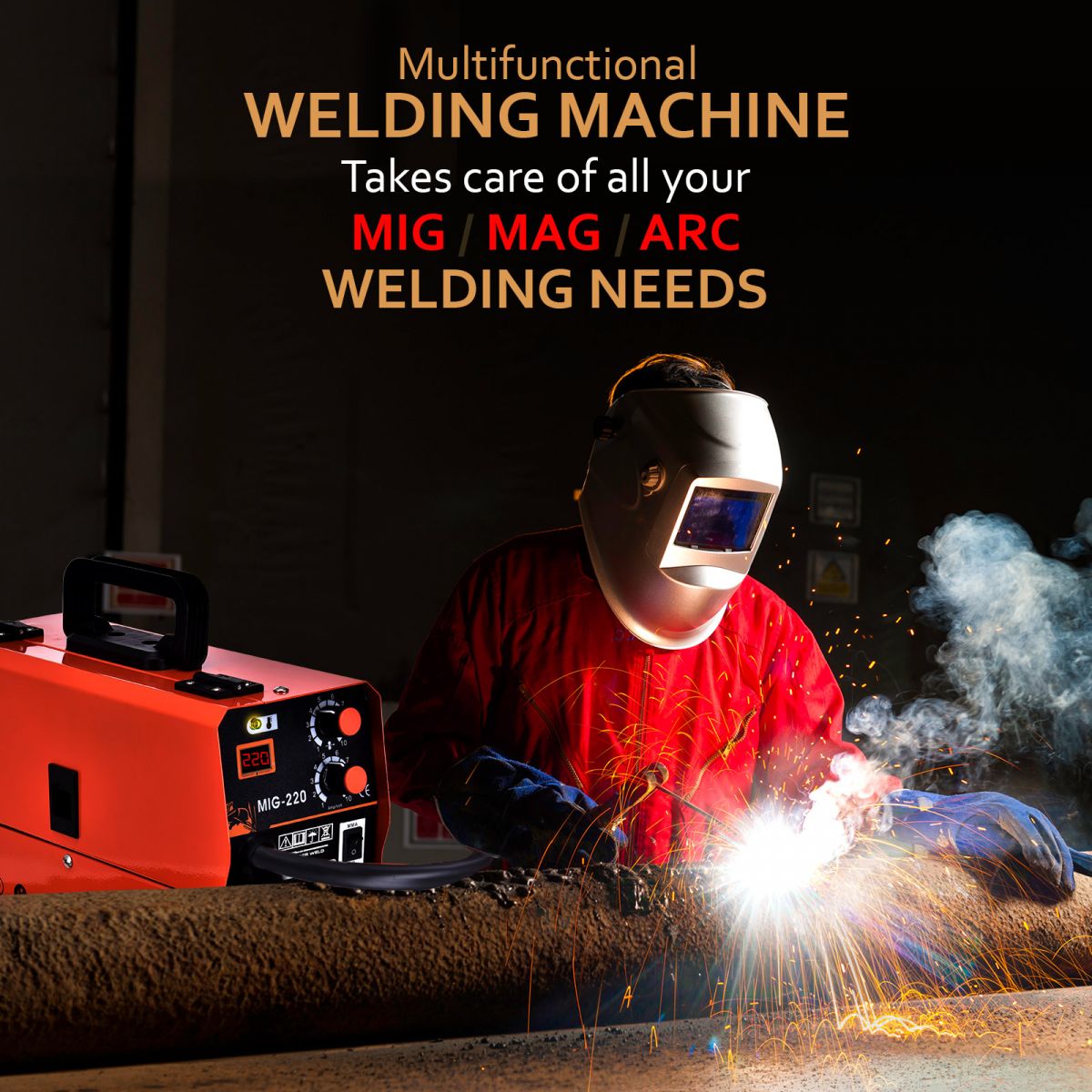 2. MIG Welder (280 AMP)
This MIG welder from Rossmark is incorporated with the latest MIG/MMA technology that's fitting for all welding position with exceptional thin metal results and almost no spatter cleaning is needed. This MIG welder renders a powerful current of 20-280 AMPS with coherent ARC force control, so you can use it for fabrication, fixes and metal body works. It's easy to work with most metals including stainless steel, carbon steel, copper, brass, iron and more, and welds up to 14mm plate. This is the best home MIG welder that you can buy in Australia currently as it helps you to complete your job at hand quickly and with precision. It helps to weld like a pro! This MIG 280 AMP Rossmark welder is just right for your workshop and home alike.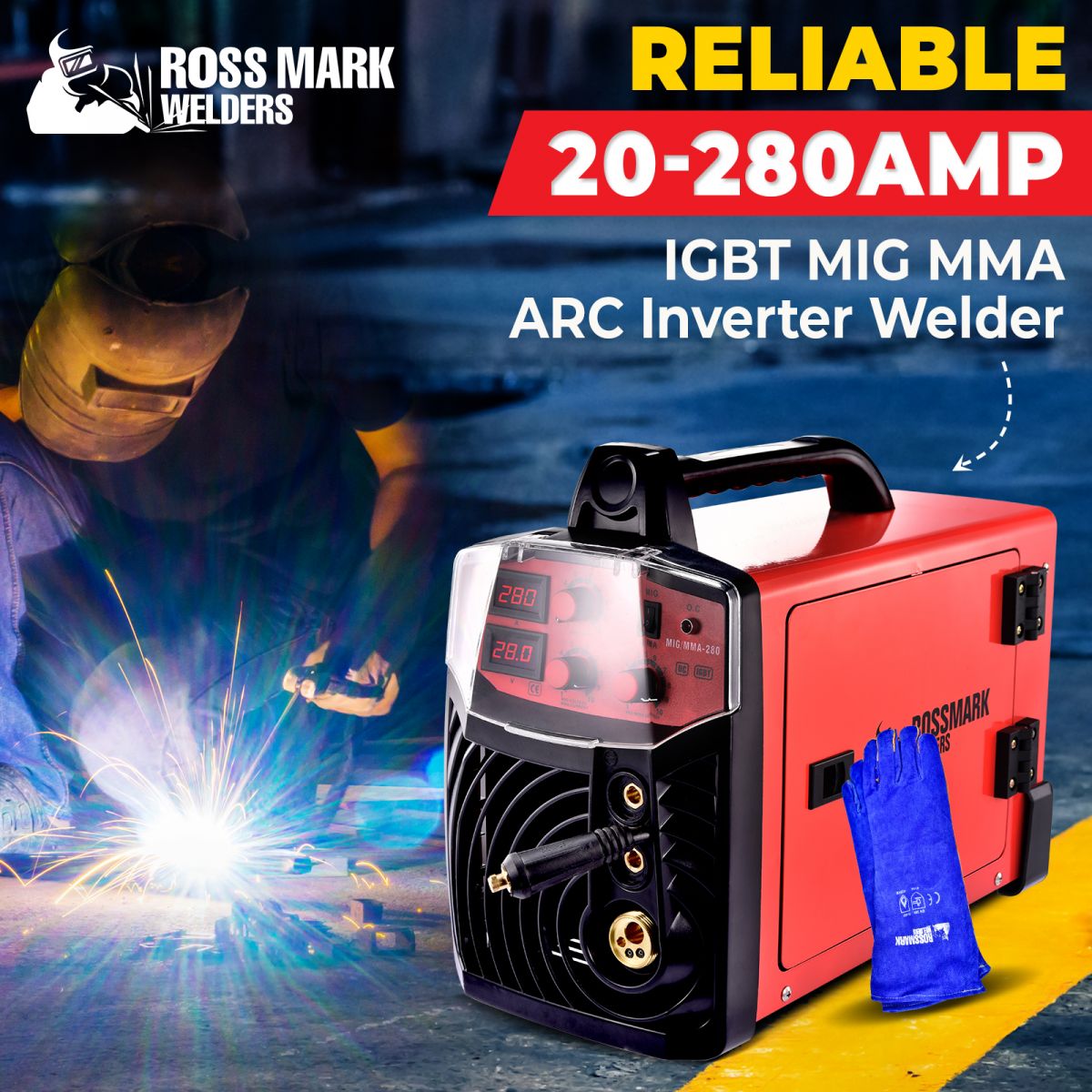 3. MIG Inverter Welder (195 AMP)
This MIG inverter welder from Rossmark is loaded with incredible features and is the compact solution that can operate with and without gas, with a maximum of 180 AMP piercing force. For incessant feed welding, this MIG welder provides a new level of control and accuracy. The MIG Rossmark Welder 195 provides the exact weld for metal, carbon steel, stainless steel, copper, brass, titanium and iron. This welding equipment has 4-stepping power modes with fine-tune feed dial in, twin roller bearing spool, limitless wire feed and helps to make the switch-over between MIG and MAG effortlessly. This is the best gasless MIG Welder in Australia right now, which is an essential tool that any tradesmen or handymen should possess. This MIG welder comes with a mask, welding torch, knock hammer, earth clamp and solid wire roll of 0.5Kg and 1Kg respectively.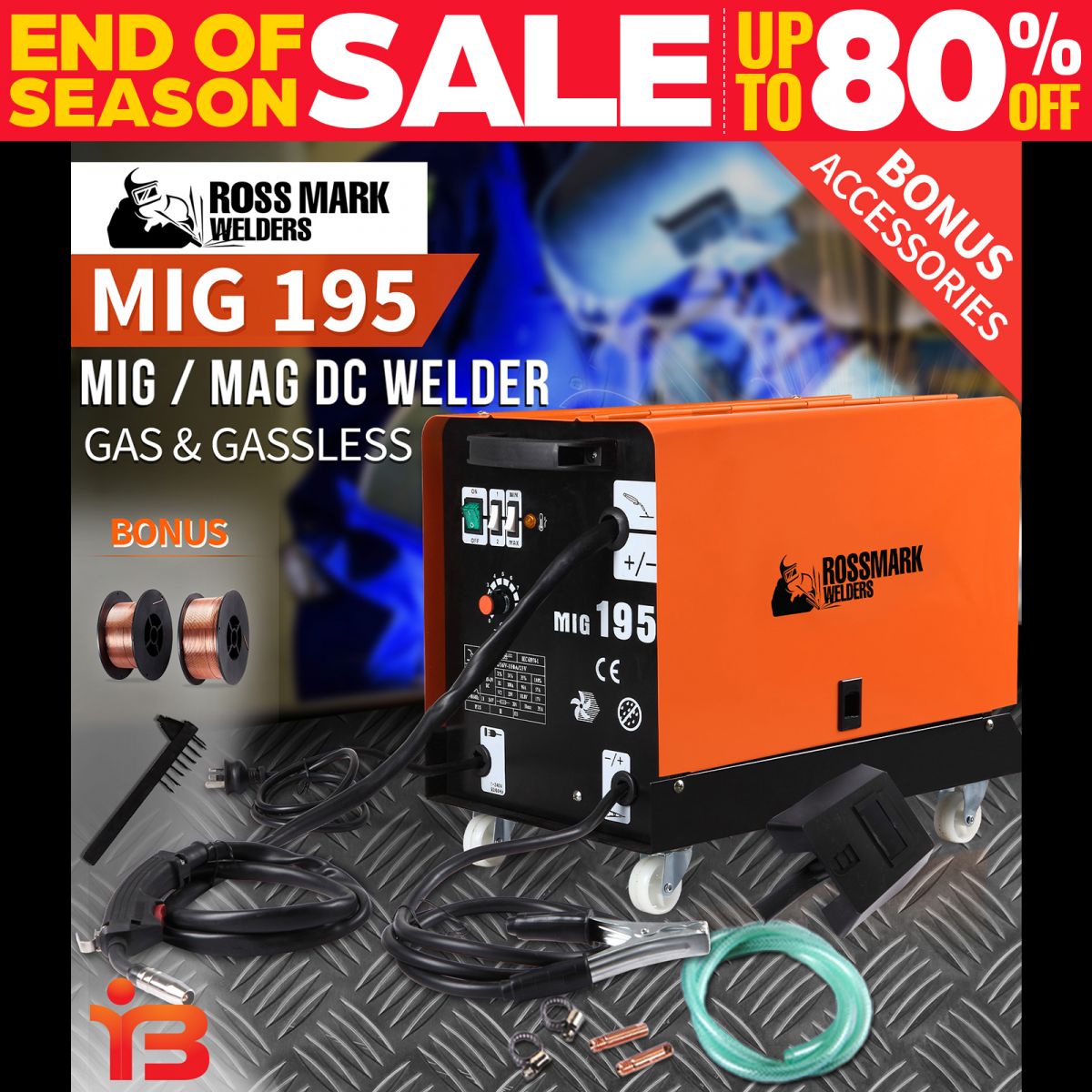 4. MIG Arc Inverter Welder (185 AMP)
This multi-functional inverter MIG welder (185 AMP) is for those who want precision welds from a reputed brand having a background in delivering improvements, uniformity and dependability that provides utter smooth results every time. This inverter welder is incorporated with the modern MIG/MMA technology that's ideal for all position welding with superior thin metal results and almost no spatter cleaning is needed. This inverter MIG welder delivers a dependable current of 50-180 AMP with seamless arc force control; thus, it can smoothly carry out metal body works, fabrication and fixes. It is compact yet powerful; also you don't need to halt in between, to change rods or clean spatter. The best MIG welder for home use in Australia is the MIG inverter 185 AMP, as it will help you to complete your job swiftly and with precision like a pro. Apart from home, it is also suitable for the workshop.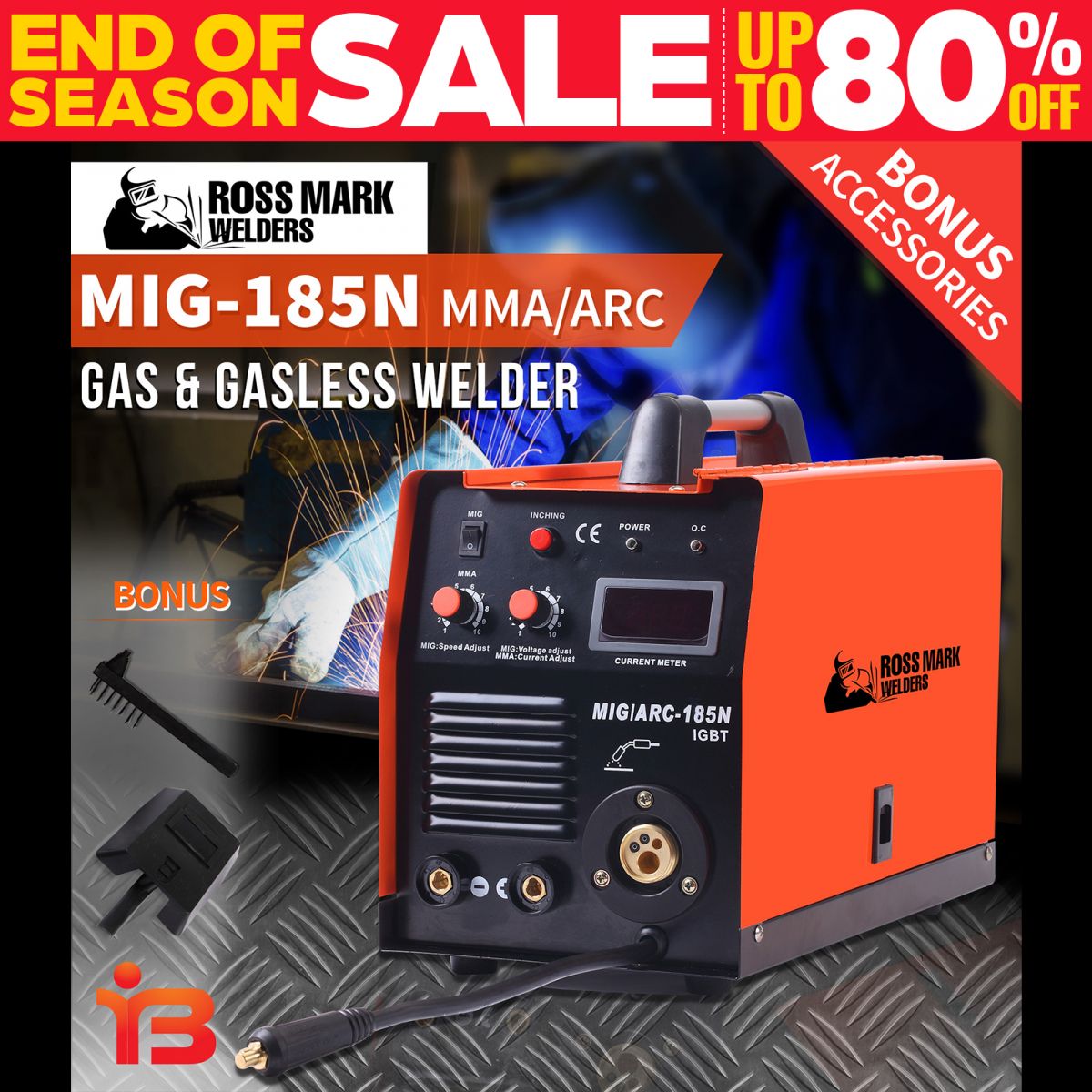 4 Major Types of Welding
If you're new to welding, in all likelihood, you may not know about the different types of welding out there that you can use. Four most popular types of welding are extensively used from the many different welding types and styles. They are MIG, Stick, TIG and Flux Cored Arc welding respectively. Let's go over the four types, in brief, to find out which one is best suited for novices.
1. TIG Welding
In TIG (Tungsten Inert Gas) welding, there is no filler material or a line feed for beginners. TIG welding heats the two metal pieces and melts them together. The capability and knack of the welders are vital for TIG welding. TIG welding is a more accurate welding exercise and a trained operator is required to operate it. TIG is normally used for smaller welds and thinner metal welding, but it's not recommended for beginners.
2. Stick Welding
Stick welding is popularly known as Shielded Metal Arc Welding (SMAW), which is one of the oldest and famous welding methods, and a difficult welding type to master. Setups, electrical current and tip angles must be accurate, and it is challenging to learn, use and master stick welding. In stick welding, a rod is used and as it is consumed, it needs to be continually replaced. Nonetheless, as stick welding is versatile, it is useful for numerous types of metal joining, which other models can't achieve. Regardless of whether the wind is blowing or it is raining, stick welding can be done in any type of adverse climatic conditions, which is the greatest plus point of stick welding. One needs a lot of learning and experience to master stick welding, thus, it is not recommended for beginners.
3. MIG Welding
MIG welding is easy to learn and master, and considered as a welding tool for beginners. The constant-feed wire and flawless mix of gases facilitate for a weld. Using a MIG welder, you can seamlessly work with all metal types including stainless steel, nickel and aluminium. However, MIG welding isn't recommended for vertical and overhead welding. MIG welding is very popular because it lets you choose from diverse metal types, wire thicknesses and gasses. When you have the right equipment, MIG welding doesn't have to perform a lot of guesswork. You just dial in the machine with the type of metal, wire and thickness – once it's set, the equipment will run itself, offering you the best heat and wire-feed speed for the current task. Due to the filler material, MIG welding can join thicker metals and form larger beads.
4. Flux Cored Arc Welding
Flux Core Arc Welding (FCAW), is a speedier option to MIG welding. An advanced learning curve is involved in learning and mastering Flux Core, so it isn't for the novices; however, it offers more benefits. MIG welding uses gas, but Flux Core doesn't; instead, the continual-feed wire is coated in a flux offers the anti-contamination, which is achieved through the MIG welder's gas bubble. The greatest benefit is that Flux Core can join impure metals without forfeiting composition. Similar to stick welding, Flux Core can be used in harsh conditions such as in the wind, but not in the rain.
Summing Up
To sum up, beginners can start with MIG welding and once they master it, then they can move on to the more intricate techniques such as Stick, TIG and Flux Cored Arc welding.
These days, there are a variety of small and portable MIG welders available under $1000 in Australia, which beginners can easily afford; however, they must only start using it after they have received basic learning and understanding on how to use the welding equipment.