5 Best Treadmills worth Buying In Australia
It's time to invest in a home treadmill if you want to do your workout regardless of the weather or want to make your TV time healthier. A treadmill can certainly be a life-changing purchase for those you want to change their fitness system to lead a healthier life. Nonetheless, purchasing a treadmill is not as easy and simple as you may think of. You certainly wouldn't want to make a reckless decision when buying a treadmill because different machines come with different capabilities that are suited to different individuals' requirements. We'll reveal five top treadmills that are worth buying in Australia and then list out crucial treadmill facts.
I. 2023's Best Treadmill In Australia:
1. Norflex XR600E Electric Treadmill
XR600E electric treadmill from Norflex is powered by a 1.5 CHP motor, which is durable and quiet, even at high running speeds, going up to 16 km/h. It comes with professional heavy-duty DC motor, 8 spring cushion shock absorption system to prevent impact stress, Flex-Drive belt for maximum grip and safety, 12 pre-set training programs with 3 modes and mp3 connection with speakers.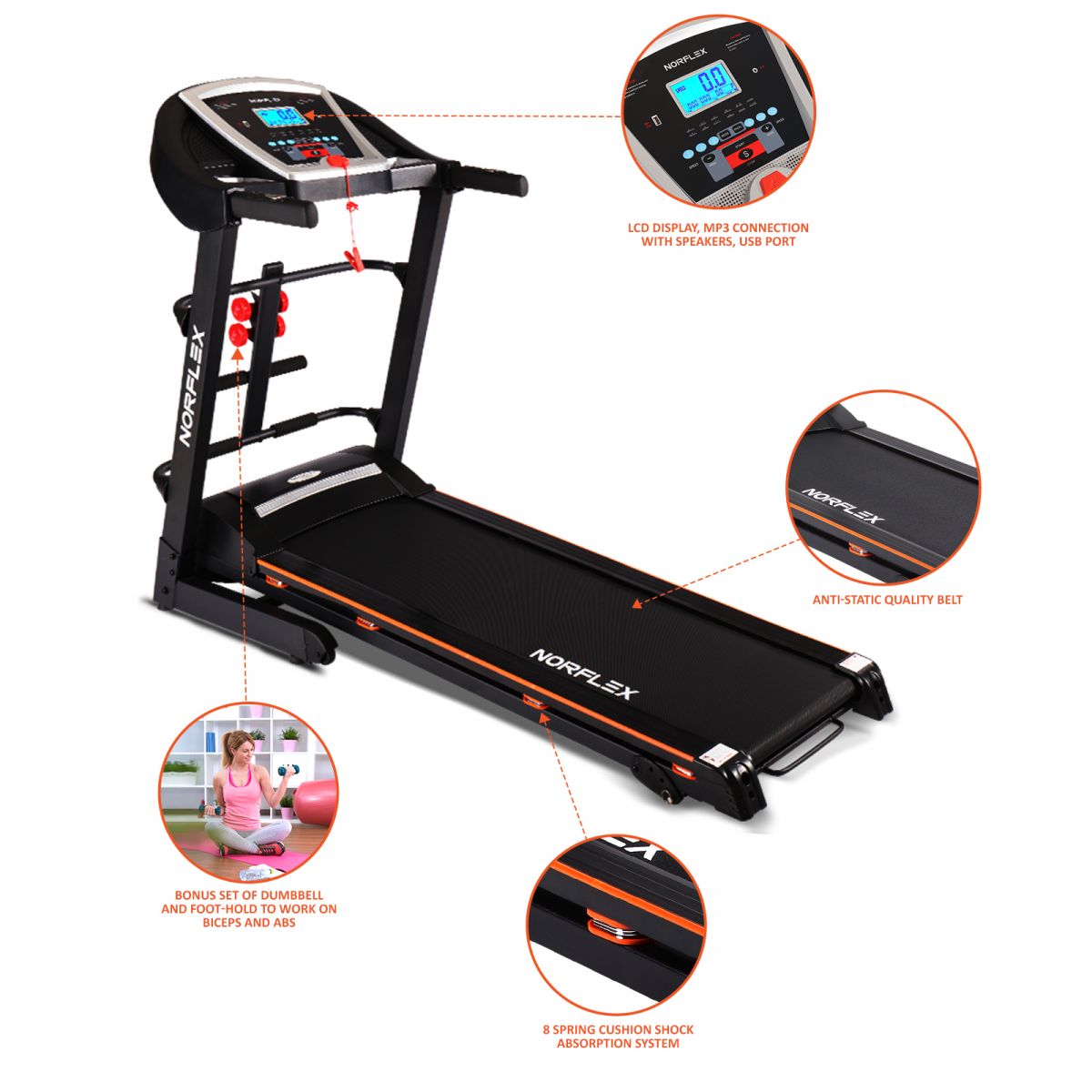 Moreover, with a manually adjustable 3 level incline, you can create a hill running experience. In addition, it comes with space saver technology enabling you to fold and pack or put away the treadmill easily after a workout – it's a very convenient feature if you have a small living space. If you're interested in exploring more about this treadmill, explore it straightaway – Norflex XR600E treadmill 1.5 CHP.
2. Norflex XR500 Electric Treadmill Auto Incline
Powered by a 2.5 CHP DuraDrive motor, XR500 electric treadmill from Norflex comes with professional heavy-duty DC motor, 12-automatic programs, spring shock absorption system and mp3 connection with speakers. It silently buzzes through the most complex training sessions, effortlessly covering 1 to 16 km/h speed range.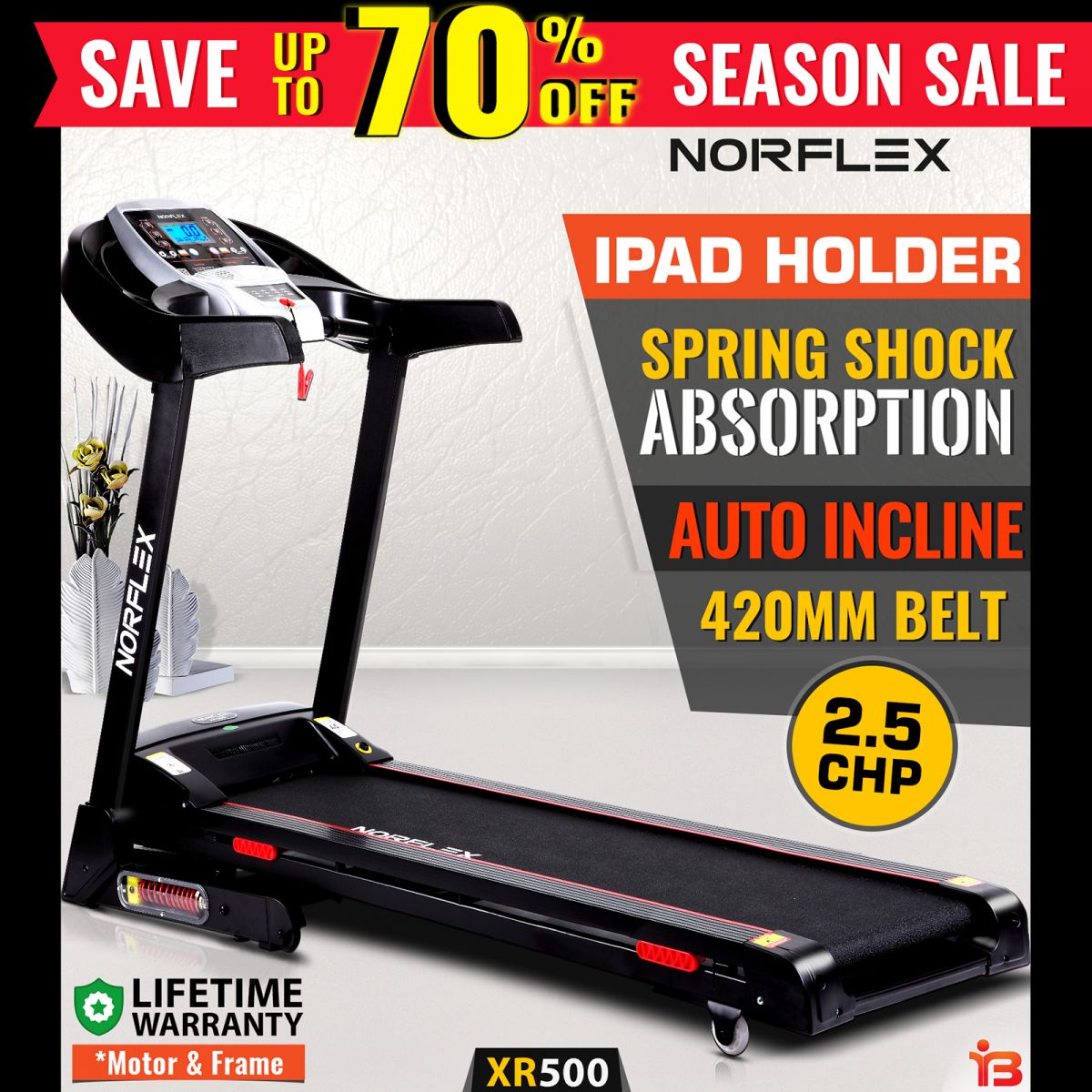 The XR500 electric treadmill is a combination of adaptability, power and performance. It comes integrated with heart rate sensors, iPad Holder, and a large 5" easy to read LCD screen and a bottle holder. As it's designed with space saver technology, once you complete your workout, just fold the treadmill for easy storage. This feature comes handy especially if you're short on space. If you want to discover more about this treadmill, know the Norflex XR500 2.5 CHP treadmill inside out.
3. Norflex XR450 Xtreme Electric Treadmill
XR450 Xtreme electric treadmill from Norflex is powered by 1.0 CHP DuraDrive motor and come integrated with professional heavy-duty DC motor, 3.5" large LCD screen, anti-static flex-grip belt, mp3 connection with speakers, pulse sensor and a handy drink holder. It blends performance, power and flexibility. As the treadmill is crafted using space saver technology, you can effortlessly fold the treadmill after your workout. If you want to find out more about this treadmill, get to know Norflex XR450 1.0 CHP electric treadmill in detail.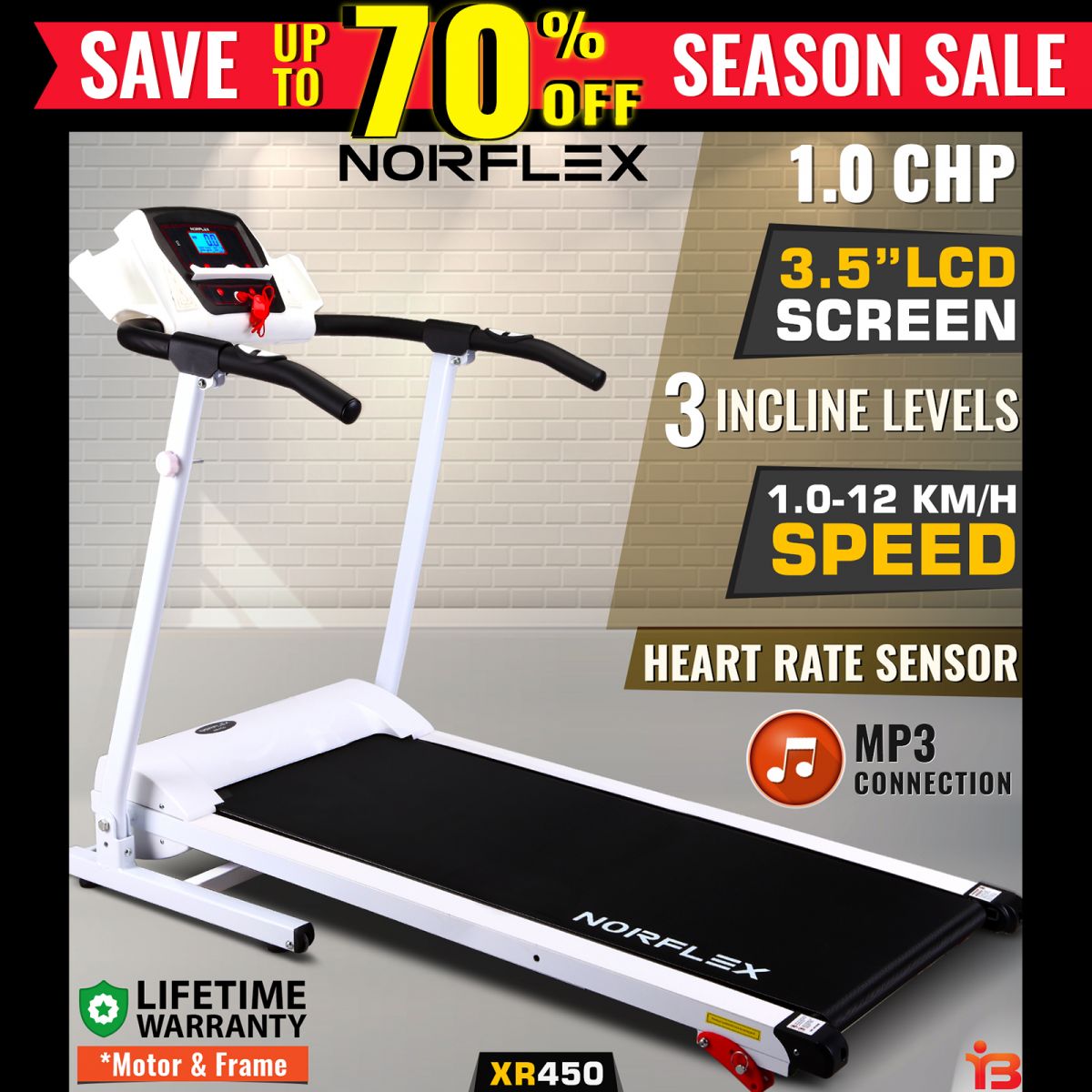 4. Norflex XR580 Electric Treadmill Auto Incline
Norflex XR580 is powered by 3.0 CHP motor and come integrated with 12 pre-set training programs, Bluetooth app control and anti-shock silica gel absorber for minimising the pressure on your joints and muscles so that you can have a pleasant workout. In addition, it comes with an iPad holder, heart rate sensors and mp3 input with a high-quality speaker allowing you to listen to your favourite music while you're doing your workout. The running speed can be adjusted between 1.0 and 22 km/h. This treadmill is robust and durable and comes with a DC 3HP motor that can hold user's weight of up to 130kg. If you want to get more details for this treadmill, get it right away - Norflex XR580 3.0 CHP electric incline treadmill.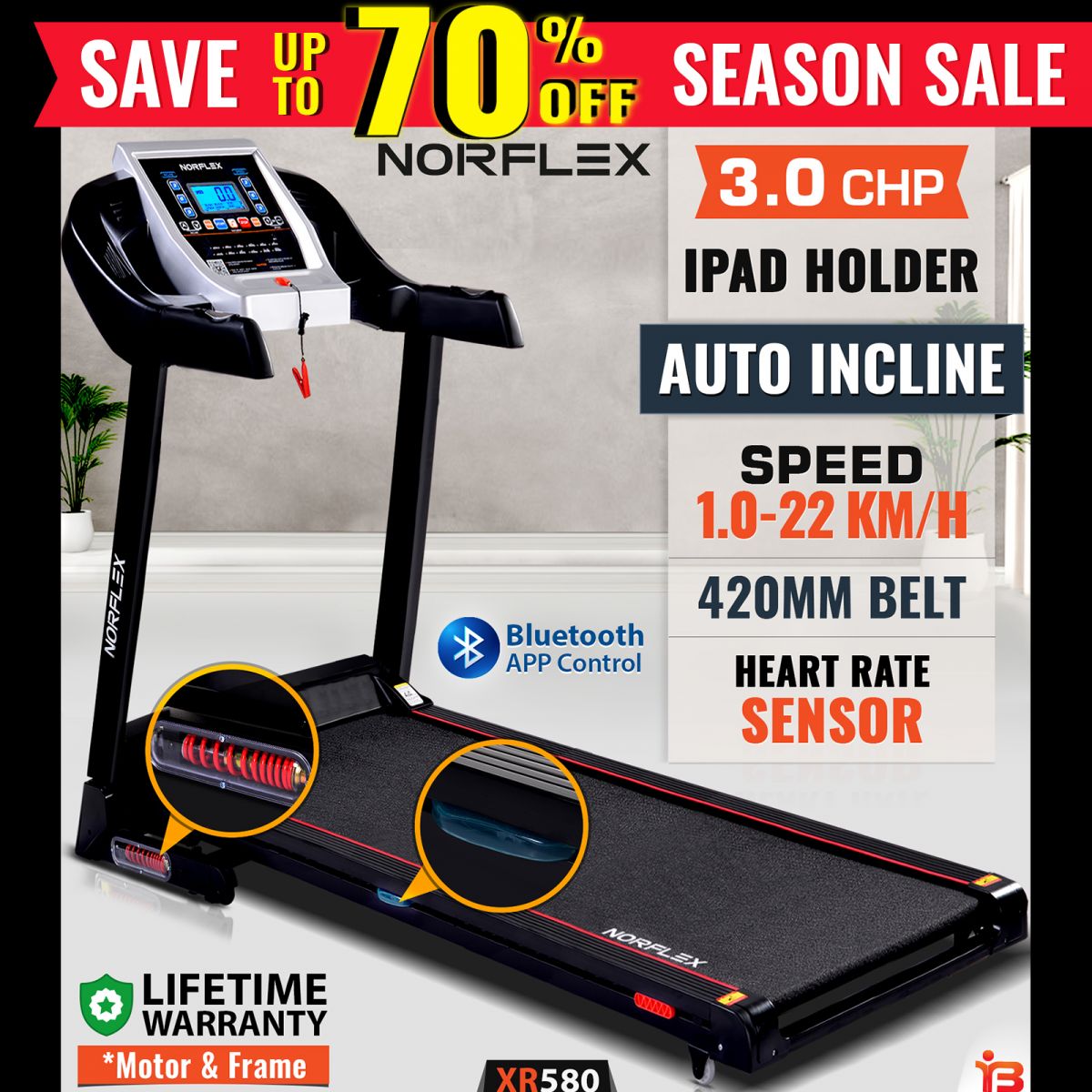 5. Norflex XR800 Electric Treadmill Auto Incline
XR800 is powered by 3.5 CHP motor from Norflex and comes incorporated with stunning features such as spring shock absorption, heart rate sensor, iPad holder and auto incline. It has a modern design facilitating you to streamline your workout by monitoring speed, time, distance, calories and accordingly adjust to a program that suits your needs better. It can comfortably hold a user weight of up to 160 kg. Interested, you can find out more about Norflex XR800 3.5 CHP treadmill.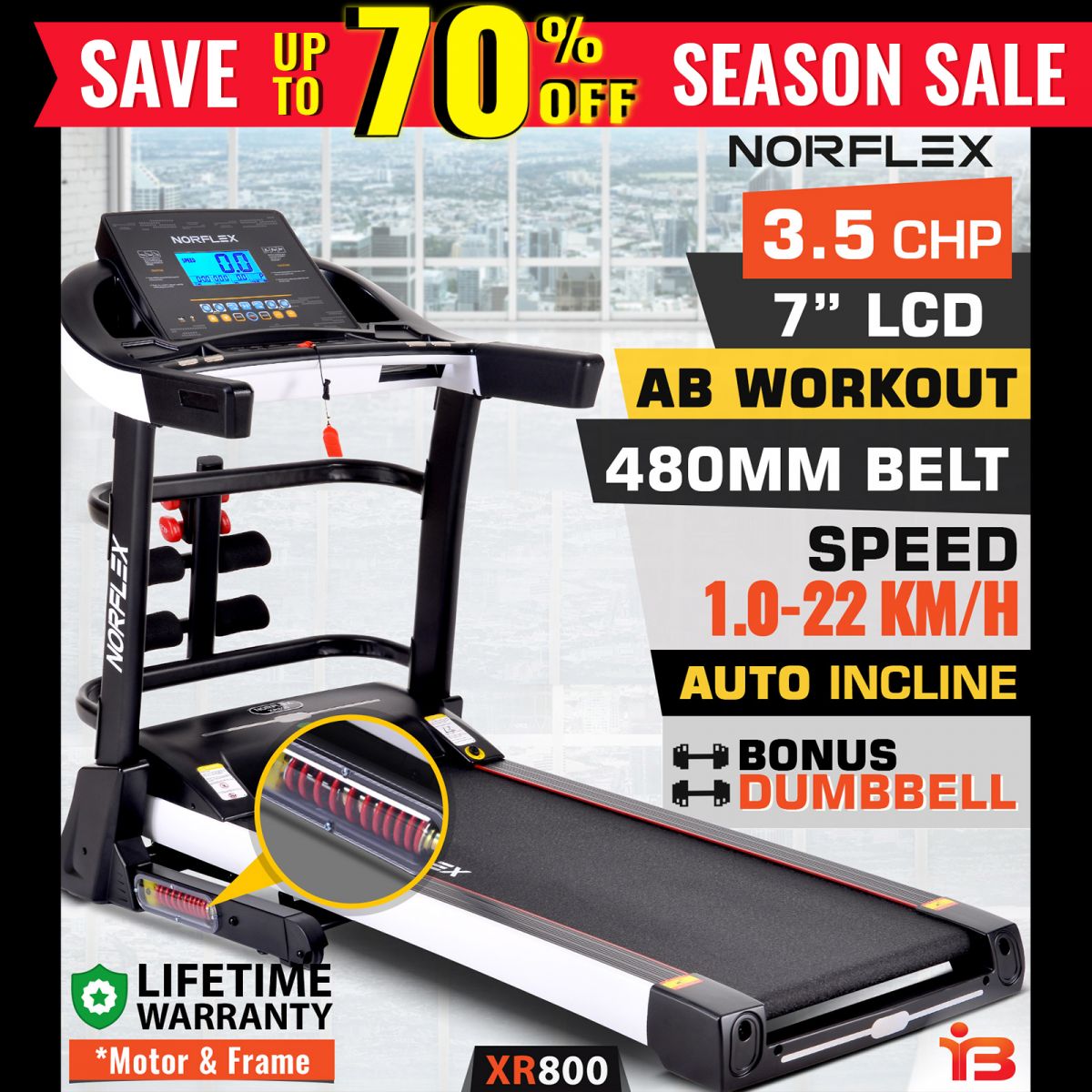 Voila! You've seen the best five treadmills worth buying in Australia! Now, let's look at the crucial treadmill facts.
II. Crucial Treadmill Facts
The Best Cardio Workout: Running is the best cardio workout that gets your heart pumping. HIIT (High-Intensity Interval Training) workouts performed on treadmills efficiently increases your metabolism, and at the same time, it builds up your stamina and patience. Alternatively, walking for long time duration is a highly resourceful way to burn calories and boost your cardio.
Running on a Treadmill is Safer: Running on pavement can affect your joints; however, running on a treadmill is not only safer but also better for your body. This is due to the technology that's integrated into treadmills, so it can provide cushioning for your joints, lowering the impact that running can have on them. What's more, without worrying a bit about the weather conditions, you can enjoy running on your treadmill and get your essential workout.
Burns up your extra calories: When it comes to burning those extra calories, nothing can beat running. Certainly, you can lose weight when you pair this with custom workouts intended at targeting specific areas. Treadmills facilitate you to enter interval training and HIIT, both are tried and tested methods to burn extra calories and boost weight loss.
Optimism: Your body releases endorphins when you run and can entirely change your mood or add to an already-existing frame of mind. Thus, you'll not only look great but also will feel great and you'll remain energetic throughout the day!
The Bottom Line
Well, there are enough good reasons for buying an electric treadmill and kick-starting your daily workout habit and thereby enjoy the benefits of staying in good health.