5 Best Exercise Bikes For Your Home Gym in Australia
Did you know that regular workout on a stationary bike has excellent health benefits for your body, as well as, your mind (lifts up your mood)? Any exercise or sports activity helps you to feel good and this optimistic effect is not only needed by your body but also it's crucial for good mental health. When you exercise on a motionless bike, your body would secrete hormones, particularly endorphins and serotonin, which would bring you into a state of well-being. Thus, every time you perform your workout or sports activity by releasing a dose of happy hormones, your body would thank you.
Therefore, it's nice to regularly exercise; however, for any reason, you're unable to go out for jogging, brisk walking, cycling or swimming then you can bring home an exercise bike to make sure you don't lose on your essential cardio and feeling good exercise. Here are the 5 desirable exercise bikes for sale that you can buy for your home gym.
1. NORFLEX Magnetic X Spin Bike
NORFLEX Exercise X-Bike is the one that you should own to exercise from the comfort of your home. Besides, it's super quiet allowing you to listen to your favourite track or watch your favourite programme without any distractions while performing your workout. It's compact and provides high-performance, and renders ultra smooth pedal resistance with no joint impact.
For added peace of mind, it comes with 5 years warranty for frame and 1-year warranty for parts. It comes with 6 level height adjustments; comfy cushioning and wide seat with essential backrest and handle (adjustable); belt drive train; monitor that displays scan, speed, distance, time, calories and pulse; resistance capable of 1 to 8 levels adjustment system (variable – manual) and with many more features. You should surely check out this NORFLEX Exercise Magnetic X Spin Bike.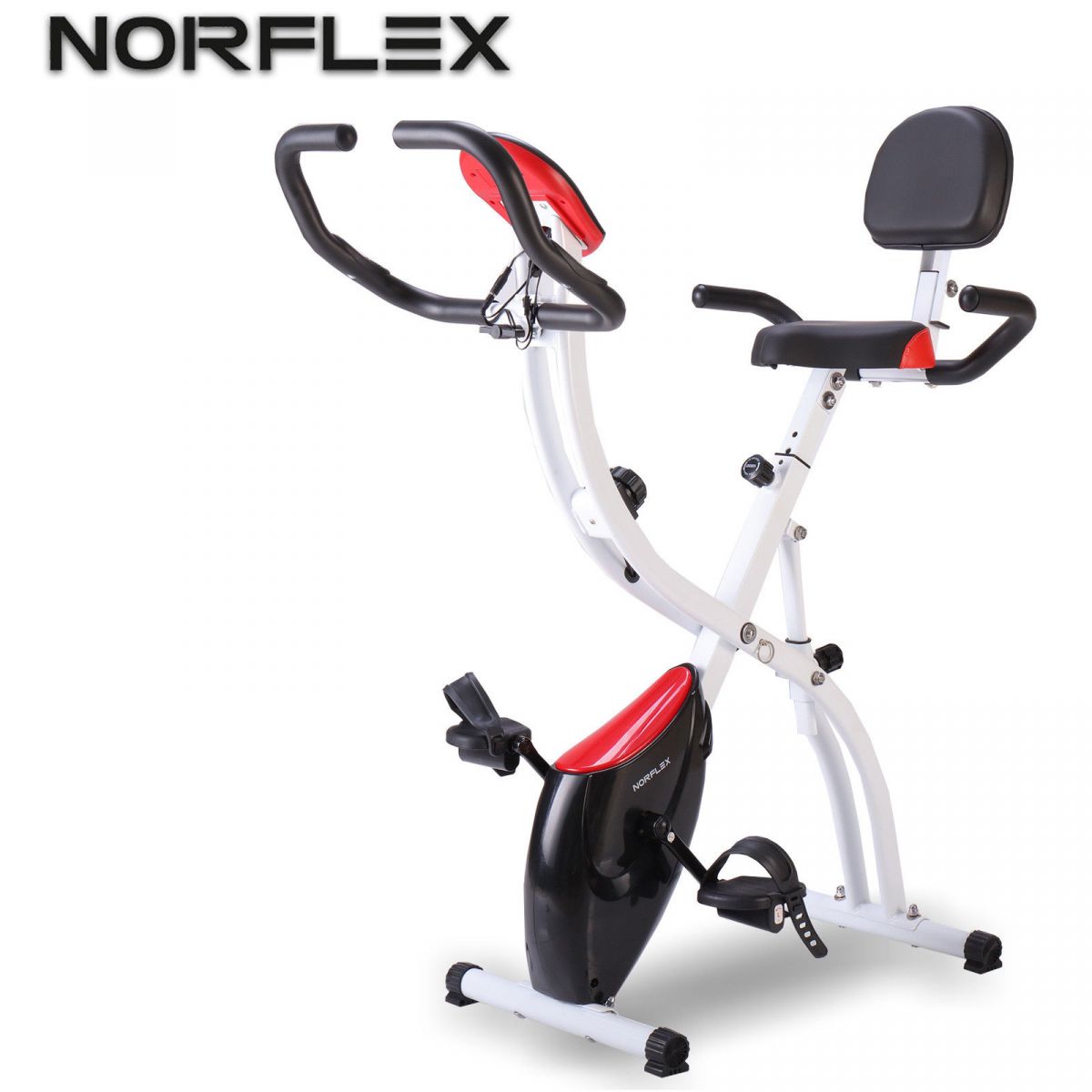 2. NORFLEX Gym Exercise Bike - 120 Kg Max Weight
The Norflex Spin Bike SPX315 integrates the newest innovative design for premium quality fitness gym equipment for home. Built for comfort, it has a heavy-duty cast iron 13kg flywheel that features resistance control, secure grip, strong steel pedals with toe straps and belt drive. It's built with robust heavy-duty powder coated, compact stainless steel frame – this equipment is sturdy and very durable.
It comes with different modes that include time, speed, distance, calories, scan and pulse. It's integrated with an extra thick padded seat that's adjustable: up/down, forwards/backwards. Besides, it comes with height adjustable handlebars, drinks bottle holder and with many other features. Check out this incredible NORFLEX Gym Exercise Bike SPX315.
3. NORFLEX Spin Bike – 150Kg Max Weight
The NORFLEX Spin Bike SPX500 has a distinctive design and excellent comfort to keep you motivated to achieve your target. Well, it provides commercial gym like feel and experience from the convenience of your own home. If you want to add to your road biking sessions or lose that extra fat, this Norflex spin bike will help you achieve your goal.
The NORFLEX Spin Bike is built around a 13kg heavy-duty cast iron flywheel and automotive grade drive belt, which renders adequate resistance through a control knob for a smooth, quiet workout. It's integrated with a 4" LCD monitor to challenge your fitness target and provide you with vital real-time data during your exercise sessions. This includes speed, time, distance, calories burned and pulse. If you want a little bit of entertainment or motivation while you workout, you can insert your iPhone or iPod into the allotted iPad/iPhone holder to listen to music or watch videos. Check out this incredible NORFLEX Spin Bike 150Kg .
4. Norflex Spin Bike Heart Rate Sensor - SPX300
The Norflex Spin Bike SPX300 (with Heart Rate Sensor) provides you with a commercial gym spinning experience from the comfort of your own home. Whether you want to add to your road biking sessions or lose some weight and get fit, this bike will help you attain your goals.
Made of a heavy-duty strong steel frame, this Norflex spin bike is integrated with adjustable resistance control. Its flywheel is built with around 13kg heavy-duty cast iron, so it's robust and lasting. It comes with automotive grade drive belt; adjustable up/down handlebar with integrated hand pulse sensors and comfortable elbow holders. It has racing seat design for performance, PU Leather seat that can easily be adjusted upwards/downwards, forwards/backwards, and has an adjustable seat angle. It also comes with features like transport wheels, floor levellers, bottle holders and more. Certainly, you should check out this fabulous Norflex Spin Bike SPX300.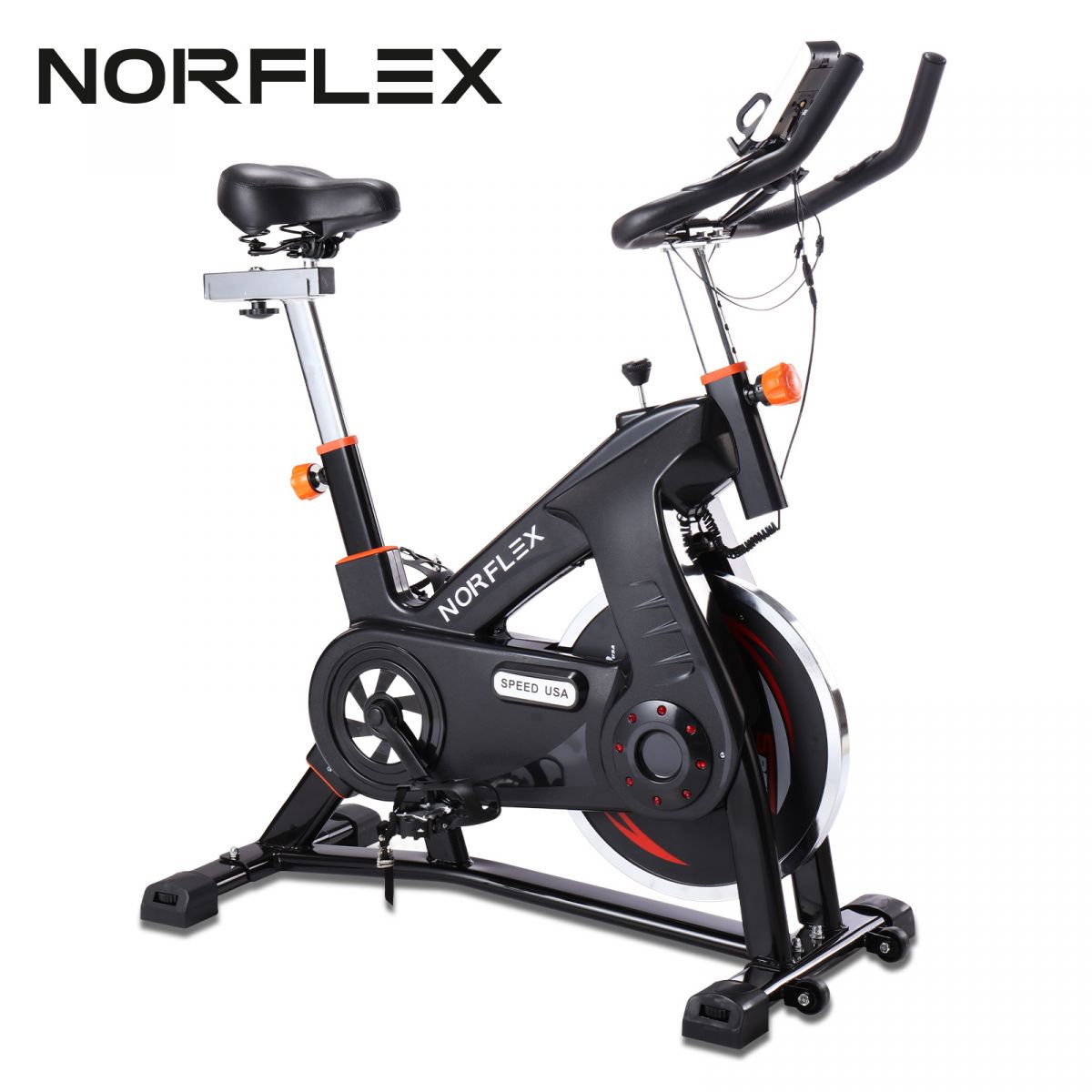 5. Norflex Spin Bike - SPX200
This Norflex Spin Bike - SPX200 is robust exercise equipment that renders commercial level fitness quality conveniently from your home gym. It is available at a price that you can easily afford and it provides a total value for your money. It is fashioned to recreate that breath-taking outdoor experience and it offers an extensive workout for both beginners, as well as, experienced spin bikers. It's a complete no-impact aerobics exercise that will not only burn your calories but also shape your body attractively. Right away, check out this fantastic Norflex 13kg flywheel spin bike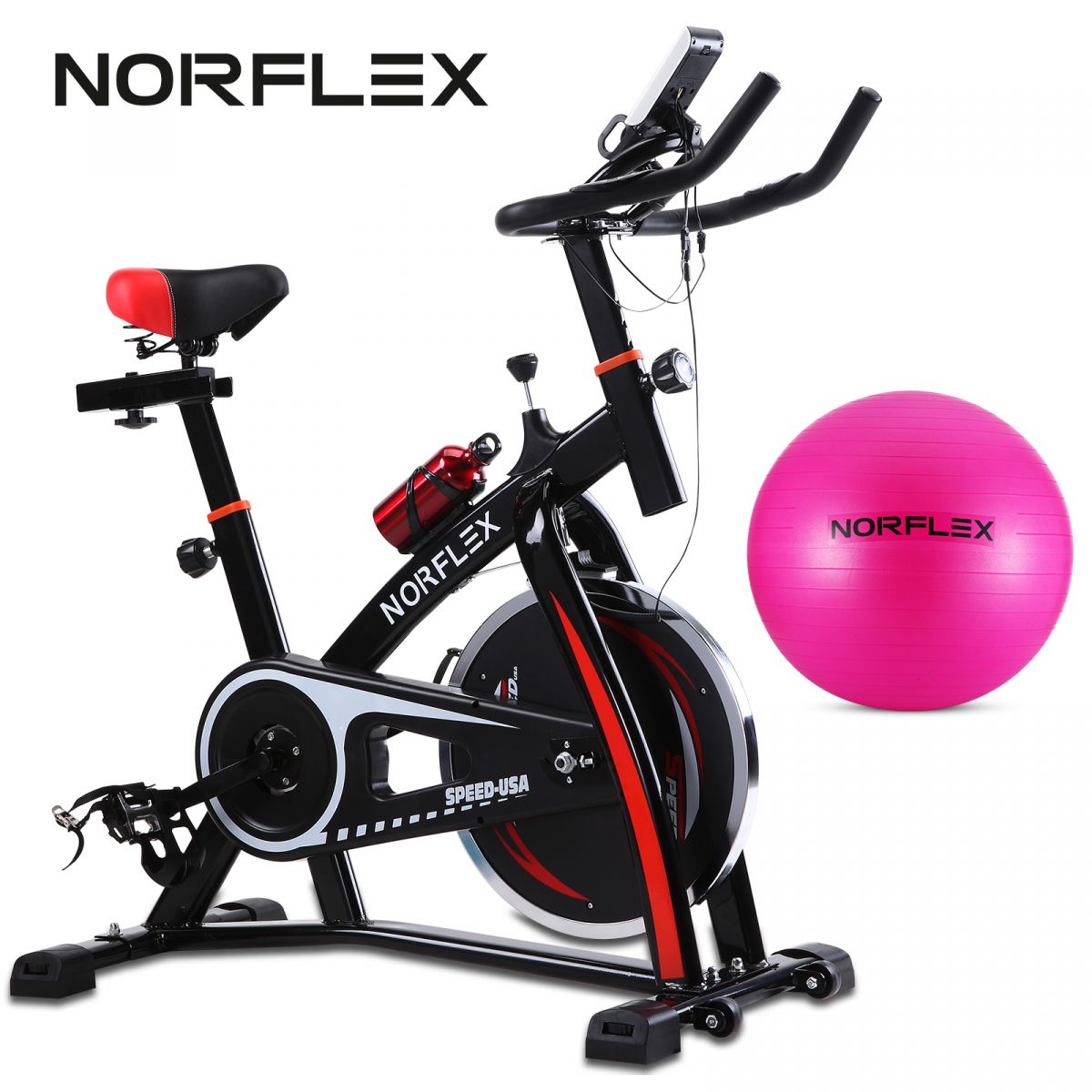 Final Words
Indeed, we can't ignore the fact that regular exercising is good for our body, mind and to lift up our spirits. However, either because of our busy work schedule or weather conditions, we're not able to go for running/jogging or cycling outdoors. The same can be said of swimming exercise, either no sufficient time to visit a paid swimming pool at a particular location or no adequate space or time to build and maintain a swimming pool in your home's backyard. Nevertheless, these concerns shouldn't deter you from the much required cardio exercise, as you can easily do it at your home using an indoor exercise bike.