Converts into 1 x Single & 1 x Double bed

Easily to assemble and disassemble bunk bed with either right or left stair access

Rest easy knowing your child is safe with an Australian standard with a non-toxic and odour free paint bunk bed

Solid pine wooden bunk bed for extra sturdiness and high quality of the frame

Sturdy Italian Design with 1 Year warranty
Description
Don't keep buying beds as your kids grow, buy a bed that can grow and change with your kids!!
Versatility is the key to longevity. This versatile Triple bunk bed from Royal sleep allows you to keep up with the growing needs of your family. It starts as a bunk bed with a double bed on the bottom and a single bed on top. Made from solid pine wood, your kids will always feel safe and secure as the design is strong, sturdy and durable. Each bed is completed with 14 plywood slats for added comfort.
Access to the top bunk is made easy with step ladder with extra wide steps for better foot placement and stability. This access ladder can be added to either side of the bed and with the full safety rails on the top bunk your children are always safe, whether awake or asleep.
Our space saving design, with large underbed storage and finished in an environmentally friendly, non toxic and odour free paint is the perfect addition to any bedroom. Better yet, as your kids grow out of the bunk bed design, simply convert it into a double and a single bed.
Please note: Mattresses, bed covers, drawers and soft toys are not included. Mattresses are sold separately.
This item is not available on display, but is available for pick up.
Specifications
Bed Base: Full Slat
Slats: 14
Bed Base Size: Fits Double Mattress
Bunk Bed: 198x148x150cm (LxWxH)
Arch Headboards: Yes
Twin Over Conversion: Yes
Assembly Required : Yes. Flat Packed
Packing: 3 Cartons
Carton-1
Dimension: 950*435*130mm
NW: 15.5KG
GW: 17KG
Carton-2
Dimension: 1940*365*130mm
NW: 25.5KG
GW: 27KG
Carton-3
Dimension: 1390*210*120mm
NW: 12KG
GW: 13.5KG
Bed Bases : Fit Standard Double Mattress 138*188cm, maximum height 20cm
Bed Top : Fit Standard Single Mattress 92*188cm, maximum height 20cm
Pickup & Delivery
You are most welcome to collect your order from our warehouse at 1/191 The Horsley Drive Fairfield NSW 2165 (Entry from Tangerine Street).
You need to place your order online first and make sure you have received confirmation that your order is ready for pick-up before coming in. Please note that we require up to 2-3 business days to process your order.
Free shipping is only available to select post codes and may not include certain far regional areas, to check eligibility enter post code into shipping calculator.
Provide us with your correct delivery address and contact details
Please make sure someone is at home from 7 am - 7 pm on the delivery day. if you believe an alternative address is more convenient to deliver the item then please make sure you change the address at eBay checkout.
Delivery guy will require an assistant to unload heavy items of his vehicle. Our delivery guys only deliver at property entrance on ground level.
We do not ship to PO boxes and surrounding islands.
For all metropolitan areas allow between 2-7 working days for delivery and for all non-metropolitan areas allow between 5-10 working days.
After ordering online, you will receive an email confirmation from Bargains Online containing your receipt of payment details (if you have provided your email address). We will also normally confirm receipt of your order soon after ordering.
Royal Sleep Triple Bunk Bed for Kids - White Single Over Double Bunk Bed
TRIPLE BUNK BED, HEAVY DUTY, ITALIAN DESIGN
Don't Pay $999
$529
SAVE $470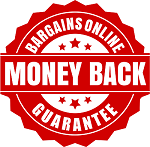 We are so confident that you will love this product that we offer a 30-day money back guarantee.
Learn More