Description
Experience deep and restful sleep with this premium Royal sleep mattress.
This 20-cm mattress combine layers of high resilience foam with a Bonnell spring system support to deliver a medium-firm feel, perfect for posture and pressure relief. Designed with durability and longevity in mind, its spring coils are made with high-tempered carbon steel to help retain its shape for a long time even with constant use and abuse.
It also features a hypoallergenic and anti-dust mite foam, which provides superior fatigue resistance and minimises motion transfer when you switch positions. This is ideal especially for partners of restless sleepers who constantly toss and turn all night to find their perfect sleeping position.
This Royal sleep mattress comes with a luxurious Egyptian stretch knit fabric cover to keep you cool and comfortable as you sleep. Its breathable cover prevents heat and moisture from getting trapped, ensuring a relaxing sleeping experience every time.
Backed with a 5-year warranty, this mattress is sure to give you a bang for your buck and provide you with many years of restful sleep.
Features
High resilience foam for posture and pressure relief
Medium-firm feel
Comfortable support foam
Bonnell spring system support made with high-tempered carbon steel
Hypoallergenic and anti-dust mite mattress
Provides superior fatigue resistance
Minimises motion transfer
Breathable Egyptian stretch knit fabric cover
Specifications
Firmness: Medium-firm
Thickness: 20cm
Size: King
Warranty: 5-years
Certification: OEKO-TEX
Product Dimension: 203x183x20cm (LxWxH)
Pickup & Delivery
You are most welcome to collect your order from our warehouse at 1/191 The Horsley Drive Fairfield NSW 2165 (Entry from Tangerine Street).
You need to place your order online first and make sure you have received confirmation that your order is ready for pick-up before coming in. Please note that we require up to 2-3 business days to process your order.
Free shipping is only available to select post codes and may not include certain far regional areas, to check eligibility enter post code into shipping calculator.
Provide us with your correct delivery address and contact details
Please make sure someone is at home from 7 am - 7 pm on the delivery day. if you believe an alternative address is more convenient to deliver the item then please make sure you change the address at eBay checkout.
Delivery guy will require an assistant to unload heavy items of his vehicle. Our delivery guys only deliver at property entrance on ground level.
We do not ship to PO boxes and surrounding islands.
For all metropolitan areas allow between 2-7 working days for delivery and for all non-metropolitan areas allow between 5-10 working days.
After ordering online, you will receive an email confirmation from Bargains Online containing your receipt of payment details (if you have provided your email address). We will also normally confirm receipt of your order soon after ordering.
Included in Box
1x Royal Sleep 20cm High Resilience Foam Mattress
Note:- High tech vacuum packaging technology for easy handling and transport. Mattress will expand in minutes after unpacking and will be usable within 1 day. It may take up to 7 days for mattress to restore to its full height. Please allow the mattress to expand for at least 24 hours before you sleep on it.
King Resilience Foam Mattress, Bonnell Spring Medium Firm
Free Post-Multi Areas *Mattress In A Box *Easy Delivery
Don't Pay $329
$199
SAVE $130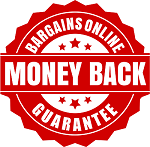 We are so confident that you will love this product that we offer a 30-day money back guarantee.
Learn More