Description
Stay fit and healthy even at the comfort of your home by making sure you have the latest Norflx 24kg Adjustable Dumbbell.
It is a 24kg adjustable dumbbells, built with high quality features that has undergone extreme quality control to provide you with a durable companion that you need for an intense home workout.
These excellent features include 15 high intensity weight plates that enables you to gradually increase your strength and weights for different exercises quickly, safety locks to keep the weight plates securely loaded throughout every use, plus it is designed with ergonomically shaped handle to allow your body work productively and efficiently while reducing fatigue, discomfort, and risk of injury.
If you are into saving space but fond of progressive intense home workout, this adjustable dumbbell is for you.
You don't have to buy a set of expensive traditional dumbbell that takes a lot of space inside your home and you can now enjoy working out to gradually improve your muscular strength and endurance with just these adjustable and compact workout companions.
Features
1 x 24kg NORFLEX Adjustable Dumbbell
Increase muscular strength and endurance
Dual direction adjustment function
High Intensity Weight Plates
Safety locks for safety use
Ergonomically shaped handle for easy and comfortable use
Saves money and space
Dumbbell rack
Compact and Adjustable
Specifications
SKU: DB-24-1
Brand: NORFLEX
Total Weight: 24kg
Weight Increments: 2.5, 3.5, 4.5, 5.5, 6.5, 8, 9, 10, 11.5, 13.5, 16, 18, 20.5, 22.5, 24
Pickup & Delivery
You are most welcome to collect your order from our warehouse at 1/191 The Horsley Drive Fairfield NSW 2165 (Entry from Tangerine Street).
You need to place your order online first and make sure you have received confirmation that your order is ready for pick-up before coming in. Please note that we require up to 2-3 business days to process your order.
Free shipping is only available to select post codes and may not include certain far regional areas, to check eligibility enter post code into shipping calculator.
Provide us with your correct delivery address and contact details
Please make sure someone is at home from 7 am - 7 pm on the delivery day. if you believe an alternative address is more convenient to deliver the item then please make sure you change the address at eBay checkout.
Delivery guy will require an assistant to unload heavy items of his vehicle. Our delivery guys only deliver at property entrance on ground level.
We do not ship to PO boxes and surrounding islands.
For all metropolitan areas allow between 2-7 working days for delivery and for all non-metropolitan areas allow between 5-10 working days.
After ordering online, you will receive an email confirmation from Bargains Online containing your receipt of payment details (if you have provided your email address). We will also normally confirm receipt of your order soon after ordering.
Included in Box
1 x NORFLX 24kg Adjustable Dumbbell
1 x Dumbbell Rack
Norflx 24kg Adjustable Dumbbells Home Gym Exercise Equipment Fitness Weights
IN STOCK NOW, DISPATCHES IMMEDIATELY, HIGH QUALITY
Don't Pay $299
$169
SAVE $130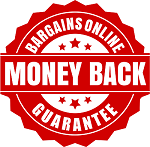 We are so confident that you will love this product that we offer a 30-day money back guarantee.
Learn More