Heavy duty fully galvanized rust proof frame and mesh 

Secured and safe locking system to keep pets locked in safely 

60mm x 60mm wire gap size to prevent an animal's paws from getting stuck or injured 

BONUS durable roof cover for pet protection and 5-year warranty on frame  BONUS durable roof cover for pet protection and 5-year warranty on frame 
Description
Provide your pets a larger free area, so they can rest and play comfortably by getting the new Pet Enclosure.
It is a high quality Pet enclosure made with fully galvanized rustproof frame and mesh, plus it is built with secured and safe locking system to ensure that your precious pets are locked in safely.
Better still, this well-made pet enclosure is designed with 60mmx60mm wire gap size to prevent your pet's paws from getting stuck or injured.
Best of all, It comes with a durable roof cover, thoughtfully included for your pet's extra protection, plus upon purchase, a 5-year warranty on the frame is applied to provide you with peace of mind in terms of the durability of the product and to offer your pets the best enclosure where they can safely play and rest.
Features
Heavy duty fully galvanized rust proof frame and mesh 
Secured and safe locking system to keep pets locked in safely 
60mm x 60mm wire gap size to prevent an animal's paws from getting stuck or injured 
BONUS durable roof cover for pet protection and 5-year warranty on frame 
Specifications
Specifications:
Overall Dimensions: 2060 X 2060 X 1720MM 
Size of the Door: 1070 X 470MM 
Size of the fence chain link: 1220 X 7800MM 
Material: Galvanized Steel 
Net Weight: 36.7 KG 
Gross Weight: 39.8 KG 
Carton 1 Dimension: 1940 X 350 X 180MM 
Pickup & Delivery
You are most welcome to collect your order from our warehouse at 1/191 The Horsley Drive Fairfield NSW 2165 (Entry from Tangerine Street).
You need to place your order online first and make sure you have received confirmation that your order is ready for pick-up before coming in. Please note that we require up to 2-3 business days to process your order.
Free shipping is only available to select post codes and may not include certain far regional areas, to check eligibility enter post code into shipping calculator.
Provide us with your correct delivery address and contact details
Please make sure someone is at home from 7 am - 7 pm on the delivery day. if you believe an alternative address is more convenient to deliver the item then please make sure you change the address at eBay checkout.
Delivery guy will require an assistant to unload heavy items of his vehicle. Our delivery guys only deliver at property entrance on ground level.
We do not ship to PO boxes and surrounding islands.
For all metropolitan areas allow between 2-7 working days for delivery and for all non-metropolitan areas allow between 5-10 working days.
After ordering online, you will receive an email confirmation from Bargains Online containing your receipt of payment details (if you have provided your email address). We will also normally confirm receipt of your order soon after ordering.
Included in Box
1x Assembly Tool set
1x Instruction Manual
Pet Dog Kennel Enclosure Playpen Puppy Run Exercise Fence Metal Cage Play Pen
Fully Galvanised, Heavy Duty Frame, Bonus Roof Cover
Don't Pay $399
$234
SAVE $165
---
Bonus Roof Cover Heavy-duty Steel Frame Rust Proof Durable Roof Suitable for most pets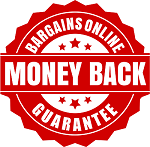 We are so confident that you will love this product that we offer a 30-day money back guarantee.
Learn More