Description
The Norflx XR535E provides the ultimate in comfort, privacy, and cardiovascular health. It is a foldable, highly durable treadmill with a 12 pro-set training program to provide a natural running experience. The Norflx XR535E comes standard with an anti-static flex grip belt with a size of 420 x 1200mm, allowing you freedom of movement and comfort. It also features a 3-mode body fat testing program to give you that healthy burn and tone your body! Keep yourself entertained with podcasts or music on the built-in speakers with USB and MP3 input.
Customize your cardio workout with easily adjustable speed variations from 1.0-16.0 km/h by scrolling and pressing the speed button. This treadmill is equipped with a professional heavy-duty DC motor of 1.0 CHP as well as a pulse width modulation system with a fuseless current limit to allow for easy maintenance. The Norflx XR535E is fully foldable to a size of 137cm x 63cm x 65cm for easy storage and comes with transport wheels so it can be moved with ease. The Norflx XR535E comes with an array of proven safety features including a safety cut-off clip that automatically cuts the power when you step or stumble off the treadmill. It also features an overload and short circuit protection.
Additional luxury and comfort add-ons include a blue LED screen, drink holder and call-out features that include time, speed, distance, calories, pulse and body fat. The frame is made of powder coated rust-proof lifetime quality steel to ensure that your treadmill can withstand the test of time and keep you training for longer. As an added bonus, your package includes 1x user manual and a one-year warranty. Exercise in the privacy and comfort of your own home and enjoy the benefits of excellent cardiovascular health! Order your Norflx XR535E today!
Specifications
Motor: 1.0CHP (Continuous)
Speed: 1.0-16.0km/h
Belt Width: 420mm
Max User Weight: 90KGS
Fully Foldable: Yes
Transport Wheels: Yes
Safety Cut Off Clip: Yes
Speakers: Yes
Screen Size: Blue LED screen
Power Supply: Professional Heavy Duty DC Motor
Heart Rate Monitor: Yes
Drink Holder: Yes
Safety Feature: Overload and Short Circuit Protection
Running Surface: Anti -static FLEX-GRIP BELT W420 X L1200mm
Readout: Time, Speed, Distance, Calories, Pulse and body fat
Frame: Powder Coated Rustproof Lifetime Quality Steel
Motor Specifications: PWM (Pulse Width Modulation system) with fuseless current limit
Assembled(L x W x H): 152*63*105cm
Folded(L x W x H): 137*63*65cm
Gross Weight: 38kgs
Net Weight: 32kgs
Pickup & Delivery
You are most welcome to collect your order from our warehouse at 1/191 The Horsley Drive Fairfield NSW 2165 (Entry from Tangerine Street).
You need to place your order online first and make sure you have received confirmation that your order is ready for pick-up before coming in. Please note that we require up to 2-3 business days to process your order.
Free shipping is only available to select post codes and may not include certain far regional areas, to check eligibility enter post code into shipping calculator.
Provide us with your correct delivery address and contact details
Please make sure someone is at home from 7 am - 7 pm on the delivery day. if you believe an alternative address is more convenient to deliver the item then please make sure you change the address at eBay checkout.
Delivery guy will require an assistant to unload heavy items of his vehicle. Our delivery guys only deliver at property entrance on ground level.
We do not ship to PO boxes and surrounding islands.
For all metropolitan areas allow between 2-7 working days for delivery and for all non-metropolitan areas allow between 5-10 working days.
After ordering online, you will receive an email confirmation from Bargains Online containing your receipt of payment details (if you have provided your email address). We will also normally confirm receipt of your order soon after ordering.
Included in Box
1 x NORFLX Treadmill
1 x User's Manual
NEW NORFLX Electric Treadmill Home Gym Ball Exercise Machine Fitness Equipment
BONUS GYM BALL VALUED $39, Auto Lubr
Don't Pay $499
$449
SAVE $50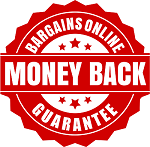 We are so confident that you will love this product that we offer a 30-day money back guarantee.
Learn More