SUMMER FUN - Enjoy hours of fun in the sun with your family and friends! It's great for backyard parties or any other summer get-togethers.

EASY TO SETUP - Setup in minutes. Everything you need is included, which makes it very convenient to install.

SLIDE, SPLASH AND A WHOLE LOT MORE – Slide, Splash Pool, Jumping, and Basketball. With so much to play with, your kids will enjoy every single moment.

SAFE & BUILT TO LAST - Australian Standard Compliant. Utilises strong quadruple machine stitching for extra durability that is punture resistant.

BONUS - 5 Metre Inflatable Water Slide
Description
Provide your kids with a safe and fun playing environment with a water funpark from Bargains Online.
A great addition to your kids' play area and a perfect companion to make their birthday party fun and exciting.
It is made with puncture resistant heavy-duty materials, especially designed for long-lasting use.
It features its water pipe with 2 sprinkle heads, ground pegs for enhanced stability, a repair kit for easy repair and maintenance, and a carry bag for quick and convenient storage.
Better still, this excellent inflatable play area has an Australian Approved 480W strong blower with 12-month warranty, thoughtfully included for hassle-free unit installing and removing.
Includes a BONUS inflatable water slide to provide your kids and their friends a fun and more enjoyable play time together.
Specifications
SKU: JCFF8233
Brand: Jumping Castles 4 Fun
Blower: 480W
Warranty: 12 months
Water slide material: PVC
Water slide dimension: 16ft Long
Gross Weight: 22.86KGS
Net Weight: 15.6KGS
Carton Dimensions: 39 x 39 x 62cm (LxWxH)
Product Dimensions: 360 x 340 x 218cm (LxWxH)
Weight per person: Max 45kg
Total weight on inflated area: Max 180kg
Pickup & Delivery
You are most welcome to collect your order from our warehouse at 1/191 The Horsley Drive Fairfield NSW 2165 (Entry from Tangerine Street).
You need to place your order online first and make sure you have received confirmation that your order is ready for pick-up before coming in. Please note that we require up to 2-3 business days to process your order.
Free shipping is only available to select post codes and may not include certain far regional areas, to check eligibility enter post code into shipping calculator.
Provide us with your correct delivery address and contact details
Please make sure someone is at home from 7 am - 7 pm on the delivery day. if you believe an alternative address is more convenient to deliver the item then please make sure you change the address at eBay checkout.
Delivery guy will require an assistant to unload heavy items of his vehicle. Our delivery guys only deliver at property entrance on ground level.
We do not ship to PO boxes and surrounding islands.
For all metropolitan areas allow between 2-7 working days for delivery and for all non-metropolitan areas allow between 5-10 working days.
After ordering online, you will receive an email confirmation from Bargains Online containing your receipt of payment details (if you have provided your email address). We will also normally confirm receipt of your order soon after ordering.
Included in Box
1 x JCFF8233 Advanced Fun Park
1 x Australian Approved 480W Strong Blower
1 x Waterpipe with 2 Sprinkle head
1 x Carry Bag
1 x Bonus Inflatable Water Slide
6 x Ground Pegs
1 x Repair Kit
1 x User Manual
Inflatable Water Funpark – Water Slide, Jumping, Trampoline, Splash Pool
Enjoy hours of fun in the sun with family and friends
Don't Pay $1,099.00
$469.00
SAVE $630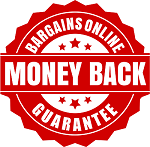 We are so confident that you will love this product that we offer a 30-day money back guarantee.
Learn More