Description
The new BLAST FX Pressure Washer is a must have for anyone wanting ultimate cleaning power right at home.
Nothing beats the cleaning abilities of the Blast FX, which allows for a thorough clean on every surface from windows, paths and even vehicles. Imagine being able to clean your car professionally from the comfort of your home and without the ongoing cost! The Blast FX pressure washer uses a trigger with safety lock that allows you to not only concentrate on areas big and small, but also save water substantially.
The Blast FX uses a commercial grade 8m hose which allows you extended reach whether it be for washing your vehicle or working in the back yard. The extended length also allows for use on construction sites and roofing. The all terrain wheels make it easily portable and suited for internal and external uses.
With the detergent bottle allowing for a soapy clean, the Blast FX is the whole package when it comes to at home pressure cleaning. With all the features you need in a compact design, it allows for a commercial grade clean without the hefty price tag.
Get yours today and see how easy cleaning can be!
Specifications
Brand/Model: Blast FX Pressure Washer
Item No: K650
Motor Power: 2350W
Voltage: 240V/50HZ
Maximum Pressure: 3200PSI (214 Bar)
Continuous Pressure: 2150PSI (138 Bar)
Rated Flow Rate: 6.2L/min
Hose Length: 8m
Cable Length: 5m
Carton Dimensions: 32 x 31 x 41cm
Carton Weight: 8kg
Product Weight: 7kg
Max Flow Rate: 7.1L/min
Pickup & Delivery
You are most welcome to collect your order from our warehouse at 1/191 The Horsley Drive Fairfield NSW 2165 (Entry from Tangerine Street).
You need to place your order online first and make sure you have received confirmation that your order is ready for pick-up before coming in. Please note that we require up to 2-3 business days to process your order.
Free shipping is only available to select post codes and may not include certain far regional areas, to check eligibility enter post code into shipping calculator.
Provide us with your correct delivery address and contact details
Please make sure someone is at home from 7 am - 7 pm on the delivery day. if you believe an alternative address is more convenient to deliver the item then please make sure you change the address at eBay checkout.
Delivery guy will require an assistant to unload heavy items of his vehicle. Our delivery guys only deliver at property entrance on ground level.
We do not ship to PO boxes and surrounding islands.
For all metropolitan areas allow between 2-7 working days for delivery and for all non-metropolitan areas allow between 5-10 working days.
After ordering online, you will receive an email confirmation from Bargains Online containing your receipt of payment details (if you have provided your email address). We will also normally confirm receipt of your order soon after ordering.
Included in Box
1 x Blast FX Pressure Washer
1 x Trigger With Spray Nozzle
1 x Detergent Bottle
1 x 8m Pressure Hose
1 x Owner's Manual
1 Year Warranty
BLAST FX 3200 PSI High-Pressure Washer Water Cleaner, Gurney Pump 8M Hose
1 YEAR WARRANTY, INCLUDES DETERGENT SPRAY BOTTLE
Don't Pay $249
$109
SAVE $140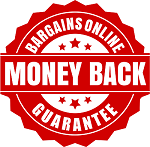 We are so confident that you will love this product that we offer a 30-day money back guarantee.
Learn More