The 7 in 1 OZ Star is powered by a 52CC 2-Stroke Engine Designed by Japanese engineers

Comfortable padded back straps for extra support

Quick release trigger with on/off switch

Bonus 5 X Cutting Disks, 1 X Brush Cutter Auto Bumper, 1 X Brush Cutter Line, 1 X Harness, 1 x Tool Kit, 1 X Manual & 1 year warranty
Description
NEW 52CC 6 IN 1 BACKPACK BRUSHCUTTER LINE TRIMMER WHIPPER SNIPPER BRUSH CUTTER
The brand new genuine 6in1 back pack brush cutter is powered by a very powerful OZ Star 52CC 2-Stroke Engine, which efficiently delivers a powerful and reliable performance. Very easy to start, and has a very comfortable padded backpack straps. The flexible shaft between the engine and the throttle control allows easy manoeuvrability in tight spots and can trim at any angle.
The 6 in 1 Multi-function brush cutter comes with a bumper and Bonus 5 Blades and Bonus Alloy Head + 20 Lines.
Are you tired of hurting arms and shoulders? Finding it hard to maintain your lawn or garden? This 6in1 backpack brush cutter line trimmer, which is uniquely designed, is loaded with 52cc genuine 2 stroke engine to make your garden jobs effortless. You can easily cut trees and small bushes with this smart 52cc line trimmer brush cutter. Within no time, you can cut off that long grass in your lawn or garden.
This product is made especially for bigger yards and village blocks wherein using a hand held trimmer would not be a convenient option as it can cause shoulder and arm sprain. As most of the weight is centered on your shoulders, this backpack design is the perfect solution for bigger jobs, as only a very light pole and trimmer head is held and moved with your arms.
This is the perfect Multi-tool for all your garden maintenance needs.
Specifications
Blades : 5 Blades included: 2T, 3T, 4T, 8T, 40 Tooth
Engine Type : Commercial 52cc / Petrol 2 Stroke / Air Cooled
Fuel Tank Capacity : 700ml
Ignition : CDI
Fuel Type : 90+ Unleaded Fuel
Oil Seal : NAK Seal
Brush Cutter Attachment : Auto Bumper + Line
Carburettor : Air Injected
Pole Type : Alloy
Piston / Crank : Double Ringed Piston / Dual Weight Crank Shaft
Brush Cutter Length : 195cm
Fuel Mix : 25:1
Parts : Always Available
Pickup & Delivery
You are most welcome to collect your order from our warehouse at 1/191 The Horsley Drive Fairfield NSW 2165 (Entry from Tangerine Street).
You need to place your order online first and make sure you have received confirmation that your order is ready for pick-up before coming in. Please note that we require up to 2-3 business days to process your order.
Free shipping is only available to select post codes and may not include certain far regional areas, to check eligibility enter post code into shipping calculator.
Provide us with your correct delivery address and contact details
Please make sure someone is at home from 7 am - 7 pm on the delivery day. if you believe an alternative address is more convenient to deliver the item then please make sure you change the address at eBay checkout.
Delivery guy will require an assistant to unload heavy items of his vehicle. Our delivery guys only deliver at property entrance on ground level.
We do not ship to PO boxes and surrounding islands.
For all metropolitan areas allow between 2-7 working days for delivery and for all non-metropolitan areas allow between 5-10 working days.
After ordering online, you will receive an email confirmation from Bargains Online containing your receipt of payment details (if you have provided your email address). We will also normally confirm receipt of your order soon after ordering.
Included in Box
1 X 52CC OZ STAR 6 IN 1 MULTI TOOL
5 X Cutting Disks; 2T - 3T - 4T - 8T - 40T
1 X Brush Cutter Auto Bumper
1 X Brush Cutter Line
1 X Harness
1 x Tool Kit
1 X Manual
BlackEagle 52cc Petrol Brush Cutter Whipper Snipper Weed Line Trimmer Backpack
2015 Model, 52cc Commercial, BONUS 5 BLADES, 1YR WTY
Don't Pay $400
$199
SAVE $201
---
Brush cutter with bonus 5 blades Designed by Japanese engineers OZ Star 52CC 2-Stroke Engine bonus 20X LINES + ALLOY HEAD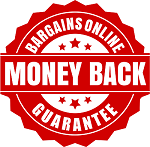 We are so confident that you will love this product that we offer a 30-day money back guarantee.
Learn More