Description
The all New Rossmark Single Phase Battery Charger CD 790N is right here. This is a very essential tool that garages, commercial workshops and handyman should own. This New Rossmark CD 790N delivers an amazing start power of 650A, which is adequate to instantly start your car, tractor, boat or truck within just seconds.
The New Rossmark Single Phase Battery Charger CD 790N is fully loaded with stunning features.
It is perfect for battery upkeep and charging, with 12V capacity (60A constant charge) and 24V capacity (75A constant charge).
This is fitting for GEL and lead-acid batteries, the new Rossmark CD 790N also boasts of an Ammeter to indicate the charge speed and charging status of your battery.
Offers superior charging technology with matchless consistency and performance with integrated reverse polarity guard, overload defense, as well as 4-stage charge speed settings
What's more, the New Rossmark Single Phase Battery Charger CD 790N is strongly supported with 1 Full Year Warranty that gives you peace of mind.
Undoubtedly, this new Rossmark CD 790N Battery Charger is all set to become the #1 selling battery charger in Australia and New Zealand.
Get this new intelligent battery charger Rossmark CD 790N right away and keep your battery performing at its optimal level that surely guarantees dependability and the finest performance.
Specifications
Charge voltage : 12/24V
Max. Charging power : 2.6kw
Max. Starting power : 12kw
Rated charging current : 60a (12v), 75a (24v)
Carton : 670 X 335 X 345mm
Fuse : 50/60A
Input voltage : 240v /50hz
Rated charging power : 1.2kw
Rated starting power : 9.0kw
Start power 12v/24v : 650a
Power cord : 2m with australian 15a plug
Assembled : 38 X 28 X 63cm
GW/NW : 22/21Kg
Pickup & Delivery
You are most welcome to collect your order from our warehouse at 1/191 The Horsley Drive Fairfield NSW 2165 (Entry from Tangerine Street).
You need to place your order online first and make sure you have received confirmation that your order is ready for pick-up before coming in. Please note that we require up to 2-3 business days to process your order.
Free shipping is only available to select post codes and may not include certain far regional areas, to check eligibility enter post code into shipping calculator.
Provide us with your correct delivery address and contact details
Please make sure someone is at home from 7 am - 7 pm on the delivery day. if you believe an alternative address is more convenient to deliver the item then please make sure you change the address at eBay checkout.
Delivery guy will require an assistant to unload heavy items of his vehicle. Our delivery guys only deliver at property entrance on ground level.
We do not ship to PO boxes and surrounding islands.
For all metropolitan areas allow between 2-7 working days for delivery and for all non-metropolitan areas allow between 5-10 working days.
After ordering online, you will receive an email confirmation from Bargains Online containing your receipt of payment details (if you have provided your email address). We will also normally confirm receipt of your order soon after ordering.
Included in Box
1 X Rossmark Battery Charger Unit
1 X User Manual
1 Year Warranty
1 X Set Of Battery Clamps
2 X Bonus Fuse
Rossmark Portable Car Battery Charger - 12V / 24V Jump Starter 650A
Flat battery-Seconds job*Overload Protection *1year WTY
Don't Pay $520
$219
SAVE $301
---
1X Campmark Battery Charger Unit New Led Display Light Weight Portable Start Up Power 12V/24V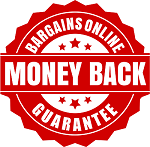 We are so confident that you will love this product that we offer a 30-day money back guarantee.
Learn More