Description
BRAND NEW 50CC PETROL HEAVY DUTY POWERFUL CHAINSAW
20" BAR & CHAIN
Easy start
Safety chain brake
Automatic chain oiling
Anti vibration design
Dual weighted crankshaft
Lightweight balanced design
The Black Eagle PRO 50cc chainsaw has been manufactured using best quality components, designed to last in Australia's toughest conditions. We have also included a 20"CHAIN & BAR.
No matter how big or small the job is, when it comes to tough cutting challenges, nothing beats the speed and power of a Black Eagle chainsaw.
This chainsaw is perfect for cutting trees, fire wood, and great for cutting smaller branches, or out 4 wheeldriving for cutting fallen trees, and more.
The Black eagle chain saw provide more power and mobility than many other chain saws in the market, This chainsaw with its light weight of 5.5 KG can tackle any heavy duty tasks.
Specifications
Engine Type : Single Cylinder two stroke
Engine Power/ Displacement : 200Watts/ 50CC
Bar / Length : 20"
Bar Type : Sprocket Nose
Chain Length / Type : 20" / Low kickback
Bar Oil Type : SAE, 10W - 30
Ignition Type : CDI
Max Cutting Length : 20" 510mm
Fuel type : Unleaded
Fuel Tank Capacity : 550 ML
Type of engine oil / Fuel Mixture : 2 stroke oil / 25:1/ 25 part fuel mix with 1 part oil
Bar Oil Capacity : 260 ML
Chain Spec : 325"pitch, .050"gauge; 21LPX: .325"pitch, .058"gauge;
Mass : 5.5 KG
Parts : Always Available
Pickup & Delivery
You are most welcome to collect your order from our warehouse at 1/191 The Horsley Drive Fairfield NSW 2165 (Entry from Tangerine Street).
You need to place your order online first and make sure you have received confirmation that your order is ready for pick-up before coming in. Please note that we require up to 2-3 business days to process your order.
Free shipping is only available to select post codes and may not include certain far regional areas, to check eligibility enter post code into shipping calculator.
Provide us with your correct delivery address and contact details
Please make sure someone is at home from 7 am - 7 pm on the delivery day. if you believe an alternative address is more convenient to deliver the item then please make sure you change the address at eBay checkout.
Delivery guy will require an assistant to unload heavy items of his vehicle. Our delivery guys only deliver at property entrance on ground level.
We do not ship to PO boxes and surrounding islands.
For all metropolitan areas allow between 2-7 working days for delivery and for all non-metropolitan areas allow between 5-10 working days.
After ordering online, you will receive an email confirmation from Bargains Online containing your receipt of payment details (if you have provided your email address). We will also normally confirm receipt of your order soon after ordering.
Included in Box
50cc Chainsaw
Bar Cover
20" Bar
20" Chain
1 years Warranty
Tool Kit
GogglesGloves
Ear Muffs
User Manual
50cc 20" Petrol Chainsaw - 2 Strock Engine
Don't Pay $250
$115
SAVE $135
---
Easy start 20"510mm max cutting length Automatic chain oiling Safety chain brake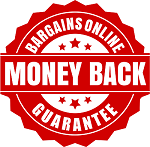 We are so confident that you will love this product that we offer a 30-day money back guarantee.
Learn More