Description
Introducing New Sand and Water Table with 24 different playing accessories.
Great fun for kids and good for their interactive skills.
Sand and Water Table is made from durable poly construction, its sturdy construction includes drain plug for easy cleaning.
Perfect playing set for your kids to have fun at the beach or in the home garden.
It helps in developing the interactive skills of kids.
24 different playing accessories including trains, boats, funnels and many more.
Specifications
Carton Dimension (L x W x H): 65cm x 63.5cm x 18cm approx.
Package Weight: 5.0kg approx
Material: Poly Construction
Pickup & Delivery
You are most welcome to collect your order from our warehouse at 1/191 The Horsley Drive Fairfield NSW 2165 (Entry from Tangerine Street).
You need to place your order online first and make sure you have received confirmation that your order is ready for pick-up before coming in. Please note that we require up to 2-3 business days to process your order.
Free shipping is only available to select post codes and may not include certain far regional areas, to check eligibility enter post code into shipping calculator.
Provide us with your correct delivery address and contact details
Please make sure someone is at home from 7 am - 7 pm on the delivery day. if you believe an alternative address is more convenient to deliver the item then please make sure you change the address at eBay checkout.
Delivery guy will require an assistant to unload heavy items of his vehicle. Our delivery guys only deliver at property entrance on ground level.
We do not ship to PO boxes and surrounding islands.
For all metropolitan areas allow between 2-7 working days for delivery and for all non-metropolitan areas allow between 5-10 working days.
After ordering online, you will receive an email confirmation from Bargains Online containing your receipt of payment details (if you have provided your email address). We will also normally confirm receipt of your order soon after ordering.
Included in Box
3 x Trains
2 x Boats
3 x Funnels
1 x Spinner
1 x Paddle Wheel
1 x See-Saw Scoop
3 x Track Pieces
1 x Shovel Rake
24 pcs Outdoor Sand and Water Children Activity Play Table
Don't Pay $120
$59
SAVE $61
---
Perfect for the beach & home garden Bright fun colours Drain plug for easy cleaning Poly construction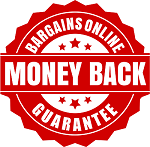 We are so confident that you will love this product that we offer a 30-day money back guarantee.
Learn More