Description
The latest design has just landed. Check out this new XTREME Motorised Jockey Wheel. This powerful Jockey wheel is designed to assist you in moving your watercraft, caravan, and other heavy loads with just a touch of a button.
Powered by a 12V/350W motor, this Powerful jockey wheel is highly manoeuvrable. Designed to move your load at 6-7 meters per minute even at an incline of up to 5 degrees. It is also capable of pulling heavy loads up to a whopping 3500 kg, while the wheel itself can handle weights up to 272 kg. Its 8-inch heavy duty rubber wheel also boasts a gear ratio of 326:1 for optimal torque. Talk about heavy duty towing!
The XTREME Motorised Jockey Wheel also features a removable remote control with a 365 cm coil cable that can extend to the rear, allowing you to keep track of your load in all angles. This feature comes in very handy especially when you're towing your load all by yourself. If you don't want to use a remote, the jockey wheel also comes with a handy switch for easy maneuverability. With its automatic brake, forward, and reverse function, moving your caravan or boat around becomes a breeze.
The jockey wheel motor is compatible with a DC 12V/24Ah battery. It also comes with a lock and key for theft protection.
Features
Removable remote control with 365 cm coil cable allows you to keep track of your load in all angles
Automatic brake, forward, and reverse function for easy maneuverability
Heavy duty rubber wheel provides firm grip on most surfaces
Large lever for easy height adjustment
Comes with a lock and key to prevent your unit from getting stolen
Specifications
Motor: 12V/350W
Motor Battery: DC 12V/24Ah
Speed: 6-7 meters per minute
Remote control: 365cm cable
5 degrees
Gross weight: 15KG
Carton Dimension (LxWxH): 730x380x270mm
Maximum Vehicle Load: 3500 kg
Maximum Wheel Jockey Load: 272 kg
Jockey Wheel Size: 8 inches
Gear ratio: 326:1
Pickup & Delivery
You are most welcome to collect your order from our warehouse at 1/191 The Horsley Drive Fairfield NSW 2165 (Entry from Tangerine Street).
You need to place your order online first and make sure you have received confirmation that your order is ready for pick-up before coming in. Please note that we require up to 2-3 business days to process your order.
Free shipping is only available to select post codes and may not include certain far regional areas, to check eligibility enter post code into shipping calculator.
Provide us with your correct delivery address and contact details
Please make sure someone is at home from 7 am - 7 pm on the delivery day. if you believe an alternative address is more convenient to deliver the item then please make sure you change the address at eBay checkout.
Delivery guy will require an assistant to unload heavy items of his vehicle. Our delivery guys only deliver at property entrance on ground level.
We do not ship to PO boxes and surrounding islands.
For all metropolitan areas allow between 2-7 working days for delivery and for all non-metropolitan areas allow between 5-10 working days.
After ordering online, you will receive an email confirmation from Bargains Online containing your receipt of payment details (if you have provided your email address). We will also normally confirm receipt of your order soon after ordering.
Included in Box
Motorised Jockey Wheel
Remote control
Bolts
Battery Leads
Lock and Key
1x Mounting Bracket
1x Manual
NEW 12V Electric Motorised 8" Jockey Wheel 350W 3500KG Trailer Remote Control
FREE LOCK AND KEY + EASY REMOTE CONTROL
Don't Pay $599
$469
SAVE $130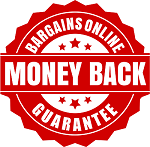 We are so confident that you will love this product that we offer a 30-day money back guarantee.
Learn More