Description
Boost your vehicle's dead battery and get it moving without the need to call road assistance or even another vehicle for a jump with our Lithium JS2000 Jump Starter from Topdon. It is a powerful battery jumpstarter, designed with quick boost 2000A /12V power that allows your car engine to start up to 25 times with full charge.
You can easily jump start your 12V vehicle in seconds with up to 8.0L gas and 6.0L diesel engines, without causing harm to your car battery. Indeed a life saver for outdoor campings, emergencies, and road trips.
LCD data display that allows you to monitor the remaining power and output voltage, helping you to make better use of your power, as well as to protect your device.
Equipped with inbuilt temperature protection which allows it to perform from -10°C-50°C temperature
Ultra-bright LED flash with 3 illumination modes to choose from, especially designed to check the vehicle's fault or to notify a traffic accident
Can work as a powerbank with its 16000mAh capacity and a quick-charge 3.0 USB outport, type-C fast charging, and 12-15V 10A DC output, allowing you to charge smartphones, tablets, and other portable tech.
A strong clamp, ultra safe anti-polarity reverse connection protection function, and to ensure the best addition to your car essentials, this product is CE, FCC, PSE, RPHS certified, making it safe to use for your vehicle.
Has a rugged enclosure with IP65 waterproof rating to prevent scratching or marring of surfaces, equipped with high-discharge lithium technology for safe operation in all seasons.
Has an ultra-compact and portable design, so you can take it with you in all your outdoor trips and use it for cars, motorcycles, lawn mowers, ATVs, lawn tractors, trucks, SUVs, boats, PWCs, classic cars, and more.
Note: Only for the 12V lead acid batteries. Do not connect with any other type of batteries. Charging it for 8+ hour for the first use.
Features
12V Jump Starter for 8L GAS & 6L Diesel Cars/Truck
Waterproof rating IP65
2000A large current,16000mAh capacity
Strong clamp, Ultra safe anti - polarity reverse connection protection function
10 safety protection
Support QC3.0 18W fast charging
High-power DC Output
LCD data display
Charger used for car vacuum cleaner, Phones & pad, Camara, PSP
Suitable for cars, motorcycles, lawn mowers, ATVs, lawn tractors, trucks, SUVs, boats, PWCs, classic cars
Specifications
Peak Current: 2000A
Output 1: QC3.0 5V/3A, 9V/2A
Output 2: USB2.0 5V/2.1A
Capacity: 16000mah
Type-C Input/Output: 5V/3A
USB Output: 5V/2.1A
DC Output: 12V/10A
Short Circuit Protection: Effective
Reverse Protection: Effective
Starts: Up to 25 with full charge
LED light: 3 modes (Normal, Strobe, SOS)
Waterproof: IP65
Safety Protection: Short circuit, Reverse polarity, Over temperature, Over-Charge, Over-current, Reverse connection, Reverse charge, Over discharge, Low temperature, Low voltage
Operation Temperature: -10°C-50°C (14°F-122°F)
Working Temperature: -20°C to 70°C (-4°F to 158°F)
High Temperature: 65°C (+/-5°C)
Over-Discharge Protection: 13V+/-0.5V
Working Current: 400A/2S
Certified: CE, FCC, PSE, RPHS
Dimensions: 20.59cm x 9.550cm x 4.191cm (LxWxH)
GW: 1.35kg
Pickup & Delivery
You are most welcome to collect your order from our warehouse at 1/191 The Horsley Drive Fairfield NSW 2165 (Entry from Tangerine Street).
You need to place your order online first and make sure you have received confirmation that your order is ready for pick-up before coming in. Please note that we require up to 2-3 business days to process your order.
Free shipping is only available to select post codes and may not include certain far regional areas, to check eligibility enter post code into shipping calculator.
Provide us with your correct delivery address and contact details
Please make sure someone is at home from 7 am - 7 pm on the delivery day. if you believe an alternative address is more convenient to deliver the item then please make sure you change the address at eBay checkout.
Delivery guy will require an assistant to unload heavy items of his vehicle. Our delivery guys only deliver at property entrance on ground level.
We do not ship to PO boxes and surrounding islands.
For all metropolitan areas allow between 2-7 working days for delivery and for all non-metropolitan areas allow between 5-10 working days.
After ordering online, you will receive an email confirmation from Bargains Online containing your receipt of payment details (if you have provided your email address). We will also normally confirm receipt of your order soon after ordering.
Included in Box
1 x JS2000 Topdon Jump Starter
1 x Smart Battery Clamp
1 x Type-C Cable
1 x DC to Lighter Converter
1 x Carry Bag
1 x User Manual
TOPDON Car Jump Starter Booster 12V Battery Charger Power Bank 2000A
LIMITED OFFER WAS $139 * NOW $99 * SALE ENDS SOON!
Don't Pay $219
$99
SAVE $120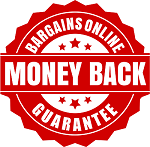 We are so confident that you will love this product that we offer a 30-day money back guarantee.
Learn More