Description
Stainless steel, Pizza Cutter, Mezzaluna, Herb dicer Rocker Blade. 12" with safety blade cover & gift box.
BEAUTIFUL GIFT BOX- which you can store in the drawer. Eco friendly, bio degradable and recyclable. A gift idea for friend's, wedding present or for yourself as it is a multi-purpose vegetable cutter. Birthday gift ideas. Anniversaries can be personal by engraving. Company gift idea for staff. Mezzaluna knife Pizza Cutter Rocker blade, 12" herb cutter salad chopper dicer mincer knife pizza knife pizza slicer eco friendly.
MINIMAL TIME IN KITCHEN -With the ease of use this heavy-duty commercial grade. Rocker cutter can use outdoors at on a grill. This cutter has a SHARP blade, portable, reliable a specialist at dicing. Use a large cutting board as there is no need to buy a special board for it. this cutter is a large multi-purpose kitchen utensil. End time away from family with this time efficient food preparation tool. FDA approved. Mezzaluna knife Pizza Cutter Rocker blade, 12" herb cutter salad chopper dicer mincer knife pizza knife pizza slicer
420 HIGH-CARBON STAINLESS STEEL - This Mincing knife is a High carbon stainless steel. Pizza cutter made of premium quality. Also comes with a free safety blade cover included. When you have finished, clean and dry place strip back on. Eliminates the hazard of cutting anyone when stored in draw.
I do not recommend any knifes go into a dishwasher. Some use chemicals which are harmful to certain steels.
ALL ROUND KNIFE NOT A PIZZA CUTTER - keep your pizza toppings in position is a breeze with this rocker cutter. It has multi-purpose functions as well. It can chop, dice, slice, mince, vegetables fruits also desserts. A perfect addition to any kitchen. Ergonomic designed rounded comfortable grip. Quality made for user friendly experience. both hands on the handles, the cutting edge is out of harm's way. No need to be a chef of many years to have great knife skills. Then slice your Homemade Pizza like a PROFESSIONAL. Show your friends how easy this pizza cutter is to use. Easy to clean Also very high durability.
Pickup & Delivery
You are most welcome to collect your order from our warehouse at 1/191 The Horsley Drive Fairfield NSW 2165 (Entry from Tangerine Street).
You need to place your order online first and make sure you have received confirmation that your order is ready for pick-up before coming in. Please note that we require up to 2-3 business days to process your order.
Free shipping is only available to select post codes and may not include certain far regional areas, to check eligibility enter post code into shipping calculator.
Provide us with your correct delivery address and contact details
Please make sure someone is at home from 7 am - 7 pm on the delivery day. if you believe an alternative address is more convenient to deliver the item then please make sure you change the address at eBay checkout.
Delivery guy will require an assistant to unload heavy items of his vehicle. Our delivery guys only deliver at property entrance on ground level.
We do not ship to PO boxes and surrounding islands.
For all metropolitan areas allow between 2-7 working days for delivery and for all non-metropolitan areas allow between 5-10 working days.
After ordering online, you will receive an email confirmation from Bargains Online containing your receipt of payment details (if you have provided your email address). We will also normally confirm receipt of your order soon after ordering.
Stainless steel pizza cutter, Mezzaluna knife, 12-inch Pizza Cutter Rocker
High Quality Stainless Steel
Don't Pay $69.95
$39.95
SAVE $30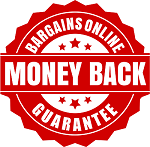 We are so confident that you will love this product that we offer a 30-day money back guarantee.
Learn More