Description
Here arrives Australia's most trusted Welding Brand!
The all New ARC 250D from Rossmark Welders is swiftly becoming the most wanted multi-function throughout Australia and New Zealand. This light weight ARC 250D features genuine DC inverter technology that renders instant start, deep incursion and the best polished weld coating. The Rossmark Welders ARC 250D is a modern and smart device that uses the competence and reliability of multiple IGBT inverters facilitating a huge raise in utility cycle that means you can effortlessly press power source to the edge and beyond.
This incredible ARC 250D is capable enough for operating a 4mm rod and fluxing coated soft blending with the right firmness of the Arc. The Rossmark Welders ARC 250D DC inverter welder is adaptable from 20-250A and produces perfect results even with metal sheet.
For a professional welder, handyman or tradesmen, this product is a must have. The Rossmark Welders ARC 250D is a superior innovative device that will improve the overall performance and strength. It's guaranteed to offer you with polished accurate results each and every time.
The Rossmark Welders ARC 250D is a multi-function welder that welds all kinds of ferrous metals like stainless steel, mild steel, chrome moly and more. It also executes tasks like repairs, fabrication and metal body works with ease.
Specifications
ROSSMARK, ARC250D DC INVERTER WELDER
240V 50Hz / 15A Plug
Output Current Range : 20-250 Amps
No-Load Voltage 80V
Duty Cycle : 35% @ 250A / 60% @ 220A / 100% @ 160A
Efficiency : 85%
IP21 Protection Class
No-Load Power : 40W
Power Factor : COS 0.93
Total Package Size: 480mm X 165mm X 410mm
Weight : G.W 8kg - N.W 9kg
Pickup & Delivery
You are most welcome to collect your order from our warehouse at 1/191 The Horsley Drive Fairfield NSW 2165 (Entry from Tangerine Street).
You need to place your order online first and make sure you have received confirmation that your order is ready for pick-up before coming in. Please note that we require up to 2-3 business days to process your order.
Free shipping is only available to select post codes and may not include certain far regional areas, to check eligibility enter post code into shipping calculator.
Provide us with your correct delivery address and contact details
Please make sure someone is at home from 7 am - 7 pm on the delivery day. if you believe an alternative address is more convenient to deliver the item then please make sure you change the address at eBay checkout.
Delivery guy will require an assistant to unload heavy items of his vehicle. Our delivery guys only deliver at property entrance on ground level.
We do not ship to PO boxes and surrounding islands.
For all metropolitan areas allow between 2-7 working days for delivery and for all non-metropolitan areas allow between 5-10 working days.
After ordering online, you will receive an email confirmation from Bargains Online containing your receipt of payment details (if you have provided your email address). We will also normally confirm receipt of your order soon after ordering.
Included in Box
1 X Inverter Welder
1 X Electrode Holder Lead
1 X Earth Clamp Lead
1 X Mask
1 X User Manual
1 years Warranty
Powerful 250AMP IGBT Inverter DC Welder ARC - Ross Mark
LED Display *Free Mask *1 Year WARANTY
Don't Pay $499
$119
SAVE $380
Out Of Stock. Deliveries from approximately 17/08/2022.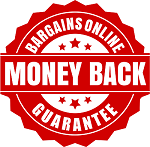 We are so confident that you will love this product that we offer a 30-day money back guarantee.
Learn More