Description
The all new ROSSMARK 280 is increasingly becoming one of the most wanted multifunctional inverter welder both in Australia and New Zealand. New ROSSMARK 280 is precisely for those who want accurate welds from a trusted brand having a proven background in delivering enhancements, consistency and dependability that guarantees perfect smooth results each time.
The new ROSSMARK 280 is integrated with the modern MIG/MMA Technology appropriate for all position welding with brilliant thin metal results and nearly no spatter cleaning is required. The new ROSSMARK 280 gives a strong current of 20-280A with super consistent ARC force control - fixes, fabrication, metal body works, the ROSSMARK 280 do it all effortlessly.
The ROSSMARK 280 has a high-tech double roller bearing, all metal wire drive, accurate digital displays for both Voltage and Current with unlimited alteration of weld strength and wire feed pace, a highly developed shielding circuit to thwart overloading, simple altering of MIG/MMA and the knack to connect a spool gun or push pull gun. Undoubtedly, every tradesman must own this MIG welding package! This particular MIG 280 welder from ROSSMARK is just perfect for home and workshop alike.
It's effortless to operate and welds up to 14mm plate and most metals including copper, stainless steel, carbon steel, iron, brass and more! ROSSMARK Welders are matchless! Compressed, yet strong enough and also you don't need to stop in between, to alter rods or chip away spatter. It truly facilitates to weld like a professional! When you want to get your task finished accurately and swiftly, there is nothing better than to own the finest tools that can be easily utilized when needed. Straight away make a wise investment in acquiring the finest tools for your business. Get It Today!
Specifications
Technology: IGBT Inverter
Type: Multifunctional purpose for MIG /MMA/ ARC welder
Input Voltage: 240V 15 Amp Plug
Current Range: 20-280 Amps (Max)
Duty cycle: 60%
No load voltage: 58V
Welder Type: Flux Welding Wire (no Gas) & Solid Wire (with gas), Stick welding
Suitable for welding: Metal Stainless Steel, Copper, Carbon Steel, Iron, Brass, Titanium
Max Rated Input: 15 Amp (Require 15Amp Socket)
Wire Diam: 0.6-1.2mm
Electrode Diam range: 1.6-4.0mm
Class of Insulation: IP21/S
Insulation degree: F
Parts: Always Available
WEIGHT AND DIMENSIONS (L x W x H)
Carton Dimensions(L x W x H): 61*28*38cm
Product Dimensions(L x W x H): 55.8*27*31.5cm
Gross Weight: 15.5KGS
Net Weight: 14KGS
Pickup & Delivery
You are most welcome to collect your order from our warehouse at 1/191 The Horsley Drive Fairfield NSW 2165 (Entry from Tangerine Street).
You need to place your order online first and make sure you have received confirmation that your order is ready for pick-up before coming in. Please note that we require up to 2-3 business days to process your order.
Free shipping is only available to select post codes and may not include certain far regional areas, to check eligibility enter post code into shipping calculator.
Provide us with your correct delivery address and contact details
Please make sure someone is at home from 7 am - 7 pm on the delivery day. if you believe an alternative address is more convenient to deliver the item then please make sure you change the address at eBay checkout.
Delivery guy will require an assistant to unload heavy items of his vehicle. Our delivery guys only deliver at property entrance on ground level.
We do not ship to PO boxes and surrounding islands.
For all metropolitan areas allow between 2-7 working days for delivery and for all non-metropolitan areas allow between 5-10 working days.
After ordering online, you will receive an email confirmation from Bargains Online containing your receipt of payment details (if you have provided your email address). We will also normally confirm receipt of your order soon after ordering.
Included in Box
1x ROSSMARK MIG/MMA280 Inverter Welder
1x 3m Electrode Holder
1x 3m MIG Torch
1x 2m Earth clamp
1x 1.2m gas hose
1 Pair of gloves
1 Welder Mask
1x Hammer/Brush
1x User Manual
2x Contact Tips
1 Year Warranty
NEW ROSSMARK 280Amp Welder MIG ARC MAG Gas Gasless DC Welding Machine Inverter
1 YEAR WARRANTY, BONUS HEAVY DUTY GLOVES
Don't Pay $759
$409
SAVE $350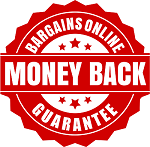 We are so confident that you will love this product that we offer a 30-day money back guarantee.
Learn More