Description
Is your mattress underperforming? Do you suffer from chronic back and neck pain? Switch to the Royal Sleep springform 33cm mattress today.
The Royal Sleep mattress has an incredible chiropractic 9-zone pocket spring that will deliver nine different levels of support and evenly distribute your body weight. Give your back and neck the rest and support it needs.
The Royal Sleep mattress now features a luxury plush Euro top padding for an irresistibly rich and silky feel.
Your Royal Sleep mattress has a medium firmness combined with high-density memory foam to help position and support your neck and back perfectly.
This will help you to get quality sleep so you can wake up refreshed and rejuvenated.
The Royal Sleep mattress is made from high-quality hypoallergenic materials and is 99% dust mite resistant to relieve hay fever and allergies.
The 6-turn coil system features an independent coil system to absorb your partner's sleeping movements and help you get quality sleep.
The luxury breathable 380g top with 3D knitted jacquard fabric helps to keep the mattress cool and dry.
Your Royal Sleep mattress now comes standard with 4 decorated handles that allow you to position your mattress easily.
Your Royal Sleep package includes one free pillow!
The Royal mattress is layered as follows:
Premium 380g Knitted Fabric
Polyester Fiber
High Resiliency Support Foam
Quality Egg Crate Foam
Non-woven Fabric
Quality Egg Crate Foam
Quality Cotton Felt
24cm Independent 9 Zones Pocket Springs
Quality Cotton Felt
Non-woven Fabric
We are the only seller of the 9-zone pocket spring mattress and we offer five different sizes with varying amounts of coil to each size: single (406), king single (496), double (609), queen (713) and king size (868). The high tech vacuum packaging technology allows for easy transport and handling.
If you suffer from back and neck ache or injury this is the mattress you have been looking for. Transform the way you sleep today!
Specifications
Firmness: 5.0/Medium
Thickness: 33cm
Size: Queen
Dimension: 203*153*33cm
Pickup & Delivery
You are most welcome to collect your order from our warehouse at 1/191 The Horsley Drive Fairfield NSW 2165 (Entry from Tangerine Street).
You need to place your order online first and make sure you have received confirmation that your order is ready for pick-up before coming in. Please note that we require up to 2-3 business days to process your order.
Free shipping is only available to select post codes and may not include certain far regional areas, to check eligibility enter post code into shipping calculator.
Provide us with your correct delivery address and contact details
Please make sure someone is at home from 7 am - 7 pm on the delivery day. if you believe an alternative address is more convenient to deliver the item then please make sure you change the address at eBay checkout.
Delivery guy will require an assistant to unload heavy items of his vehicle. Our delivery guys only deliver at property entrance on ground level.
We do not ship to PO boxes and surrounding islands.
For all metropolitan areas allow between 2-7 working days for delivery and for all non-metropolitan areas allow between 5-10 working days.
After ordering online, you will receive an email confirmation from Bargains Online containing your receipt of payment details (if you have provided your email address). We will also normally confirm receipt of your order soon after ordering.
Included in Box
1x Royal Sleep 9 Zone Euro Top Foam Mattress
2x Bonus Pillow
Note: High tech vacuum packaging technology for easy handling and transport. Mattress will expand in minutes after unpacking and will be usable within 1 day. It may take up to 7 days for mattress to restore to its full height. Please allow the mattress to expand for at least 24 hours before you sleep on it.
Queen Size Memory Foam Mattress, 9 Zone Pocket Spring, 33cm Thick
*Free Pillows *Hotel Choice** Welcome to our Showroom**
Don't Pay $569
$365
SAVE $204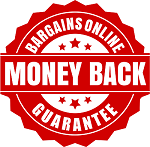 We are so confident that you will love this product that we offer a 30-day money back guarantee.
Learn More