Description
Your body relaxation and muscle pain reliever is now within the reach of your hands. Brace yourself with the new Norflex Muscle Gun Therapy Massager. Featuring its 30 adjustable Speed Levels to meet your desired massage intensity and 24V brushless motor technology that provides high-level and satisfying relief and comfort to your muscles. This Premium Quality Gun Massager has High-frequency vibration that dissipates fatigue and offers a deep and relaxing muscle massage after an intense workout. It has a built-in LCD that displays the battery percentage and smart touch buttons designed for convenient operation and has a lightweight design so you can massage to relax and restore muscles anytime and anywhere. Plus, it comes with a bonus Fitness tracker for workout monitoring. Best of all, it comes with 8 different Massage Heads especially designed to provide suitable massage for specific part of the body.
With all the outstanding features mentioned above, this Gun Massager also provides excellent benefits which include: increases blood flow, releases muscle knots, reduces muscle recovery time, clears lactic acid, breaks down scar tissues quickly, and increases range of motion.
Features
30 Adjustable Speed Levels:
* 0-10x Speed: Relax & Wake Up Muscles
* 10-15x Speed: Fascia Release
* 15-25x Speed: Eliminates Lactic Acid
* 25-30x Speed: Deep Tissue Massage
24V brushless motor technology for
more stable and comfortable experience
15-minute Timer Function: can set 15 minutes of
continuous vibration, and automatically shut down after the time is over
8 Replaceable Massage Heads of different shapes
to relax different parts of the body
LCD display with smart touch buttons:
* Battery Display
* Increase and Decrease Speed Levels
* Power On and Off
Independent power management system
Charging and discharging more intelligent, prolong battery life
High frequency vibration
Lightweight Design
Noise-Reduction Design
Comes with Portable Storage Bag
Bonus: Fitness Tracker
Specifications
Colour: Silver
Speed: 30 Levels
LED display: Yes
Heads number: 8
Motor type: Brushless motor
Voltage: 110-240V~50/60Hz
Rated output: 24V/1A
Charging time: 2.5-3 hours
Battery: 24V/2000mAH
Battery Endurance: 5 hours
Plug: Australia Standard Plug
Power supply mode: Rechargeable lithium battery
Product size: 23.8cm*25.8cm
Package Weight: 1.1kg
Pickup & Delivery
You are most welcome to collect your order from our warehouse at 1/191 The Horsley Drive Fairfield NSW 2165 (Entry from Tangerine Street).
You need to place your order online first and make sure you have received confirmation that your order is ready for pick-up before coming in. Please note that we require up to 2-3 business days to process your order.
Free shipping is only available to select post codes and may not include certain far regional areas, to check eligibility enter post code into shipping calculator.
Provide us with your correct delivery address and contact details
Please make sure someone is at home from 7 am - 7 pm on the delivery day. if you believe an alternative address is more convenient to deliver the item then please make sure you change the address at eBay checkout.
Delivery guy will require an assistant to unload heavy items of his vehicle. Our delivery guys only deliver at property entrance on ground level.
We do not ship to PO boxes and surrounding islands.
For all metropolitan areas allow between 2-7 working days for delivery and for all non-metropolitan areas allow between 5-10 working days.
After ordering online, you will receive an email confirmation from Bargains Online containing your receipt of payment details (if you have provided your email address). We will also normally confirm receipt of your order soon after ordering.
Included in Box
1 x NORFLEX Massage Therapy Gun
8 x Interchangeable heads
1 x Fitness Tracker
1 x Storage Bag
1 x Charger
1 x User Manual
Percussion Massager Gun, 8 Head Vibration Muscle Tissue Therapy
30 Speed *8 Heads *Bonus:Fitness Tracker *LCD *CarryBAG
Don't Pay $300
$119
SAVE $181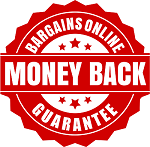 We are so confident that you will love this product that we offer a 30-day money back guarantee.
Learn More