3 piece blue luggage set comes with a 28", 24" and 20" luggage that are all light weight made with reliable material

Each luggage comes with it's own TSA approved lock for extra safety and security

The 3 luggage set comes with corner guards for protection, 4x 360 degree wheels and a retractable handle for easy mobility

BONUS 2 Memory foam and 1 Luggage Belt

4 Heavy duty dual spinner wheels
Description
Are you jetting off to a holiday destination or for a business trip? You need high-quality luggage to protect your belongings and that is easy to handle, especially when you have just had a long flight! This 3-piece trolley set from Bosnite consists of one 20" boarding size suitcase as well as two check-in size suitcases with sizes of 24" and 28" respectively. These sets are available in 4 colours: black, blue, rose gold, and silver.
This Bosnite luggage set comes with an array of features that are geared towards keeping its contents safe and secured. These features include a solid shell, adjustable tie-down straps, 4 protection base feet, and corner guard protectors. It also comes with TSA approved locks. This means that security personnel can open your luggage for closer inspection with a master key without having to damage your luggage. It also has a secure combination lock to protect you against theft.
When it comes to comfort and ease of handling, this luggage set from Bosnite truly excels. It has a feather lightweight design to maximize the weight of belongings you can take on a flight. The cushioned top and side carrying handles make it easier to load your luggage on a train or bus. The retractable trolley handling system with its push-button lock system and 4 dual 360° rubber spinner wheels makes it a breeze to roll your luggage - even over long distances.
Organizing your contents in your Bosnite suitcases is easy as this set comes with internal dual zip dividers and an oversized interior mesh pocket. When you arrive at your destination, you can store the 20" and 24" suitcases inside the 28" to save space.
This 3-piece suitcase set from Bosnite allows for hassle-free and easy travelling. It is versatile, durable, and easy to handle. If you buy your Bosnite 3-piece luggage set today, you'll receive a bonus Neck Pillows (Memory foam) and Luggage Belt.
Features
Solid shell luggage set
Feather lightweight design
Retractable aluminium trolley system
Push-button locking handle
Cushioned carry handle provides comfort when lifting
4x Dual 360° rubber spinners wheels
TSA Approved Locks
Internal dual zipped dividers
Over sized interior mesh pocket
Adjustable tie-down straps
4 protection Base feet
Corner guard protectors
Secure combination lock
Top and side carrying handles
BONUS: 2x Memory foam and 1x Luggage Belt
20" and 24" can be kept in 28" for easy storage
Specifications
Material: ABS
Interior: Polyester lining
Handle: Aluminium
Height with handle pull out: 103cm
Available colors: Black, Blue, Rose Gold, Silver
(check listing for colour availability)
20" weight and dimension: 2kg, 37 x 22 x 58cm
24" weight and dimension: 3kg, 41 x 26 x 68cm
28" weight ad dimension: 4kg, 49 x 29 x 78cm
20" loading capacity: 40-45L
24" loading capacity: 70-80L
28" loading capacity: 100-115L
Pickup & Delivery
You are most welcome to collect your order from our warehouse at 1/191 The Horsley Drive Fairfield NSW 2165 (Entry from Tangerine Street).
You need to place your order online first and make sure you have received confirmation that your order is ready for pick-up before coming in. Please note that we require up to 2-3 business days to process your order.
Free shipping is only available to select post codes and may not include certain far regional areas, to check eligibility enter post code into shipping calculator.
Provide us with your correct delivery address and contact details
Please make sure someone is at home from 7 am - 7 pm on the delivery day. if you believe an alternative address is more convenient to deliver the item then please make sure you change the address at eBay checkout.
Delivery guy will require an assistant to unload heavy items of his vehicle. Our delivery guys only deliver at property entrance on ground level.
We do not ship to PO boxes and surrounding islands.
For all metropolitan areas allow between 2-7 working days for delivery and for all non-metropolitan areas allow between 5-10 working days.
After ordering online, you will receive an email confirmation from Bargains Online containing your receipt of payment details (if you have provided your email address). We will also normally confirm receipt of your order soon after ordering.
Included in Box
1x20" luggage
1x24" luggage
1x28" luggage
2x Neck Pillows (Memory foam)
1x Luggage Belt
3 Piece Luggage Set - Blue Hard Case Carry on Travel Suitcases
BONUS 2 Memory foam and 1 Luggage Belt
Don't Pay $220
$169
SAVE $51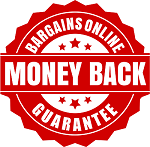 We are so confident that you will love this product that we offer a 30-day money back guarantee.
Learn More