Description
The ultimate gaming chair
Enjoy long hours of gaming in comfort and style with the Xtreme Racing Gaming Chair.
Designed for Style and Comfort
Designed, built, and fine-tuned with the gamer's comfort in mind, the Xtreme Racing gaming chair is ergonomically contoured and thickly cushioned all over to provide breathability and long-lasting comfort in every position. The included adjustable lumbar cushion and headrest pillow also provide extra support just where you need it especially during long periods of gaming.
Despite its focus on ergonomic design, this sleek gaming chair doesn't sacrifice form over function. Crafted with premium PU leather, high-resilience foam, smooth-glide swivel casters, and commercial-grade steel frame, the Xtreme Racing gaming chair is sure to deliver an eye-catching, streamlined look to any space.
Ergonomics and Adjustability
When it comes to gaming chairs, one size doesn't fit all. This Xtreme Racing High Back gaming chair offers a number of adjustability options including retractable and adjustable armrests, adjustable backrest, and adjustable seat height to provide gamers the ultimate in comfort and ergonomic support.
Integrated RGB Lighting
This racing style-inspired gaming chair also features an integrated RGB lighting system that is fully customizable to match your every mood. Elevate your gaming experience by controlling the effects and color of your chair lighting with its handy remote control.
Our specialized ergonomic design can ensure hours of comfort while you play for hours on end. Make an investment that will take your gaming experience to the next level today!
Features
Ergonomically contoured and well-cushioned for optimal lumbar support
Crafted with premium materials for durability and longevity
Adjustable armrests, backrest, and seat height for maximum comfort
Integrated RGB lighting system customizable to match your mood
Specifications
Colour: Blue
Cushions: PU leather with 0.3 cm foam
Gas Lift: Class 3 100mm gas lift
Casters: PU Colorful Casters
Backrest: Adjustable (90º -160 º)
Armrest: Plastic with PU leather cushion
Lighting control: Remote Control
Mechanism: Tilt
Mechanism Base: : 350mm Nylon Base
Product Dimensions (D x W x H):54 x 71 x 135-145cm
Carton Size (D x W x H):84 x 65 x 32cm
Net Weight: 20.3 kg
Gross Weight: 22.3 kg
Pickup & Delivery
You are most welcome to collect your order from our warehouse at 1/191 The Horsley Drive Fairfield NSW 2165 (Entry from Tangerine Street).
You need to place your order online first and make sure you have received confirmation that your order is ready for pick-up before coming in. Please note that we require up to 2-3 business days to process your order.
Free shipping is only available to select post codes and may not include certain far regional areas, to check eligibility enter post code into shipping calculator.
Provide us with your correct delivery address and contact details
Please make sure someone is at home from 7 am - 7 pm on the delivery day. if you believe an alternative address is more convenient to deliver the item then please make sure you change the address at eBay checkout.
Delivery guy will require an assistant to unload heavy items of his vehicle. Our delivery guys only deliver at property entrance on ground level.
We do not ship to PO boxes and surrounding islands.
For all metropolitan areas allow between 2-7 working days for delivery and for all non-metropolitan areas allow between 5-10 working days.
After ordering online, you will receive an email confirmation from Bargains Online containing your receipt of payment details (if you have provided your email address). We will also normally confirm receipt of your order soon after ordering.
Included in Box
1 x Xtreme Racing Gaming Chair
1 x Remote control
1 x User's Manual
Xtreme Racing Gaming Office Chair LED Seat RGB PU Leather Computer Executive A
SGS * Italian Design * Top materials * Free Mouse Pad
Don't Pay $569
$329
SAVE $240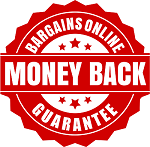 We are so confident that you will love this product that we offer a 30-day money back guarantee.
Learn More