Allergy Friendly Product Certified from the European Centre for Allergy Research Foundation

Efficient 2400W water filter vacuum cleaner

Easy 360° manoeuvrable design with Automatic Cord Rewinder

Bonus, Flexible Suction Hose, Telescopic Suction Tube, Metal based Brush with Pedal, Crevice Nozzle, Curtain Brush, Cushion Nozzle, Air Refresher, U
Description
Introducing Neat, Compact, Affordable Australia's next generation water filter vacuum cleaner! New Arnica Bora4000s is easy and fun to use, Environmentally friendly and dust's worst enemy! See for yourself in the product demonstration video above! Arnica Bora4000S vacuum cleaner with water filter - ideal for allergy sufferers and households with children and pets! Arnica Bora4000S is the new generation vacuum cleaner. It provides a deep cleaning for all flooring surfaces and it doesn't have that typical smell of vacuum cleaners with bag.
Arnica Bora4000S is the most practical water filter vacuum cleaner on the world market! Arnica Bora4000S is a sensation in the cleaning world because of its ease of use. It is highly manoeuvrable (360°) thanks to two large wheels and two swivel casters. Arnica Bora comes from one of the largest manufactures in Europe and have years of experience in the production of vacuum cleaners. In the last three years the Bora vacuum cleaner has sold over 1.5 million units in Europe and has won the European "A" design Award in 2011-2012. Arnica Bora 4000s has certification from the European Centre for Allergy Research Foundation for being an "Allergy Friendly Product".
Arnica Bora is a product of superior quality, easy to use and has the necessary high suction to effectively clean all floor surfaces. Arnica Bora4000S is a vacuum cleaner with no loss of suction and has max 2400W. Arnica Bora4000S sucks without steam and moisture. A washable HEPA filter also prevents dust and odour pollution in your home. A must for allergy sufferers. Arnica Bora4000S uses the natural cleaning power of water and binds the dust in the water. A washable HEPA filter also prevents dust and odours from escaping into your freshly washed air space. About 99.9% of dust particles and allergens are trapped by the HEPA filter. The dust filled air is passed through the water filter and all dirt is retained securely in its swirling waters. A double function of Arnica Bora4000S is its DWS patented air washing system which simulates rainfall and washes all air passing through it. Dust, dirt, pollutants and allergens are bound securely in the water and can no longer escape. Allergy and asthma sufferers can breathe again. Only approx 1.2 litres of tap water is required in the main chamber combined with a specially developed new DWS-filtration system and HEPA filter helping to do the job without a dust bag. Wet dust cannot fly!
The main filtering is performed in Bora's water filter with the HEPA filter retaining any remaining particles, simultaneously protecting against pollen, dust mites, spores and fungi. You no longer have the expense of vacuum cleaner bags! After vacuuming simply drain the tank. The visible dirt broth can be simply tipped into the sink or toilet. You will not believe what is in that water. If you accidentally suck up valuables items (rings, keys, coins, etc) - don´t panic. You can easily pick these out of the water basin. If this happened with a standard vacuum cleaner with filter bags, this task would be disgusting and a health hazard. Not the case with Arnica Bora.
The ideal cleaner for allergy sufferers! Bora owners and allergy sufferers are happy to recommend Bora vacuum cleaners to their friends and fellow allergy sufferers. Arnica Bora4000S can also clean and de-odorize the air in your home. Simply turn on the vacuum cleaner without the hose attached and the Bora 4000s will attract any air Bourne dust particles and odours. You can also add a few drops of the included perfume to the water tank to give your entire house a clean fresh smell. Arnica Bora4000S does away with embarrassing pet odours. The included air cleaning system is an affordable solution to the downside of being a pet owner. Unlike in a vacuum-bag the animal hair is not retained in your cleaner and therefore cannot smell bad.
Specifications
Power consumption : 2400W
Dust Collector : Water Filter with 1.2L capacity
Suction power : 300W
Power control : on the housing
Fine filter : Yes
Features Noise level : 86 dB
Power cord length : 6 m
Gauge dust collector
Auto rewinder cord
Foot switch on/off
Allergy friendly
Dimensions(WxDxH) : 44x59x34 cm
Weight : Approx 8 kgs
Pickup & Delivery
You are most welcome to collect your order from our warehouse at 1/191 The Horsley Drive Fairfield NSW 2165 (Entry from Tangerine Street).
You need to place your order online first and make sure you have received confirmation that your order is ready for pick-up before coming in. Please note that we require up to 2-3 business days to process your order.
Free shipping is only available to select post codes and may not include certain far regional areas, to check eligibility enter post code into shipping calculator.
Provide us with your correct delivery address and contact details
Please make sure someone is at home from 7 am - 7 pm on the delivery day. if you believe an alternative address is more convenient to deliver the item then please make sure you change the address at eBay checkout.
Delivery guy will require an assistant to unload heavy items of his vehicle. Our delivery guys only deliver at property entrance on ground level.
We do not ship to PO boxes and surrounding islands.
For all metropolitan areas allow between 2-7 working days for delivery and for all non-metropolitan areas allow between 5-10 working days.
After ordering online, you will receive an email confirmation from Bargains Online containing your receipt of payment details (if you have provided your email address). We will also normally confirm receipt of your order soon after ordering.
Included in Box
1X Bora 4000S Vacuum Cleaner with Water Filter Container
1X Flexible Suction Hose
1X Telescopic Suction Tube
1X Metal based Brush with Pedal
1X Crevice Nozzle
1X Curtain Brush
1X Cushion Nozzle
1X Air Refresher
1X User Manual
1 year warranty
Arnica 2400W Cyclonic Vacuum Cleaner
Don't Pay $590
$349
SAVE $241
---
Allergy Friendly Product Certified from the European Centre for Allergy Research Foundation Efficient 2400W Power Consumption Easy 360° manoeuvrable design Automatic Cord Rewinder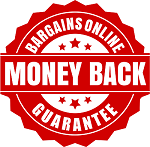 We are so confident that you will love this product that we offer a 30-day money back guarantee.
Learn More