Description
This 8x5 full-welded box trailer arrives with a respectable 900mm cage. It is a lightweight trailer and can hold 750kg of Aggregate Trailer Mass (ATM) with ease. ATM is the collective weight of the trailer and its complete load when it is not attached to a tow vehicle. It has a lean body with drop-down front/rear panel and gets a hot-dipped galvanised finish. To give robustness, it is fitted with checker plate flooring as well as LED lights. It is integrated with safety chain (2x10mm) and lights plug (round or flat 7-pin plug) to provide maximum safety and security to you while driving. This 8x5 full-welded box trailer is just right for you if you often use box trailer to carry surplus loads.
You can buy this 8x5 full-welded box trailer at discounted price! It's complete value for your money as you're obtaining a quality product at a great price. Check out the specifications of the box trailer to get additional information.
We accommodate Sydney local as well as interstate delivery. To get a quote that includes delivery, please contact us.
PLEASE NOTE: Due to high demand we require up to 4 weeks to have the trailer assembled and ready.
Specifications
ATM: 750kg
Drawbar: 1200mm, 70mm×50mm
Finish: Hot Dipped Galvanized
Flooring: Checker plate Floor
Jockey Wheel: 6" 750lb Swing Up
Axle: 40mm Round Solid
Lights: LED
Spring: 5 Leaf Eye to Slipper Spring
Trailer: 2180mmx1500mm
Body: Tilt Body, Drop Down Front/Rear Panel
Side: 300mm High Full Welded
Cage: Removable
Wheel: New 14" 185/R14, Wheels & Tyres
Stud pattern: 5 stud (Ford Hub)
Brake: None
Coupler: 50mm Australia Standard
Lights Plug: Round or Flat 7 Pin Plug
Spare Wheel& Holder: Optional
Safety Chain: 1x10mm
Pickup & Delivery
You are most welcome to collect your order from our warehouse at 1/191 The Horsley Drive Fairfield NSW 2165 (Entry from Tangerine Street).
You need to place your order online first and make sure you have received confirmation that your order is ready for pick-up before coming in. Please note that we require up to 2-3 business days to process your order.
Free shipping is only available to select post codes and may not include certain far regional areas, to check eligibility enter post code into shipping calculator.
Provide us with your correct delivery address and contact details
Please make sure someone is at home from 7 am - 7 pm on the delivery day. if you believe an alternative address is more convenient to deliver the item then please make sure you change the address at eBay checkout.
Delivery guy will require an assistant to unload heavy items of his vehicle. Our delivery guys only deliver at property entrance on ground level.
We do not ship to PO boxes and surrounding islands.
For all metropolitan areas allow between 2-7 working days for delivery and for all non-metropolitan areas allow between 5-10 working days.
After ordering online, you will receive an email confirmation from Bargains Online containing your receipt of payment details (if you have provided your email address). We will also normally confirm receipt of your order soon after ordering.
Included in Box
1x XTREME Box Trailer
1x 900mm Cage
1x Jockey wheel
1 Year Warranty
Xtreme Trailers 8x5 Galvanised Box Trailer Full-welded with 900mm Cage
SHOW ROOM & PICKUP AVAILABLE,900mm Cage
Don't Pay $3,100
$2,299
SAVE $801
---
900mm cage With Tipping Function ATM 750kg Complies with Australian standards galvanizing (85 µm) Galvanised inside and out for maximum rust protection Heavy Duty tie down rails LED Lights 2.5 mm Check Plate Floor Heavy Duty cross member
Purchase on Easy Payment Plans with Fast Approval through Trailer Pay.
Payment from only $42/week, with
just a $200 Deposit Required.
Contact us on (02) 9726 9553
to find out more
*T&Cs Apply.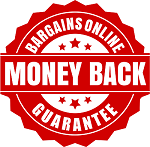 We are so confident that you will love this product that we offer a 30-day money back guarantee.
Learn More