Description
Now you can stop wasting your time cutting unwanted branches. The new Black Eagle 82cc petrol commercial 24'' bar E-start pruning chainsaw will change the way you prune your garden forever. Experience power like never before with our direct air injection system. We have enhanced the user experience with the easy start-pull system and auto throttle lock. Precision cutting and pruning are now a reality with our state-of-the-art anti-vibration balancing design. The automatic chain oiling system will protect and keep your chainsaw running smoother for longer. For your convenience and as an added bonus, you'll also receive a spare chain and safety pack!
The Black Eagle chainsaw features a two stroke commercial petrol engine with a maximum power output of 5.5 hp and features a displacement of 82 CC that gives you a maximum speed of 11000 rpm. The 24-inch sprocket nose bar allows you to maneuver into all those hard to reach places so you can trim your garden to perfection. Your Black Eagle chainsaw now comes standard with a 670ml fuel tank capacity to reduce fill-up frequency. It is also equipped with 350 ml oil tank capacity to keep your bar running smoother for longer. Quick and easy assembly of the parts is required for shipping purposes. You can rest assured that chainsaw spare parts are readily available. The 8.5 kg Black Eagle chainsaw has enhanced weight reduction features for added comfort and less strain while maintaining the required power and durability. Your Black Eagle chainsaw package includes the following parts: one Black Eagle 82cc chainsaw, one bar cover, a fuel mixer, user manual, one year warranty as well as a high-quality tool kit! As an added bonus we have also included one extra chain, goggles, gloves, and earmuffs. Order your Black Eagle chainsaw while stocks last and turn garden maintenance into a breeze!
Specifications
Engine Type: Petrol 2 Stroke Commercial
Maximum Power: 5.5hp (Peak)
Displacement: 82CC
Max Engine Speed: 11000rpm
Ignition Type: CDI
Bar Length: 24inch
Bar Type: Sprocket Nose
Type of Engine Oil / Fuel Mixture: 2 stroke oil / 25:1 / 25 part fuel mix with 1 part oil
Fuel Type: Regular Unleaded 95+ RON
Fuel Tank Capacity: 670ml
Bar Oil Tank Capacity: 350ml
Bar Oil Type: SAE#10W-30
Chain Specification: 24", Pitch 3/8, Gauge 0.058
Bonus: one extra chain
Note: Assembly required
Spare parts: Available at all times
Carton Weight: 9.5kg
Carton Dimensions (L x W x H): 65*30*30cm
Product Weight: 8.5kg
Product Dimensions (L x W x H): 106*27*28cm
Pickup & Delivery
You are most welcome to collect your order from our warehouse at 1/191 The Horsley Drive Fairfield NSW 2165 (Entry from Tangerine Street).
You need to place your order online first and make sure you have received confirmation that your order is ready for pick-up before coming in. Please note that we require up to 2-3 business days to process your order.
Free shipping is only available to select post codes and may not include certain far regional areas, to check eligibility enter post code into shipping calculator.
Provide us with your correct delivery address and contact details
Please make sure someone is at home from 7 am - 7 pm on the delivery day. if you believe an alternative address is more convenient to deliver the item then please make sure you change the address at eBay checkout.
Delivery guy will require an assistant to unload heavy items of his vehicle. Our delivery guys only deliver at property entrance on ground level.
We do not ship to PO boxes and surrounding islands.
For all metropolitan areas allow between 2-7 working days for delivery and for all non-metropolitan areas allow between 5-10 working days.
After ordering online, you will receive an email confirmation from Bargains Online containing your receipt of payment details (if you have provided your email address). We will also normally confirm receipt of your order soon after ordering.
Included in Box
1 x Black Eagle 82cc Chainsaw
1 X Bar Cover
1 X Chain
1 x Fuel Mixer
1 X Tool Kit
1 X User Manual
1 Year Warranty
Bonus:
1x Extra Chain
Goggles
Gloves
Ear Muffs
NEW BlackEagle 82cc Commercial Petrol Chainsaw EStart 24" Chain Saw Tree Pruning
Don't Pay $519
$179
SAVE $340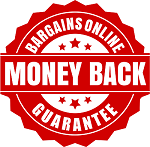 We are so confident that you will love this product that we offer a 30-day money back guarantee.
Learn More