Description
Here comes the all New Ross Mark Air Plasma Cutting Machine that uses 'MOSFET inverter technology'. This Air Plasma Cutting Machine is compact, facilitates easy handling, highly efficient energy saving device. It gives incredible cutting performance.

This all new Ross Mark 60 Amp Inverter Air Plasma Cutter uses high frequency start-function of plasma arc initiation. This device is anti-static offering thermal-static protection, which is fan cooled. When compared to O2 cutting, Air Plasma Cutting Machine has an improved cutting ability that is 1.8 times higher.

The thick metal plate can be cut effortlessly and swiftly. Ideal for cutting all kinds of ferrous metal such as copper, iron, stainless steel, carbon steel, aluminium metal etc. Easy to operate, and gives a smooth cutting surface. High-Frequency facilitating Arc-starting cutting.

This is a powerful, light-weight unit that makes use of the smart inverter technology, which you can depend on. For all jobs that demand mobility, this portable device can be easily used for ON or OFF site tasks.

This device is perfect for use throughout different industries that ranges from industrial applications all through metal sculpturing artists. It's an engineering grade device that any welder can afford is the distinctive quality of this Inverter Air Plasma Cutter.
DIMENSIONS:
| | |
| --- | --- |
| Weight | - 9KG |
| Dimensions (Cm) | - 38.5 x 16 x 27 |
Specifications
TYPE: CUT-60 Plasma Cutter
Power voltage (V): 380 ± 10%
Frequency (HZ): 50/60
Rated input capacity (KVA): 9
No-load voltage (v) : 250
Output current range (A) : 20-60
Rated output voltage (v) : 104
Duty cycle (%): 60
Cool type: FAN
Parts: Always Available
Weight: 9KG
Dimensions (CM) : 38.5 x 16 x 27
Pickup & Delivery
You are most welcome to collect your order from our warehouse at 1/191 The Horsley Drive Fairfield NSW 2165 (Entry from Tangerine Street).
You need to place your order online first and make sure you have received confirmation that your order is ready for pick-up before coming in. Please note that we require up to 2-3 business days to process your order.
Free shipping is only available to select post codes and may not include certain far regional areas, to check eligibility enter post code into shipping calculator.
Provide us with your correct delivery address and contact details
Please make sure someone is at home from 7 am - 7 pm on the delivery day. if you believe an alternative address is more convenient to deliver the item then please make sure you change the address at eBay checkout.
Delivery guy will require an assistant to unload heavy items of his vehicle. Our delivery guys only deliver at property entrance on ground level.
We do not ship to PO boxes and surrounding islands.
For all metropolitan areas allow between 2-7 working days for delivery and for all non-metropolitan areas allow between 5-10 working days.
After ordering online, you will receive an email confirmation from Bargains Online containing your receipt of payment details (if you have provided your email address). We will also normally confirm receipt of your order soon after ordering.
Included in Box
1 x ROSSMARK Plasma Cutter CUT-60
1 X Plasma Torch with 4m Lead
1 X Earth Clamp with lead
1 x Mask
Air regulator with fittings
Hoses and clamps
1 x User Manual
1 x Tool Kit
1 years Warranty
60 AMP DC Inverter Air Plasma Cutting Machine
Don't Pay $950
$449
SAVE $501
---
Power Voltage (V) - 380 ± 10% Output Current Range (A) - 20-60 TYPE - CUT-60 Plasma Cutter Frequency (HZ) - 50/60 No-Load Voltage (V) - 250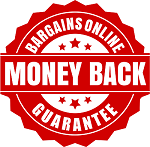 We are so confident that you will love this product that we offer a 30-day money back guarantee.
Learn More