Description
Do you want to quickly and conveniently have that perfectly manicured lawn? Easy to use, durable and extremely convenient the 600W grass trimmer will allow you to keep your lawn looking immaculate. The lightweight ergonomic design and improved telescopic handle allow you to work faster with a greater ability for precision work without any discomfort. Your grass trimmer features a three edge-cutting angle (+90,-90 and 180 degree) for all the mobility needed for precision trimming. Now you can have that perfectly manicured lawn you have always wanted.
Keep all the weeds at bay with a no load speed of up to 1100rpm and two spools of 4 meters each to allow you to keep your focus on the task at hand, rather than the tool at hand. The 600W grass trimmer comes standard with a 0.35-meter electric cable and VDE plug for added safety. Now you can cut your lawn uninterrupted for as long as is needed. Furthermore, it has a 300mm cutting path allowing you to create those clearly defined edges and lines a manicured lawn requires. The 600W grass trimmer is an economical, durable and extremely convenient DIY tool and will deliver that perfect lawn every time. Stocks are limited; order your grass trimmer today.
Specifications
Input power: 600w
No load speed: 11000rpm
Cutting Path: 300mm
Telescopic Handle: Aluminium(850-1140mm)
Spool: 2x4m,Φ1.2mm
Three edge-cutting angle +90°, -90°180° With 0.35m cable and VDE plug
Carton Weight: 2.9kgs
Carton Dimensions (L x W x H): 92.5*25*10.5cm
Product Weight: 2.5kgs
Product Dimensions (L x W): 100-121cm*26
Pickup & Delivery
You are most welcome to collect your order from our warehouse at 1/191 The Horsley Drive Fairfield NSW 2165 (Entry from Tangerine Street).
You need to place your order online first and make sure you have received confirmation that your order is ready for pick-up before coming in. Please note that we require up to 2-3 business days to process your order.
Free shipping is only available to select post codes and may not include certain far regional areas, to check eligibility enter post code into shipping calculator.
Provide us with your correct delivery address and contact details
Please make sure someone is at home from 7 am - 7 pm on the delivery day. if you believe an alternative address is more convenient to deliver the item then please make sure you change the address at eBay checkout.
Delivery guy will require an assistant to unload heavy items of his vehicle. Our delivery guys only deliver at property entrance on ground level.
We do not ship to PO boxes and surrounding islands.
For all metropolitan areas allow between 2-7 working days for delivery and for all non-metropolitan areas allow between 5-10 working days.
After ordering online, you will receive an email confirmation from Bargains Online containing your receipt of payment details (if you have provided your email address). We will also normally confirm receipt of your order soon after ordering.
Included in Box
1 x BLACK EAGLE 600W Grass Trimmer
1 x Extra Spool
1 x Trimmer Head Protective Guard
1 x Manual
NEW Black Eagle Electric Line Trimmer Whipper Snipper Garden Tool 600W
BONUS SPOOL * 11,000 RPM * TELESCOPIC
Don't Pay $249
$75
SAVE $174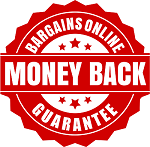 We are so confident that you will love this product that we offer a 30-day money back guarantee.
Learn More