Description
Blast dirt and grime away with ease with the new Black Eagle AGT880 commercial pressure cleaner.
Powerful Dirt-Busting Powerhouse
Equipped with a copper brass pump and a 15 HP OHV air-cooled 4-stroke engine, this powerful dirt-busting powerhouse can safely and effectively handle a variety of cleaning tasks. Designed to handle a water flow of 12.6 liter per minute, this commercial powerful cleaner has a continuous rated pressure of 4207 PSI and a maximum pressure of 5000 PSI, making cleaning driveways, patios, cars, fences, roofs, and walls a breeze.
Effortless and Effective Cleaning
The commercial Black Eagle AGT880 comes with a 20-meter Wire Braided Hose and a turbo head to effectively and effortlessly clean even the most stubborn grime in hard to reach areas. It also comes with 5 quick-connect spray nozzles (0°, 15°, 25°, 40°, 84°), which allows you to control the pressure output of the spray to your cleaning requirements. Other features include a 3.6-liter fuel tank, self-suction water function, hose storage hook.
Designed with portability in mind, the commercial AGT880 also features a foldable hand frame and 4 x 25.4 CM solid rubber wheels for easy maneuverability.
Features
Brass copper pump for added durability
Powerful 4-stroke 15 HP OHV air-cooled engine with low oil protection
20-meter durable wire braided hose and turbo head for cleaning hard-to-reach areas
5 quick-connect spray nozzles (0°, 15°, 25°, 40°, 84°) for optimum cleaning control
4 x 20.32 CM rubber wheels for easy storage and portability
Specifications
Engine: 15 HP OHV air-cooled 4-stroke
Displacement: 485 CC
Continuous Rated Pressure: 4207 PSI
Maximum Water Pressure: 5000 PSI
Water Flow: 12.6 liters/minute
Pump: copper brass pump
Self-Suction: Yes
Quick Connect: Yes
Fuel Tank Capacity: 3.6 liters
Water Hose Length: 20-meter wire braided hose
Quick Connect Nozzles: 0°, 15°, 25°, 40°, 84°
Wheels: 4 x 25.4 cm flat free,solid rubber wheels
Warranty: 12 months parts warranty
Spare Parts: Available
Carton Dimensions: (W x D x H) 75.5 x 54.5 x 62 CM
Net Weight: 77 KG
Gross Weight: 79 KG
Pickup & Delivery
You are most welcome to collect your order from our warehouse at 1/191 The Horsley Drive Fairfield NSW 2165 (Entry from Tangerine Street).
You need to place your order online first and make sure you have received confirmation that your order is ready for pick-up before coming in. Please note that we require up to 2-3 business days to process your order.
Free shipping is only available to select post codes and may not include certain far regional areas, to check eligibility enter post code into shipping calculator.
Provide us with your correct delivery address and contact details
Please make sure someone is at home from 7 am - 7 pm on the delivery day. if you believe an alternative address is more convenient to deliver the item then please make sure you change the address at eBay checkout.
Delivery guy will require an assistant to unload heavy items of his vehicle. Our delivery guys only deliver at property entrance on ground level.
We do not ship to PO boxes and surrounding islands.
For all metropolitan areas allow between 2-7 working days for delivery and for all non-metropolitan areas allow between 5-10 working days.
After ordering online, you will receive an email confirmation from Bargains Online containing your receipt of payment details (if you have provided your email address). We will also normally confirm receipt of your order soon after ordering.
Included in Box
1 x Black Eagle AGT880 Pressure Cleaner
5 x Quick-Release Nozzles
1 x 20-meter High-Pressure Hose
1 x Gutter Lance
1 x Concrete Lance
1 x Straight Lance
1 x Turbo Head
1 x Self Suction
Instruction Manual
*Assembling Tools
NEW 5000 PSI Petrol High Pressure Washer 15HP Water Blaster Gurney Cleaner
Commercial 15 HP, 5000 PSI,Brass Pump,Turbohead,Nozzles
Don't Pay $2,100
$1,049
SAVE $1051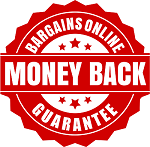 We are so confident that you will love this product that we offer a 30-day money back guarantee.
Learn More