Description
The 42" 240w Led light bar spot/flood combo beam is the best seller offered at good price among the available led bars in the market. It comes with 80 pieces of high power 3W Led chipsets more brighter than a normal halogen bulb, with excellent lifespan of 30,000 hours, plus 3 years of warranty. It has a good quality diecast aluminium housing bracket.
This work light is made of 80 pieces high quality 3w high intensity LEDs which produces a mass of cool white glowing light (6000k) focus dead spots and free of artefacts at very low power consumption. Lamp body is faster radiating for aluminium, high temperature resistance and its advanced vertical fins are designed for maximum heat dissipation.
IP67 rated great performance of waterproof, dustproof, shockproof and durable to withstand for heavy duty under extreme weather/condition will obviously make you to buy this product. See for yourself the product demo video below.
It has a wide operating voltage range which can be used on any 12-24V applications such as different types of trucks, ATV, SUV, 4WD, 4x4, Military, Mining, Boating, Farming, Heavy Equipment and many more off-road vehicles. Its Installation is easy and simple which can be done only basic hand tools. We guarantee this is the best value LED light bar option available from true local seller and feel assured you have warranty and prompt delivery without issues.
- 1x 42inch 240W Led Light Bar
- 2x Mounting Brackets
Specifications
Model No: A-240W
LED: 80PCS*3W high intensity LEDS
Current: 19A @ 12V / 9A @ 24V
Body colour: Black
Mounting Bracket: Alu Firm Bracket
Colour Temperature: 6000K
Theoretical Luminosity: 19200LM
Item Dimension: 1119.2x78.4x86.5mm (includes bracket
LED power: 240W
Operating Voltage: 10-30V DC
Waterproof rate: IP67
Lens Material: PC
Housing Bracket: Diecast Aluminium Alloy
Life Span: 30,000+ Hours
Operating Luminosity: 18000LM
Weight: 6.3kg including box
Pickup & Delivery
You are most welcome to collect your order from our warehouse at 1/191 The Horsley Drive Fairfield NSW 2165 (Entry from Tangerine Street).
You need to place your order online first and make sure you have received confirmation that your order is ready for pick-up before coming in. Please note that we require up to 2-3 business days to process your order.
Free shipping is only available to select post codes and may not include certain far regional areas, to check eligibility enter post code into shipping calculator.
Provide us with your correct delivery address and contact details
Please make sure someone is at home from 7 am - 7 pm on the delivery day. if you believe an alternative address is more convenient to deliver the item then please make sure you change the address at eBay checkout.
Delivery guy will require an assistant to unload heavy items of his vehicle. Our delivery guys only deliver at property entrance on ground level.
We do not ship to PO boxes and surrounding islands.
For all metropolitan areas allow between 2-7 working days for delivery and for all non-metropolitan areas allow between 5-10 working days.
After ordering online, you will receive an email confirmation from Bargains Online containing your receipt of payment details (if you have provided your email address). We will also normally confirm receipt of your order soon after ordering.
42" 240w LED Work Light Bar Spot Flood Combo Beam
Don't Pay $890
$179
SAVE $711
---
LED - 80PCS*3W high intensity LEDS Current - 19A @ 12V / 9A @ 24V Weight - 6.3kg including box Operating Voltage - 10-30V DC Waterproof rate - IP67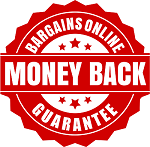 We are so confident that you will love this product that we offer a 30-day money back guarantee.
Learn More