Description
Trying to keep your garden under control? Have you always wanted that perfectly maintained garden? Then look no further than our durable and highly efficient 20V cordless pole saw. Trimming back your garden has never been this easy or efficient. Your cordless pole saw allows you to work continuously without fatigue due to the added benefit of the shoulder strap. Helping you to effortlessly trim those hard to reach branches. With the 20V, 1500mA.h Li-ion battery, you will be able to cut an 80mm diameter piece of wood into 30 pieces in only 15 minutes! The cordless pole saw is very low on maintenance with a 150ml oil capacity and automatic oil motor to make sure the chain remains lubricated at all times.
The oil level window makes it easy to see when you are running low on oil and the new improved design makes it easy to store. As an added bonus the package includes an extension pole allowing you to comfortably trim all those unwanted, out-of-reach branches. For your convenience, the cordless pole saw comes with a battery, adapter and a charger. You will keep your garden from turning into a jungle. Cutting away those unwanted branches and shrubs have never been easier. For a perfectly manicured garden, get your cordless pole saw today!
Specifications
Battery pack voltage: DC 20V
Battery: 1500mA.h, Lithium
Cutting length: 250mm (10 inch)
Charging Time: 4 Hours
Speed: 2.9m/s
Oil Tank Capacity: 150ml
Bar and Chain: Made in China
Running time: 15mins If the diameter of wood is 8cm, it can cut 30pcs
Carton Weight: 4.1kgs
Carton Dimensions (L x W x H): 93.5*15*19cm
Product Weight: 3.6kgs
Product Dimensions (L): 273cm
Pickup & Delivery
You are most welcome to collect your order from our warehouse at 1/191 The Horsley Drive Fairfield NSW 2165 (Entry from Tangerine Street).
You need to place your order online first and make sure you have received confirmation that your order is ready for pick-up before coming in. Please note that we require up to 2-3 business days to process your order.
Free shipping is only available to select post codes and may not include certain far regional areas, to check eligibility enter post code into shipping calculator.
Provide us with your correct delivery address and contact details
Please make sure someone is at home from 7 am - 7 pm on the delivery day. if you believe an alternative address is more convenient to deliver the item then please make sure you change the address at eBay checkout.
Delivery guy will require an assistant to unload heavy items of his vehicle. Our delivery guys only deliver at property entrance on ground level.
We do not ship to PO boxes and surrounding islands.
For all metropolitan areas allow between 2-7 working days for delivery and for all non-metropolitan areas allow between 5-10 working days.
After ordering online, you will receive an email confirmation from Bargains Online containing your receipt of payment details (if you have provided your email address). We will also normally confirm receipt of your order soon after ordering.
Included in Box
1 x BLACK EAGLE 20V 1.5Ah Cordless Pole Saw
1 x Extension pole
1 x Chain
1 x Cutting Blade Cover
1 x 90ml Oil
1 x Shoulder Strap
1 x 240V Battery Charger
1 x 20V Lithium-Ion Battery
1 x Manual
Black Eagle 20V Lithium-Ion Pole Chainsaw Cordless Electric Battery Saw
Don't Pay $229
$129
SAVE $100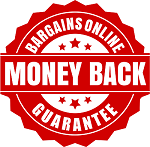 We are so confident that you will love this product that we offer a 30-day money back guarantee.
Learn More