Description
Introducing the All New Electric Chain Saw TG-ECS08! It will surely make your small cutting jobs easy. This Electric Chain Saw TG-ECS08 is specifically designed for completing small jobs like cutting up wood for stoves and open fires, low-level trimming of plants or Do It Yourself projects for the homeowner.
This Electric Chain Saw is simple to operate and it delivers superior performance and needs very little maintenance. It offers you utmost working comfort and delivers speedy results.
Superior Performance & Durable It has a powerful 2000W motor that ensures high cutting speed, so that even the most difficult wood or medium thickness branches can be tackled with confidence. Every time the trigger is set free, a limiter system holds the motor from starting up again until it has fully stopped; this cuts down the impact on the sprag clutch parts, facilitating for longer life and noiseless operation. It's fittingly integrated with a trigger-release mechanism that is designed to detach the drive instantly, so that the chain halts completely at once. For lasting resistance against wear and to offer better stability, it comes with all-metal ring gear and sprag clutch. It has 220ml capacity oil tank, which requires filling less often.
Facilitates Effortless Handling It has a liberally balanced trigger that facilitates for comfortable grip even when wearing gloves. It has a wide oil tank filler cap placed on top of the handle for easy refilling.
Specifications
Current & Frequency: 230V~50Hz
Input Power: 2000W
Bar Length: 400mm (16")
Chain Speed: 12m/S
Saw Chain Oil: SAE 10W30
Chain Gauge: .050(1.3)
Chain Pitch: 3/8"
Oil Tank Capacity: 220ml
Rated Power: 2 KW
Break Time: <0.12s
Protection Class: IP20
Auto Lubrication
Parts: Always Available
Pickup & Delivery
You are most welcome to collect your order from our warehouse at 1/191 The Horsley Drive Fairfield NSW 2165 (Entry from Tangerine Street).
You need to place your order online first and make sure you have received confirmation that your order is ready for pick-up before coming in. Please note that we require up to 2-3 business days to process your order.
Free shipping is only available to select post codes and may not include certain far regional areas, to check eligibility enter post code into shipping calculator.
Provide us with your correct delivery address and contact details
Please make sure someone is at home from 7 am - 7 pm on the delivery day. if you believe an alternative address is more convenient to deliver the item then please make sure you change the address at eBay checkout.
Delivery guy will require an assistant to unload heavy items of his vehicle. Our delivery guys only deliver at property entrance on ground level.
We do not ship to PO boxes and surrounding islands.
For all metropolitan areas allow between 2-7 working days for delivery and for all non-metropolitan areas allow between 5-10 working days.
After ordering online, you will receive an email confirmation from Bargains Online containing your receipt of payment details (if you have provided your email address). We will also normally confirm receipt of your order soon after ordering.
Included in Box
1 X Top Garden Chain Saw
1 X Bar Cover
OREGON® Bar
1 Year Warranty
OREGON® Chain
Tool Kit
User Manual
OREGON 16" 2000W Electric Bar Chainsaw
Don't Pay $249
$115
SAVE $134
---
16" Oregon® high quality Bar &chain CE, GS, TUV approved Ip20 protection class 12m/s chain speed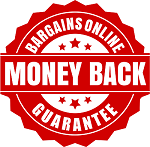 We are so confident that you will love this product that we offer a 30-day money back guarantee.
Learn More