Description
This Genuine Honda Engine GX200, 6.5HP 2" Twin Impeller High Pressure water pump comes with high durability and outstanding performance. This pump has a strong flow and is perfect running farm sprinklers or just everyday water relocation such as filling a swimming pool.
Honda's GX series engines are legendary for superior reliability and performance.
Honda GX200 series comes with great features flowing at massive 33000L/h (550L/min) with a total head of 30m coupled with a powerful Honda 196CC 4-stroke engine, OHV - a fantastic feature for watering grounds.
It has got a large fuel tank and three outlets - two consists of 38mm each and one consists of 50mm. Its massive 3.6 litres of fuel tank keeps the pump running for 7.5 hours on a single tank fill (depending on load).
Pump lift up to 115m, Lower noise levels, lower vibration, and lower emissions – without sacrificing power output or performance.
Its Precision camshaft design offers precise valve timing and optimal valve overlap for better fuel efficiency. OHV design for increased efficiency and optimal power transfer.
If you looking for quality water pump, Honda GX200 which comes with original Japanese Carburettor is the best in the industry with no comparison to other pumps. This pump comes with 1 year warranty and parts support. We store parts here in Sydney so you can use the pump with a piece of mind.
This Heavy Duty Twin Impeller Fire Fighting Petrol Water Pump is your perfect companion that will assist you in completing your toughest cleaning chores effortlessly and swiftly and easy to operate and easy to clean.
Specifications
Engine : HONDA GX200
Engine Type : Single Cylinder, 4 stroke, Air cooled, OHV
Pump Lift : 115M
Inlet Pipe Diameter (mm) : 50, 2 inch
Outlet Pipe Diameter (mm) : 38/38/50 2x1.5in, 1x2 inch
Starting System : Hand Recoil Starting
Max. Capacity (M3/H) : 20
Engine Displacement

- 150cc - 199cc

Max. Suction Head (m) : 7
Max. Power (HP) : 6.5
Displacement : 196cc
Bore x Stroke : 68 X 54 mm
Litres per minute : 550 Litres
Fuel Tank Capacity (L) : 3.6L
Dimension Carton (L-W-H) : 535 x 415 x 505mm
Dimension Product (L-W-H) : 482 x 385 x 404mm
Gross Weight : 30 kgs
Pickup & Delivery
You are most welcome to collect your order from our warehouse at 1/191 The Horsley Drive Fairfield NSW 2165 (Entry from Tangerine Street).
You need to place your order online first and make sure you have received confirmation that your order is ready for pick-up before coming in. Please note that we require up to 2-3 business days to process your order.
Free shipping is only available to select post codes and may not include certain far regional areas, to check eligibility enter post code into shipping calculator.
Provide us with your correct delivery address and contact details
Please make sure someone is at home from 7 am - 7 pm on the delivery day. if you believe an alternative address is more convenient to deliver the item then please make sure you change the address at eBay checkout.
Delivery guy will require an assistant to unload heavy items of his vehicle. Our delivery guys only deliver at property entrance on ground level.
We do not ship to PO boxes and surrounding islands.
For all metropolitan areas allow between 2-7 working days for delivery and for all non-metropolitan areas allow between 5-10 working days.
After ordering online, you will receive an email confirmation from Bargains Online containing your receipt of payment details (if you have provided your email address). We will also normally confirm receipt of your order soon after ordering.
Included in Box
1 x HONDA GX200 Petrol Water Pump
2 x Alloy Hose Connectors
1 years Warranty
1 x User Manual
1 x Tool Kit
Black Eagle 2" Fire Fighting High Pressure Water Transfer Pump with 6.5HP GX200 Honda Engine
Tough Frame*Twin Impeller*Low Noise*Honda Powered GX200
Don't Pay $899
$549
SAVE $350
---
3.05 Max Power/kw Hand Recoil Starting 115M Pump Lift Single Cylinder,4-Stroke Engine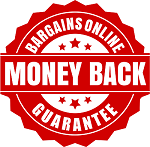 We are so confident that you will love this product that we offer a 30-day money back guarantee.
Learn More